6 Best Flexible Solar Panels to Buy in 2023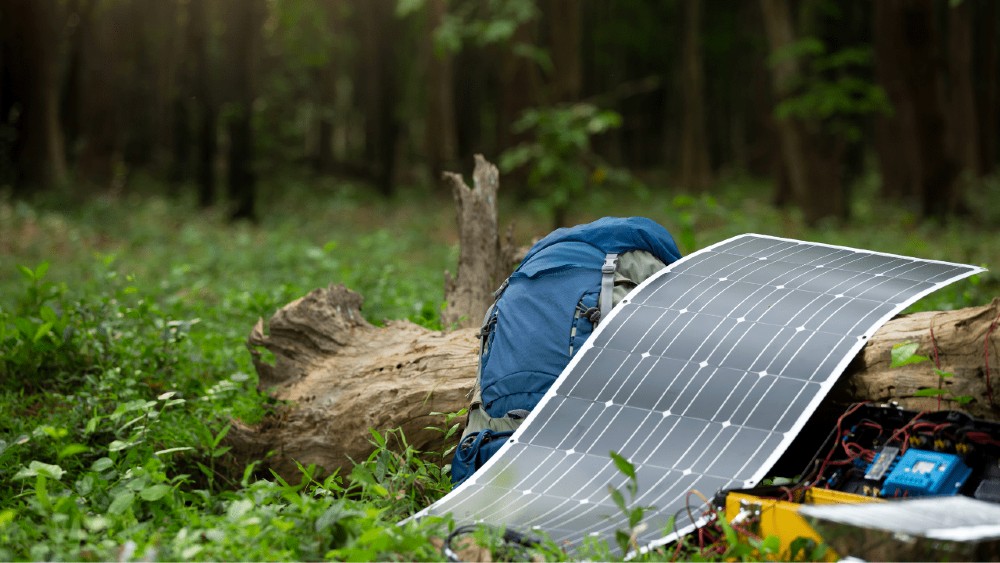 When choosing flexible solar panels, you will come across products with varying durability, ease of installation, solar cell efficiency, size, and weight. However, the power output is the most defining quality of flexible solar panels.
Not all solar cells have the same efficiency. The efficiency of flexible monocrystalline solar panels is higher than that of polycrystalline solar panels.
At the same time, thin-film solar panels offer better performance in low sunlight than the two crystalline flexible solar panels.
Size and weight also matter. If a flexible solar panel is too big or heavy, its flexibility will be less significant.
Without producing sufficient electricity, even the most flexible solar panels are only slightly better than duds. Panels that do not produce enough power to run your devices or appliances will be useless.
This is why you should place power output foremost on your scale of features.
Best Flexible Solar Panels at a Glance
Top 6 Flexible Solar Panels Review
1. Renogy Flexible Solar Panel
The Renogy Flexible Solar Panel impresses on all fronts. This is why we chose it as our overall best flexible panel.
This bendable solar panel offers the joint-highest power output, the joint-best durability, remarkable flexibility, high efficiency, and decent size & weight.
Our Review
Power
This flexible solar panel offers an output power of up to 100 watts – the highest output in the review. While some match this output, a few fall short by at least 50%.
This solar panel can power more than just mobile devices with a relatively high power output. You can power a radio, a small television, lamps, laptops, and other appliances with power consumption below 100 watts.
So, all in all, it is an excellent source of camping electricity.
Durability
Remarkably, the junction box is rated IP 68. The only other product on our list with an ingress protection rating as high as this is the Lensun Flexible Solar Panel.
With this rating, the junction box is almost waterproof. Whether it rains or snows, you never have to worry about moisture damaging the box's contents.
Besides its impressive level of water resistance, the Renogy Flexible Panels are the most flexible solar panels in our review. You can bend the panels through 248 degrees – none of the others come close.
Efficiency
This solar panel is about the same as the other flexible solar panels on our list regarding efficiency. It comes with monocrystalline solar cells like the rest. And, of course, these types of cells offer a higher output power per unit space than polycrystalline cells.
The rated efficiency should be in the 20-23% range – at least 4-10% higher than a polycrystalline cell can offer.
Installation
Unlike other solar panels, the installation of these panels is pretty uncomplicated. This ease of installation is partly due to the flexibility.
Whether you want to place this on curved or uneven surfaces or use it as your RV solar panel, it's all straightforward.
Size and Weight
While it is the longest flexible panel in our review, it is also the thinnest. Knowing it is just about 0.08 inches thick, its high level of flexibility is not so surprising.
These bendable panels are not the lightest solar panels in our review. But it weighs just 4 pounds, which should not be hard to carry. Also, its weight is just about 25% of what traditional panels of equal size would weigh.
Pros
It offers the joint-highest power output.
Remarkable durability – offers the highest water resistance of all the reviewed flexible solar panels.
Highly efficient – more so than polycrystalline solar panels.
Bends through 248 degrees – more than any other flexible solar panel in our review.
Cons
The connecting cable could be a bit longer.
2. Socentralar Flexible Solar Panel
The Socentralar Flexible Solar Panels impressed on various fronts. From durability to power output and efficiency – it offers more-than-satisfactory performance on all fronts.
Our Review
Power
This solar panel offers up to 100 watts of solar power – the joint-highest of any reviewed products.
The high output power allows you to connect multiple small devices to the solar panel simultaneously. It also allows you to use devices that consume 100 watts or less.
Besides directly powering devices, the panels can also charge batteries. Considering its high output power, it should charge your battery faster than other panels with lower outputs.
Durability
The junction box has an IP 67 rating. While this is still water-resistant, it is less than an IP68 rating.
Efficiency
The Socentralar runs on monocrystalline solar cells. So, its efficiency is pretty much assured.
The manufacturer states that the average conversion efficiency is 21%. Since the average conversion of polycrystalline cells is just about 13-16%, the rated efficiency of this product is pretty decent.
If you live in a region that does not get intense sunlight for a long period, you may want to consider thin-film solar panels over monocrystalline panels.
Installation
Like most solar panels that are flexible, the installation is pretty straightforward.
Unlike rigid solar panels, you can install flexible solar panels on various surfaces thanks to their flexibility.
The process is uncomplicated, whether you intend to place it on curved surfaces or hook it up to your RV batteries.
Size and Weight
The Socentralar is not the thinnest. But it isn't the thickest either. So, if you are okay with something with moderate flexibility, this works fine.
As we said before, the ease of installing flexible solar panels is partly due to their flexibility. And since thicker solar panels are less flexible, they may not be the easiest to install.
This product weighs around 4.44 pounds – the heaviest of the review panels. But while it is the heaviest, its weight is not bad.
Pros
Offers the joint-highest energy output.
Its durability is impressive, especially its resistance to water.
It has an average conversion efficiency of 21%, above what you may get with a standard solar panel.
Installation is straightforward.
Cons
A longer connecting cable would have been preferable.
3. SunPower Monocrystalline Flexible Solar Panel
This small Sunpower solar panel offers remarkable durability, top-notch conversion efficiency, and a fair amount of power. These lightweight solar panels have the thickest dimension of the several solar panels we reviewed.
Our Review
Power
The power falls short of what you can get with some of the others. It can only match half of the power the top panels produce.
Nonetheless, it remains a good camping solar panel choice. It should power multiple mobile devices and can power larger devices whose power consumption exceeds 50 watts.
If you were to charge a battery, you should get a full charge within a relatively short period.
Durability
With an IP67 rating, we were expectant of an impressive level of water resistance, and we weren't disappointed.
Efficiency
The SunPower uses efficient monocrystalline solar cells. It has a rated conversion efficiency of 23.5% – the second-highest amongst the reviewed products.
Going by the rated efficiency, it offers at least 7.5% to 10.5% more efficiency than polycrystalline photovoltaic cells. Then compared to the average monocrystalline solar panel, it offers around 3.5% to 8.5% more efficiency.
While monocrystalline cells are highly efficient, you may check out thin-film solar panels if you are bothered by low sunlight intensity.
Installation
As with others, installation is pretty easy. It fits pretty much anywhere you fix it, whether on a curved or flat surface.
Size and Weight
The SunPower panel weighs just 2.1 pounds, making it the second-lightest product on the list, just behind the Suner Power solar panel.
But while it is one of the lightest products we reviewed, it is the thickest. So, you may find that it is more of a semi-flexible solar panel. In other words, it is not as flexible as the others.
Pros
Produces a decent amount of solar power.
Highly water-resistant.
Has a rated conversion efficiency of 23.5% – one of the highest in the market.
Installation is pretty straightforward.
Cons
It could be thinner for more flexibility.
Longer connecting cables would have been even better.
4. Alrska 100 Watt Flexible Solar Panel 12V Monocrystalline
Alrska 100 Watt Flexible Solar Panel 12V Monocrystalline is one solar panel you cannot go wrong with. It ticks all the boxes, from flexibility to efficiency, durability, and power generation.
Our Review
Power
As its name has already been revealed, this flexible solar panel offers up to 100 watts of solar electricity. That output matches the highest among the products we assessed, which already tells of the quality it can offer.
With its wattage, you should be able to power multiple mobile devices simultaneously while charging a small battery pack or solar generator. So, you might want to take this along with you when going camping.
Durability
Being super flexible, this solar panel is not quite prone to damage by impact. So, you do not have to worry too much on that front. Then when it comes to protection against water ingress, it still does a great job.
We did a little test where we drizzled water all over the panel for about 10 minutes. Afterward, we tested if the panel was working fine, and it was. So, we'll take the IP67 rating from the manufacturer.
Beyond water ingress protection, the panel features multiple circuit protections, particularly short circuit protection. More reasons why it is a very durable option.
With these features, the safety of the battery you power the panel with is pretty much assured.
Efficiency
As the name says, the Alrska 100 Watt Flexible Solar Panel 12V Monocrystalline uses monocrystalline solar cells. This means it is highly efficient – expect efficiency in the 20s (about 22% or more).
Installation
Installation is a breeze; being flexible makes this possible. The solar panel can conform to any surface you place on since it is one of the most flexible options. This removes the need to place the panel in a certain type of pot.
Size and Weight
Since it is quite flexible, you'll expect this panel to be among the lightest on the list. But then it isn't; it weighs around 4 pounds. Yet, a few others weigh that much. So, we wouldn't think of the weight as a demerit.
Pros
It is very flexible.
Since it is the most flexible, it is the easiest to mount/install.
It is highly efficient.
It offers impressive power output.
Its water resistance is impressive.
Cons
Having multiple connection options would have made it even better.
5. Yuma 100W CIGS Thin-film Flexible Solar Panel with Tape (Long Version)
None of the other products can match the flexibility of the Yuma 100W CIGS Thin-film Flexible Solar Panel with Tape (Long Version). But that's not all, its power output and durability are amongst the best we've seen.
Our Review
Power
If you need a solar panel suitable as a backup power source or a power source for camping trips, you should check this out. The maximum of approximately 100 watts it can emit would be more than enough for mobile devices and other everyday appliances.
Besides, it can charge a 300Wh battery or solar generator in about 2-3 hours when exposed to moderate to intense sunlight.
Durability
With multiple circuit protection, the chances of the panel and a battery or solar generator connected to it going bad are pretty slim. Of course, it is still better to use the panel correctly.
Of course, it is waterproof to a high degree. Then being the least rigid product, it tolerates bending and flexing very well. So, there are minimal risks of deformation when in use.
Efficiency
Efficiency is one aspect we didn't like so much about this product. The conversion efficiency of 16% is probably the lowest or one of the lowest we've seen.
But perhaps, this low conversion efficiency was a tradeoff for the superb flexibility of the solar cells.
Installation
When you have a solar panel that can bend as far as 360 degrees, installation would not be a problem for you. You can place this panel on bends, curves, and anywhere.
Size and Weight
Neither the lightest nor the heaviest, the Yuma 100W CIGS Thin-film Flexible Solar Panel with Tape (Long Version) weighs around 4 pounds.
Considering all we've seen, this is okay. The weight might not be much of an issue for something so flexible.
Pros
The most flexible solar panel in the review.
It offers an impressive output wattage.
Durable build with multiple circuit protection
Installation is the easiest with this solar panel.
Cons
The conversion efficiency is not impressive.
6. ALLPOWERS SF100 Flexible Solar Panel 100W
The first impressive thing about ALLPOWERS SF100 Flexible Solar Panel 100W is its waterproof design. Another feature that impressed us was the efficiency. The power output was also massive.
Our Review
Power
This solar panel finds itself in the league of 100-watt panels. Of course, that means rapid charging for solar generators and batteries, compared to flexible solar panels with lower capacities.
Also, the high output wattage means it can power relatively larger devices. As such, you are not limited to using it only for mobile devices and laptops.
Durability
We saw how well it resisted water ingress. Then we checked for its IP rating and were convinced about the IP68 rating. The fact that it uses ETFE material further convinced us.
Beyond water resistance, it also tolerates various regular ambient temperatures quite well.
Efficiency
This product might just be the most efficient one of the lot. Rated around 23% to 25%, none of the others come close.
Another thing: the panel is crafted with ETFE plastic, which allows high sunlight transmittance. So, we have a combination of high sunlight transmission and high solar conversion efficiency. The potential is just brilliant.
Installation
As you'd expect of a flexible solar panel, installation is not an issue. But then, with a flex of up to 260 degrees, this panel is even easier to mount than many others.
Size and Weight
We put the weight of the ALLPOWERS SF100 Flexible Solar Panel 100W at around 4 pounds – pretty much the same as almost every other one. While it isn't the most flexible, it is close to the top.
Pros
The water resistance and overall durability are top-notch.
Its solar cell conversion efficiency is excellent.
Impressive sunlight transmittance
Flexible and very easy to mount
The power output is top-notch.
Cons
The warranty is not quite impressive.
Buyer's Guide
Output Power
Your solar panel's power determines how well it executes its prime purpose. If a solar panel does not produce enough solar energy to support your devices, its use will be limited.
Also, if the panel produces relatively low power, it only supports minimal loads. Then, when you try to charge a battery with it, the charging rate will be slow.
Going by the above, output wattage should be considered when buying flexible solar panels.
Solar Cell Efficiency
This feature is a bit straightforward. Solar panels with monocrystalline cells offer the highest efficiency. On average, their efficiency is about 15-20%. So, when you go shopping, keep an eye out for them.
While monocrystalline panels are great, you may want to check out thin-film panels if your region's direct sunlight is limited.
Durability
Durability also matters because solar panels are generally installed outdoors. Of course, while outdoors, they are exposed to the elements – rain, UV light, and wind. The said elements will rapidly or gradually wear out your solar panel.
But if the flexible solar panel you opt for is highly durable, it will resist impending deterioration for a long time. Hence, it would have a long lifespan.
Water resistance is one of the main features determining flexible solar panels' durability. So, when buying yours, pay attention to the ingression protection code.
Generally, the higher the ingress protection code, the more water-resistant a product is. Be on the lookout for products with IP65 to IP68 ratings – they offer the highest degrees of water resistance.
Besides water resistance, pay attention to the materials used in making the covering and backplane of your solar panel. Materials like ETFE and TPT are desirable because they resist heat and UV damage while prolonging product lifespan.
Size and Weight
It goes without saying, but the weight of solar panels plays a part in their portability. The heavier a panel is, the less portable it will be.
So, if you intend to go on trips with your flexible panel, ensure you get one that is light enough for you to pack.
When reviewing the size of flexible solar panels, pay attention to the thickness. With thicker panels, we expect lower flexibility.
FAQs
What Is the Most Efficient Flexible Solar Panel?
The most efficient flexible solar panels come with monocrystalline solar cells.
However, a thin-film solar panel would be effective in areas with low sunlight intensity. This is all thanks to the ability of thin-film solar cells to absorb light across a broad spectrum.
Do Flexible Solar Panels Last?
Well, flexible solar panels are not as physically durable as a traditional solar panel can be. And as expected, they do not last as long as traditional solar panels.
Generally, a flexible solar panel will last 10-15 years less than conventional solar panels.
Why Can't Thin Flexible Solar Panels Fail?
The prime reason flexible solar panels fail is excessive flexing and bending. Granted, flexible panels were built to be flexible. But if one flexes them or bends them too much, the solar cells may crack. Of course, when the cells crack, the overall efficiency of your flexible solar panel will drop.
Besides excessive flexing and bending, scratches to the surface of a flexible solar panel may also lead to failure. As said before, flexible panels are not as durable as conventional panels. While the conventional types come with glass solar panels, the flexible types typically have plastic covering.
Of course, plastic coverings are not as rigid as glass coverings. So, scratches to the plastic coverings usually damage the cells of a flexible panel.
How to Clean Flexible Solar Panels?
You can clean flexible solar panels by wiping their surfaces gently after applying a neutral soap solution and water.
Then, when you have tough stains like grease, you apply denatured alcohol to remove the stains.
One thing to note while cleaning flexible solar panels is to avoid using abrasive force. Wiping the panel's surface with abrasive materials like brushes will damage the solar cells. Consequently, the efficiency of the panel will drop.
Final Take
Always go for flexible solar panels with high output wattages. But while doing that, ensure you pay attention to their efficiency, durability, and portability.
While it is desirable to have a panel that produces sufficient solar energy, having one that withstands harsh elemental conditions while maximizing power production is even more pleasing.
We are sorry that this post was not useful for you!
Let us improve this post!
Tell us how we can improve this post?