10 Best Rechargeable Batteries for Solar Lights
While lithium-ion batteries have long been touted as the future of the solar battery world, some close rivals are giving them a run for their money. This blog post gives you a closer look at the best rechargeable batteries for solar lights currently available for solar light applications.
We've covered several Energizer, Amazon, and Panasonic battery types, including the standard Ni-Cd and NiMH batteries.
The batteries have been picked based on their charge capacities, shelf life, recharge cycle ratings, self-discharge rates, and other essential features. The differences between these features may appear marginal initially, but they amplify in the long run, resulting in years of lifespan difference.
Read on to find how the top rechargeable batteries fare against each other and which battery pack best meets your solar energy needs.
10 Rechargeable Batteries for Solar Lights Reviewed
Finding the best rechargeable batteries for solar lights can be a real struggle.
At Spheral Solar, we realize this struggle and present the Top 10 rechargeable batteries for solar-power light solutions.
1. AmazonBasics AA Rechargeable Batteries
The AmazonBasics are Ni-MH rechargeable batteries that can power solar lights, flashlights, digital cameras, and other compatible electronic gadgets for days on a single charge. They're highly versatile and can be ordered in several pack options, depending on your needs and budget.
The batteries have a rated capacity of 2000 mAh (milliamp hours), which refers to the amount of current the batteries can deliver in one hour.
As tested by the Wirecutter team, the actual capacity was 1,862 mAh, close to the battery's rated capacity. The test also showed that the batteries (pack of eight) could power a flameless candle for five days and nights.
You can recharge the AmazonBasics AA batteries 1000 times during their lifespan. Since these batteries are recyclable, you can take them to a recycling center after they become unusable.
Although the batteries have a slow self-discharge rate, their capacity can deplete significantly before reaching 1,000 recharges.
Pros
It comes in packs of 4, 8, 12, 16, and 24 batteries
The batteries come pre-charged so that you can use them straight out of the box
Carry one year warranty
Recyclable
Con
The charge capacity tends to deplete quickly
Verdict
The AmazonBasics AA rechargeable batteries have a 5 years battery shelf life and an extensive recharge cycle.
With over 172,000 ratings for superior performance, they are a good pick for your solar lights.
2. Energizer AA Rechargeable Batteries
The Energizer AA rechargeable batteries come in packs of 4, 8, and 16, offering over 1000 charge cycles and a shelf life of around 5 years. These NiMH AA batteries for solar light applications can retain 100 percent charge for up to 12 months.
Like the AmazonBasics, each Energizer recharge battery has a maximum capacity of 2000 mAh. Depending on the number of solar lights and their output voltage, these batteries will typically keep your lights lit for 10 to 12 hours on a single charge.
The Energizer AA batteries also have a reputation for high performance in cold temperatures. At 21 ⁰C, they can last up to 10 hours, offering an output current of 230 mA.
Pros
Highly versatile batteries that you can use in a variety of appliances
5-year battery lifespan and charge retention rate of up to 1 year
Pre-charged
Fully recyclable
Cons
Pricey
Some users have reported battery leakage
Verdict
You can use Energizer AA batteries to power your solar lights. They check all the boxes for a good rechargeable battery for solar lights.
With over 1,000 times charge cycle, 2000 mAh capacity, and 5-year shelf life, these batteries are worth buying.
3. BONAI AA Rechargeable Batteries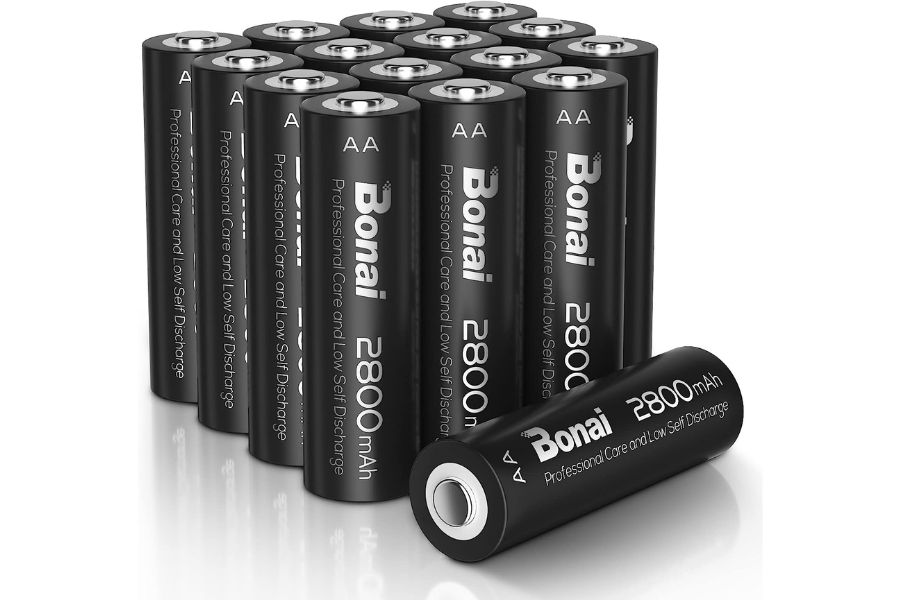 If you're looking for a budget-friendly option with an extensive lifespan, the BONAI 1.2v AA batteries for solar lights can be a good pick.
Each BONAI battery unit offers 2800 mAh of energy and can be charged 1200 times without worrying about reserve batteries. They come in packs of 16 batteries and remain charged for a year, even if unused.
After three years of non-use, the product maintains 80 percent of its charge capacity. However, charging them fully every 3 months is advisable to ensure optimal performance.
A good feature of the BONAI AA batteries is that you can use them for gadgets other than solar lights. Additionally, these batteries are environmentally friendly as they don't contain Mercury, Lead, Cadmium, or other materials harmful to the environment.
The product comes with a 30-day money-back warranty and a one-year limited warranty.
Pros
Safe, reliable, and recyclable
Works well in cold and hot climates alike
Extended battery lifespan
Covered by diverse warranty options
Con
May not charge efficiently with some chargers
Verdict
The BONAI solar light battery has the highest charge capacity among the batteries we reviewed. With a UL certification, they are one of the best batteries for solar lights.
4. GEILIENERGY 600 mAh Rechargeable Batteries
The 1.2V GEILIENERGY battery pack offers fast-charging NiCd batteries with excellent charge efficiency and lifespan.
A significant drawback of these rechargeable solar batteries is that you can only charge them using sunlight. The feature puts you at a disadvantage when sunlight is scarce.
It also limits your options when it comes to placing the solar panel. The improper position will reduce charge capacity and ultimately lower the run time at night.
The GEILIENERGY batteries for solar lights can be recharged up to 1000 times and provide a current of around 600 mAh. Given many recharge cycles, you can use solar batteries without wasting money on new batteries.
Pros
Fast recharging in maximum solar exposure
Eco-friendly
Affordable price
Cons
Bad light and weather conditions can adversely affect the charging efficiency
The position of the solar panel impacts the performance of the batteries
Low capacity (600 mAh)
Verdict
Although these batteries have a long lifespan and shelf life, their actual performance largely depends on exposure to solar energy.
These factors must be considered before purchasing the GEILIENERGY rechargeable batteries for solar lights.
5. Panasonic Eneloop BK-3MCCA8BA Batteries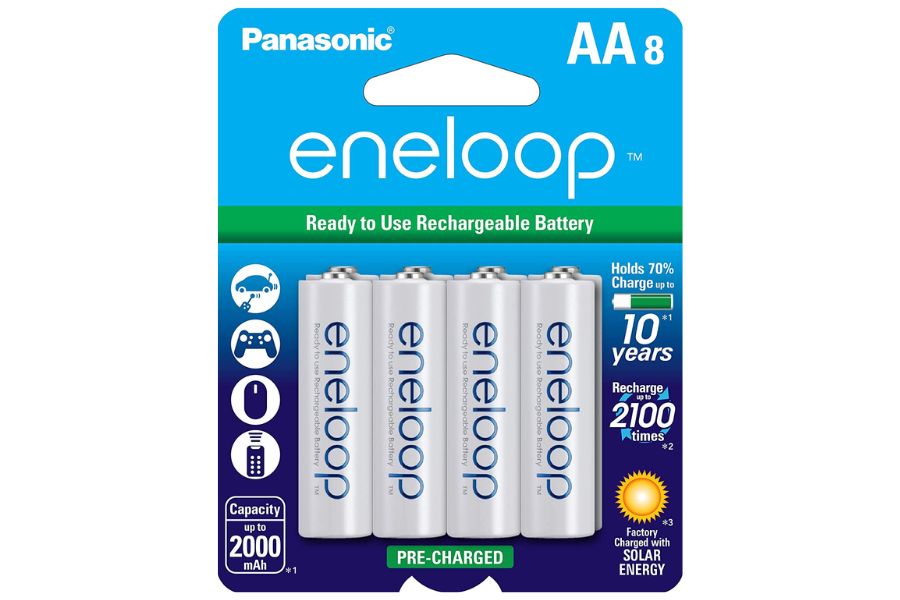 Panasonic's Eneloop AA rechargeable batteries have the highest recharge cycles among all the solar light batteries we reviewed. You can recharge these 1.2v NiMH AA batteries up to 2100 times so that you won't need any replacements for nearly a decade.
The BK 3MCCA8BA can also maintain around 70 percent of its charge capacity for ten years. Unfortunately, we can't validate this claim because these batteries were first available in 2014.
In the capacity testing, the Wirecutter team measured an actual charge capacity of 1850 mAh, which is pretty close to the rated capacity of 2000 mAh for Eneloop AA batteries. Besides, they can operate well in temperatures as low as -15 ⁰C.
We recommend getting the Panasonic Power Pack if you don't already have an AA or AAA battery charger. The Power Pack includes Eneloop batteries (8 AA and 4 AAA batteries) and a high-quality battery charger.
Pros
Longer lifespan compared to other brands
No memory effect
Comes pre-charged using solar power
Highly versatile
Con
Verdict
The 8-pack Panasonic Eneloop batteries for solar lights may seem expensive, but their high charging cycles and longevity make them cheaper than most alkaline batteries in the long run.
Together with AmazonBasics and Energizer, they are among the best rechargeable batteries for solar light solutions.
6. EBL AA Rechargeable Batteries
EBL AA offers Ni-CD rechargeable batteries for solar lights with decent charge capacity and long recharging cycles. The batteries can be charged 1200 times and have a total of 1100 mAh.
These batteries have a low discharge rate and can maintain up to 75 percent power even after three years.
The EBL AA solar light batteries are packed in a super-lattice alloy container. As a result, they are durable and efficient in temperatures as high as 60 ⁰C and as low as -20 ⁰C.
You also don't have to worry about recharging the batteries with a charger because they can charge themselves using solar power.
Pros
Highly versatile and durable
It comes stored in a container
It can be charged while being used in solar lights
Con
You need to charge them fully before use
Verdict
The EBL AA rechargeable batteries for solar lights work well in high and low temperatures.
Since you can recharge them with both conventional and solar energy, they won't let you down as long as they don't reach their maximum recharge cycles.
7. RayHom AA Rechargeable Batteries
The 1.2V RayHom AA batteries are highly versatile Ni-MH batteries with low self-discharge and high charging capacity.
With a 1200 times recharging cycle and a high capacity of 2,800 mAh, these batteries claim to power your solar lights from dusk to dawn for over 5 years.
The latter claim, however, should be taken with a grain of salt because tests have shown that they offer just over 2,450 mAh of charge.
You can order them in packs of 8 and use them in solar lights, flashlights, remote controls, shavers, and other electronics. The RayHom rechargeable AA solar light batteries can retain 80 percent of their capacity even after 3 years.
A 30-day money-back warranty and a 12-month limited warranty cover them.
Pros
Fast charging
High capacity
Extremely lightweight
The LCD screen displays the battery charging status
Con
Offers 500 mAh less charge than the claimed capacity
Verdict
Although the RayHom rechargeable AA batteries for solar lights offer less energy than claimed, we still recommend this product.
With a high-quality LCD screen that displays the battery status and nearly 2500 mAh capacity, these batteries still offer the best bang for your buck.
8. Tenergy Solla Rechargeable Batteries
These AA rechargeable batteries by Tenergy Corporation are designed especially for solar lighting. The 12-pack NiMH batteries come with a rated charge capacity of 1000 mAh.
These batteries can illuminate solar lights for 5 years on average. Like the EBL rechargeable batteries, Tenergy solar light batteries can perform well in extreme weather conditions.
The Tenergy's Solla batteries are protected from leakages due to over-charging. They do not contain any toxic heavy metals like those typically found in NiCd rechargeable batteries.
A 12-month warranty also covers the batteries.
Pros
Anti-leak in nature
Biodegradable
12 pack battery
A shelf-life claim of up to 5 years
Cons
Low capacity (1000 mAh) compared to other brands
Quality control issues
Verdict
The Tenergy's Solla rechargeable AA batteries for solar lights contain some excellent features, but the charge capacity could've been higher for solar-powered applications.
9. Duracell AA Rechargeable Batteries
The Duracell AA rechargeable solar light batteries are long-lasting and can hold a charge for up to 10 years in storage.
The product is said to offer 2500 mAh of charge, but most users measured a charging capacity of about 2400 mAh, which isn't bad either.
Due to the high charge capacity, they will efficiently power outdoor solar lights and numerous LED lights.
Like most NiMH AA batteries, the Duracell performs well in cold temperatures.
While these are high-quality batteries for outdoor solar lights, they have a major disadvantage. They're merely rated for 400 charge cycles, which can be a significant issue if you use them daily.
Pros
Higher capacity and shelf life than competitors
They perform well in cold temperatures
Cons
Costly option
Lower recharge cycles
Verdict
These batteries have an excellent lifespan and high capacity for outdoor solar lights. But the fewer recharge cycles can be a deal-breaker for some users.
10. LP AA Rechargeable Batteries
The LP AA batteries come pre-charged and can be used straight out of the package. They have a very low self-discharge rate and can retain up to 75 percent of charge capacity over 3 years.
Although the rechargeable solar light batteries are rated for 2300 mAh, the actual capacity, as tested by various users, is around 1700 mAh.
Additionally, the batteries come with a good battery case, providing extra safety for rechargeable solar batteries. They also have built-in protection for overcharge, discharge, and many other fail-safe features.
The LP AA batteries can be recharged up to 500 times before you can fully write them off.
Pros
Slow self-discharge rate
Pre-charged
Built-in protection for discharge and overcharge
Cons
Huge difference in rated and tested charge capacities
Discharges quickly in cold temperatures
500 charge cycles
Verdict
Despite the excellent protection features, the lag in capacity and lower number of charge cycles can be real issues for users using the batteries more frequently.
How Do Rechargeable Batteries for Solar Lights Work?
All batteries, rechargeable and non-rechargeable alike, comprise three major parts. These include:
A negatively charged Anode
A positive Cathode
The Electrolyte
The chemical reactions between the three parts of the battery are responsible for producing electricity. Ions in the electrolyte combine with atoms in the anode, resulting in a buildup of electrons.
The excess of electrons causes the anode to be negative. An opposite reaction occurs in the cathode, making it positive due to electron deficiency.
With an excess of electrons in the anode and a deficiency in the cathode, the electrons naturally want to leave the anode and move toward the cathode to gain stability.
The electrolyte, however, acts as a barrier and prevents electrons from traveling directly toward the cathode within the battery.
Electrons travel within the battery when the circuit is closed, i.e., a wire connects the battery's positive and negative terminals.
The loss of electrons at the anode is called Oxidation, while the gain at the cathode is called Reduction. The two reactions combined constitute a Redox reaction which causes electricity.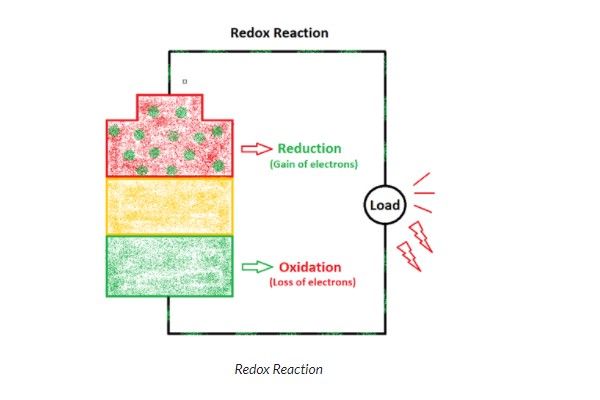 Once a charged battery is connected to solar lights, electrons start flowing from the anode toward the cathode, illuminating the solar light due to the redox reaction. As the battery becomes fully oxidized, no current flows in the circuit and the battery is considered 'dead.'
This is pretty much the end for primary batteries. However, a charger can reverse the flow of electrons in secondary (rechargeable) batteries and restore the initial excess of negative charge in the anode.
Types of Rechargeable Batteries for Solar Lights
The different types of batteries that have emerged throughout history differ in the materials and solutions used as the anode, cathode, and electrolyte.
We present some common rechargeable batteries currently sold based on the chemical composition and cell type.
Nickel-Cadmium
Nickel-Cadmium (NiCd or NiCad) cells are made up of metallic cadmium, a toxic metal that is hard to dispose of. They are lightweight, making them ideal for portable devices.
But since portability is not an issue for outdoor solar lights, this isn't something a solar light user may be interested in.
A major advantage of NiCd batteries is their ability to supply a constant output voltage until they completely run out of power. This feature gives NiCd batteries an advantage against alkaline batteries, which notice significant voltage drops as they drain power.
These batteries can last up to 1000 charge cycles before requiring any replacements.
Nickel Metal Hydride
Nickel Metal Hydride (NiMH) is a rechargeable solar battery that doesn't contain toxic metals, making it easier to dispose of. These batteries offer a larger charge capacity and are less susceptible to memory.
The AA and AAA NiMH batteries are highly versatile and can be used in solar garden lights, toys, remote controls, and other devices.
Although NiMH batteries significantly improve over the standard NiCd and alkaline batteries, they also have a fair share of negative attributes.
The batteries will self-discharge rapidly if used in low-energy devices. They also underperform in extreme temperatures.
Lithium-ion
Lithium-ion batteries emerged in the 90s and are currently the fastest-growing type of battery. The anode (negative electrode) and cathode (positive electrode) materials of the battery serve as hosts for the lithium ions, which is why they're called lithium-ion batteries.
These batteries typically have twice the energy density and require half the time to recharge than NiCd batteries. They're high-voltage operation batteries commonly used in laptops, smartphones, digital cameras, and outdoor solar lights.
The batteries require less maintenance and have a meager self-discharge rate at room temperature. However, the battery degrades rapidly at high temperatures.
They're also fragile and require a protection circuit. Additionally, the Li-ion is costly and has a short lifespan of about 3 years or less.
Lithium Iron Phosphate
The lithium iron phosphate or LPF battery is an improved version of the Li-ion battery that uses LiFePO4 as cathode material and graphitic carbon as an anode.
It's compact and priced higher than the Li-ion battery. However, the battery has a lower voltage drop and a longer lifespan, compensating for the high price. The lithium phosphate batteries can operate for up to 12 years with little to no maintenance cost.
These batteries can perform well in extreme temperatures, making them a good fit for solar lights. It's also environmentally friendly, requires less time to recharge, and supplies a constant output voltage.
The lithium phosphate battery can deliver up to 3.2V during discharge without voltage-regulating circuitry. LPF batteries, however, have a lower capacity rating than Li-ion batteries.
Lead-acid
The lead-acid battery is the most economical rechargeable for power-hungry applications like UPS systems, cars, and solar. They are widely used because of their compatible price range and decent lifespan.
On average, the lead-acid can operate for around 5 years, which is fair enough for the price range.
Unlike most batteries, these batteries recharge slowly, typically requiring 8 to 16 hours for a full recharge. They also need regular maintenance and have a higher risk of explosion if handled carelessly.
Another disadvantage of the lead-acid battery is its subpar performance in extreme weather conditions. Environmental extremes can affect the battery's performance and significantly reduce its service life.
Sodium Nickel Chloride
The Sodium Nickel Chloride (Na-NiCl2) is a high-temperature battery that can perform at -20 to 60 ⁰C. They are fully recyclable and contain no content harmful to the environment.
Unlike the Li-ion batteries, the Na-NiCl2 battery has no fire risk and requires no active cooling system.
Despite these batteries' benefits, their cost/kWh is much higher than Li-ion batteries, making them expensive. Another drawback of the sodium nickel chloride battery is the lower depth of discharge.
The battery can be discharged up to 80 percent, meaning a considerable amount of power goes unused.
Do You Need Special Rechargeable Batteries for Solar Lights?
Solar lights do not need any special rechargeable solar batteries. They can be powered using the available standard Ni MH and NiCd rechargeable solar batteries
Although you can use regular alkaline-based batteries in your solar garden lights, they won't be able to last due to a low mAh capacity.
Regular batteries can also lead to corrosion of terminals and permanent system failure. Below, we outline a few more concerns when using regular solar light batteries.
Corrosion of terminals: Regular batteries, especially alkaline-based batteries, are made to be disposed of after they run out of charge. Solar light applications can quickly drain their charge, leading to corrosion of terminals and potential charging problems.
Permanent system failure: Continued use of regular batteries can cause permanent system damage and put your entire solar light unit at risk.
Unreliable performance: Since regular batteries aren't designed for solar lights, they won't perform as efficiently as NiMH and NiCd rechargeable batteries. When using regular batteries in solar lights, it's common to experience abrupt power drains, flickering lights, and subpar performance.
Voiding the warranty: As you might have noticed in the buyer's guide, most solar light units come with a money-back and limited warranty; however, using replacement batteries not recommended by the manufacturer can void the unit's warranty. Any damages incurred to the solar light won't be covered in case you use regular batteries.
What to Consider Before Buying a Rechargeable Battery
Even if you've narrowed your choice to a few rechargeable batteries in the guide, you must purchase only one at a time.
So, which battery unit do you buy?
To answer this question, we've compiled the essential features of rechargeable batteries that you need to consider when buying batteries for your solar lights.
Capacity
The solar battery charge capacity is a factor that significantly affects the performance of solar lights. The higher the capacity, the brighter your LEDs will be and the longer they will illuminate your surroundings. Charge capacity is measured in mAh and indicates the battery life.
When purchasing a rechargeable battery, choose a unit with a higher mAh capacity. Steer clear of anything below 600 mAh because it won't provide enough energy to power your solar lights.
The following list depicts how the 10 best rechargeable batteries in our guide fare against each other regarding mAh capacity.
Recharge Cycle
The recharge cycle refers to the number of times a battery can be recharged during its lifespan. It's normal for rechargeable batteries to last 2 years, but we suggest you find a pack offering at least 1000 cycles.
Self-Discharge Rate
The self-discharge rate is the amount of charge a battery loses if it remains unused.
When buying rechargeable batteries for garden lights, pick those that can retain at least 70 percent of their charge for over 3 years unused.
Number of Batteries per pack
You may also want to consider the number of batteries in a single pack. The more pieces there are, the better because you'll have plenty of reserve batteries if a battery stops working.
Also, buying batteries in bulk is much more affordable than purchasing them in single pieces.
Type of Battery
Rechargeable batteries are available in various types depending on the composition and cell type. Most solar lights use NiMH and NiCd batteries; however, other battery types can also power solar lights.
When buying a rechargeable battery, ensure it is compatible with your solar lights.
Price
There's no fixed price for rechargeable batteries. Their price generally depends on features like recharge cycle, capacity, and cell type.
While the price may not be the most important factor, you should consider it when buying rechargeable batteries.
How Long Do Rechargeable Batteries Last in Solar Lights?
Standard rechargeable batteries can last around 2 to 3 years. However, the battery type, recharge cycle rating, and usage can impact a battery's lifespan.
It's advised to recharge a battery every three months to maintain its lifespan for optimal performance even if the battery is not in use.
It's normal to see a decline in your solar lights' brightness as a battery completes its maximum recharge cycle rating. To check the battery's health, temporarily replace it with a regular battery. This will allow you to compare the performance of the two batteries and determine if they are faulty.
Final Thoughts
We hope the information in the buying guide will help you choose the right batteries for your solar lights.
All the brands listed above have excellent charge capacities, decent recharge cycle ratings, and low self-discharge. As such, they will keep your solar lights running from dusk to dawn.
AmazonBasics, Energizer, and Eneloop are the most popular brands for AA rechargeable solar light batteries that can certainly meet your energy needs. However, brands like EBL, Tenergy, and Duracell don't lag by much in terms of features.
We suggest you analyze your solar light needs and compare each product's pros and cons before purchasing.
We are sorry that this post was not useful for you!
Let us improve this post!
Tell us how we can improve this post?