8 Best Solar Backpacks in 2023
Large-sized solar backpacks with battery banks and multiple USB ports that are weatherproof and durable are great. But in the end, high solar panel wattage defines the gap between the best solar backpack and the rest.
The 8 Best Solar Backpacks at a Glance
Size
The spatial capacity of a solar-powered backpack depends on its size. The larger the backpack, the more items you can carry in it. Nonetheless, size is sometimes subjective regarding solar-powered backpacks and all types of backpacks.
While some people just want something small to fit their mobile gadgets, others prefer a product they can take camping.
Durability
Durability is vital for all products, and solar backpacks are no different. Good solar backpacks typically resist water and similar weather conditions to a high degree.
But beyond that, they are also made with materials that will resist tear as they come under the weight of the load within them.
USB Port
The USB port is the point of exit of solar power from the solar panel to your mobile device. But if a solar backpack comes with only one port, you cannot charge more than one device simultaneously.
This is where getting a backpack with multiple USB ports reveals its importance.
Power Output
Anyone who gets a solar backpack is so they can charge their mobile devices with solar power on the go. However, the sun will not be out all day; in some places, the sun will only be out for a short time.
So, to get enough charge on your device within the period the sun shines, you need a solar panel that charges rapidly. You can if the solar panel's power output is high enough.
Generally, the higher the solar panels' power output or wattage, the faster they charge your device. Also, high solar panel wattage allows charging multiple devices at once.
Power Bank
Another way to get around the absence of the sun is to buy a solar backpack with a battery bank.
When the sun is out, you charge the battery bank and simultaneously charge your devices from the battery bank. So, when the sun sets, you have a charged device and battery bank.
Of course, since the charged battery bank had stored some power from when the sun was out, you can charge another device with it.
Our Best Solar Backpack Review
1. Gosun Solar Powered Backpack
The Gosun Solar Powered Backpack offers a fair amount of storage space. But more than that, it packs a lot of vital accessories. Those accessories make using this solar backpack easy.
Our Review
Wattage
With this backpack, you get a 10-watt solar panel and an 18Wh power bank. So, you cannot only charge/power your mobile devices with the sun, but you can also store solar power for later.
Then there's an LED light in there; it should be handy at night when camping.
The package includes 4 carabiners for strapping the solar panel to the hooks in front of the backpack.
Size
You get 19 L of space while the backpack weighs just 3 pounds. This is one of the heaviest options we checked out. But then, it isn't the heaviest. Also, 3 pounds is barely noticeable when the backpack is not fully packed.
Compartments
The Gosun solar backpack features two water bottle holders – the side pockets. Then there's an expandable pouch in front – it can hold items you do not want with the other items in the bag.
The backpack has two main compartments – a larger one and a smaller one. Both of them feature smaller pockets, which make for an organized interior. Then there's the poncho bag for extra storage space.
Durability
Like the poncho bag, the Gosun backpack will thrive in various weathers. But then, it may be susceptible to puncture. Still, we don't think that susceptibility is unusual.
Pros
It offers a fair amount of space and comes with a poncho bag.
Comes with a lot of accessories, which make it easy to use
Durable build
Features a power bank
Cons
It doesn't have an integrated USB port.
2. ECEEN External Frame Hiking Backpack
The ECEEN Hiking Backpack offers the largest backpack size of any product on our best solar backpack list. Then again, it provides one of the highest wattages. It is pretty lightweight and is durable. No surprise, it is our number one pick.
Our Review
ECEEN provides a storage space of up to 68 L. No other product on the list matches this size. The product with the closest size to this, the ECEEN Solar Backpack, only offers 42 L.
Size
With a size of up to 68 L, you can pack enough for a 2- to 3-day trip. Then if you are bothered about the size, you can adjust it with the straps provided.
Beyond adjusting the size of the backpack, the padded straps (especially the shoulder straps and chest straps) help improve the grip and stability of the backpack on your body while you are on the move.
Interestingly, even with its large size, it is pretty light. It weighs only around 1.8 lbs.
Compartments
Besides having a large space, this solar backpack comes with multiple compartments. For one, you get two side pockets, which can hold items like a water bottle and an umbrella.
Power Output
The solar panels strapped to the backpack produce a total power output of 20 watts. No other backpack on the list offers higher wattage. You can charge your smartphones, tablets, power banks, and other 5-volt devices with the power output.
Apart from the high wattage, the solar panels are pretty efficient. They have a rated efficiency of up to 24% – higher than average monocrystalline solar panels.
USB Port
This solar backpack comes with more than one USB port. So, when on the go, you can charge up to two devices simultaneously. Also, the backpack uses removable solar panels.
You may not like that this product does not come with a power bank because it will not charge your devices when the sun is not out. But then, you can buy one for yourself separately.
Pros
No other solar backpacks can take as many items as this product.
The highest solar panel power output.
It uses a detachable solar panel. So, getting a replacement panel will not be complicated.
One of the lightest products on the list.
Offers two USB ports
Cons
You do not get a power bank with this product.
3. ECEEN Solar Backpack With Integrated Solar Panel (Anti-Theft)
The ECEEN Solar Powered Backpack features one of our best solar backpacks because of its high power output and unique anti-theft design. But this backpack is pretty light beyond those features and offers a decent size.
Our Review
The zipper of the main compartment stays concealed while you carry it on your back. So, no one can open the main compartment without your knowledge until you get it off your back. This design makes the backpack anti-theft.
This product is the only anti-theft backpack in this review. So, consider it if you are out for an anti-theft solar backpack.
Power Output
The solar panels attached offer a maximum power output of 10 watts. The only backpack with a better output is our top choice.
While its charging rate will not be as fast as our top choice, the ECEEN Backpack still packs a punch. You should be able to fully charge your phone and smartwatch within 1.5-3 hours. Then you can fully charge your smartphone and tablet within 4 to 8 hours.
Size
The Backpack offers a space measuring around 26 L while weighing just 1.65 pounds.
Interestingly, it is the second lightest backpack we reviewed. The only other product that is lighter than it is the ECEEN Foldable Solar Backpack.
USB Port
This solar backpack does not come with a removable solar panel. So, getting a replacement panel might not be so easy. It features just one 5V USB port, meaning you can only charge one device anytime.
You do not get a power bank with the ECEEN Backpack. So, you cannot charge your devices when the sun is out or cloudy.
Pros
The wattage is pretty high.
The backpack size is decent.
Weighing 1.65 pounds will not feel like an extra load on your back.
Crafted to reduce theft chances, you can feel more confident while walking around with this backpack strapped to your back.
Cons
It does not come with a power bank.
It could be better with more USB ports.
4. ECEEN Solar Backpack 7 Watt Solar Panel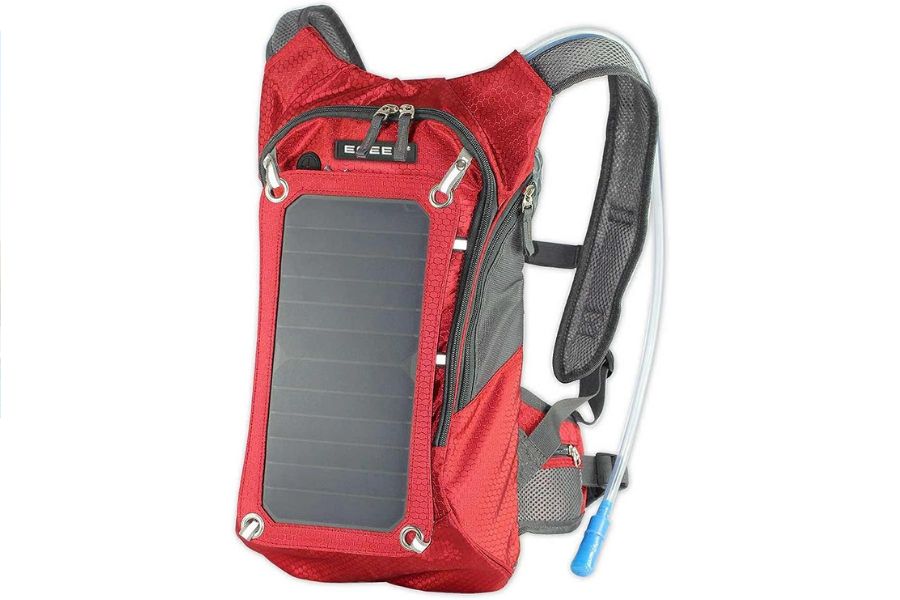 ECEEN offers one of the largest solar backpacks on our list. But beyond that, the power output of its solar panels is pretty remarkable.
Our Review
With this backpack, you get 42L of space, which is a lot by every standard.
Besides taking this backpack hiking, you may also take it with you when biking, hunting, or running.
The backpack also comes with a 2L water bladder, which comes with its own compartment. With this bladder, you may not have to take a water bottle along to stay hydrated on your trips. Even better is that the water bladder comes with a tube that you can drink from without getting the bag off your back.
As the name says, the solar panels provide up to 7 watts of power. This is not as high as what you will get with the rest. Still, it gets the job done, albeit not as fast as the said products.
Wattage
You may want to opt for one of the 3 products with higher wattage if you live in an area with shorter durations of direct sunlight.
Beyond producing 7W solar power, this solar backpack is pretty efficient. The monocrystalline cells have an efficiency of up to 22%. And this is pretty high – at least higher than the typical average for such type of solar cells.
Durability
On durability, the backpack is made with nylon & polyester fabric. While the nylon part offers tear resistance because of its stretchiness, the polyester part provides some water resistance.
Besides the nylon & polyester fabric, the solar backpack is covered with polyester lining to enhance the water resistance further. Of course, this does not mean you should let the it get soaked in the rain. But you can rest assured minimal rain drizzle will not get past the lining.
USB Port
The solar panels attached to the ECEEN 7W Solar are detachable. So, getting a replacement should be easy. You only get one 5v USB port, unlike the ECEEN Hiking Backpack.
Weighing 3.31 pounds, the ECEEN 7W Solar is the heaviest backpack on our list. So, you may look away if you want something lighter.
Like every other product we reviewed, the ECEEN 7W comes with no power bank. So, you cannot store solar power for use when the sun is not out.
Pros
Substantial power output
Large bag size
It is pretty tear-resistant and waterproof.
Detachable solar panels.
Cons
No power bank is included with this product. So, in the absence of solar power, you cannot use it.
It is relatively heavy.
5. HAWEEL External Frame Backpack
The HAWEEL External Frame Backpack features next in our review of solar-powered backpacks. This product offers decent power output, is a large size, and is lightweight.
Our Review
If you get the HAWEEL backpack, you can expect up to 7 watts of solar power from the solar panels. This is about the same as what the ECEEN 7W Solar offers.
Still, it offers enough power to charge a single device within a reasonable timeframe. Plus, since the solar cells have a transfer efficiency of up to 22%, they should work pretty well with enough direct sunlight.
Compartments
The HAWEEL offers 30L of space alongside multiple compartments. Then it has multiple pockets and compartments, which further optimize the space for your mobile devices, laptops, camera, shoes, clothes, radio, and much more. Then again, instead of charging your radio with the solar panel, you may just get a solar radio instead. This will free up space for other devices.
The HAWEEL weighs just about 1.8 pounds – one of the lightest products reviewed. Only the ECEEN Anti-Theft and the ECEEN Foldable weigh less.
One feature you may like about the HAWEEL solar backpack is the stability that comes with wearing it. The shoulder straps alongside the padded back area ensure you feel easy while you carry the backpack.
On durability, the HAWEEL Backpack is made with high-density PVC fabric. So, it offers a good degree of water resistance and tears resistance. And overall, it should do just fine in the conditions of the outdoors.
USB Port
The HAWEEL offers only one USB port. So, you can only power one device at a time. But on the upside, it also features a headphone port. So, you can power your device and listen to music at the same time.
Overall, you get a great deal. But, since the manufacturer does not include power banks with the backpacks, they are pretty much nonfunctional without solar energy.
Pros
The power output of 7 watts.
You can remove the solar panel whenever you want.
The bag offers multiple pockets and compartments and an overall space of 30L. Only the ECEEN Hiking and the ECEEN 7W Solar provide more overall space.
While it comes with just one USB port, it features a headphone port.
It is pretty lightweight.
Cons
It does not come with a battery bank, so it only functions when there is direct sunlight.
6. ECEEN Solar Backpack Foldable Hiking Daypack With 5V Power Supply
The ECEEN Foldable offers one of the lowest prices, and it is the lightest of all the backpacks we reviewed. Apart from the great price, you get a great deal of space and decent power output.
Our Review
Power Output
The solar panels of the ECEEN Foldable offer a maximum power output of 6.5 watts. Only the XT Power Hiking has a wattage as low as this.
While the relatively low power rating of the ECEEN Foldable means that it may not charge your smartphone and devices very fast, it still works. But you may want to consider the best solar backpack in this review if you stay in an area that does not get so much sunlight.
Compartments
The overall space in the ECEEN Foldable is 30L – the same as the HAWEEL. Then you get multiple compartments, including a zipped pocket in front, two side compartments, and one zipped main compartment. However, you should know that ECEEN Hiking and the ECEEN 7W have large capacities.
Weighing just 1.19 pounds, the ECEEN Foldable is the lightest backpack we reviewed. Beyond being lightweight, the ECEEN Foldable is made from nylon & polyester fabric – a water-resistant and tear-resistant combination of materials. Then the bottom is laced with a double-layer bottom piece. These features altogether contribute to the overall durability of the ECEEN Foldable.
For your comfort, the ECEEN Foldable comes with chest clips and shoulder straps. So, you can adjust the straps until you get the most soothing fit for you.
The ECEEN Foldable is perhaps the most portable solar backpack we reviewed. You can detach the solar panels whenever you want, and you can fold the backpack with ease.
When buying the ECEEN Foldable, you get 3 color options: grey, blue, and red. But it does not have a battery bank. So, it can only work when there is a source of solar energy.
Pros
Uses removable solar panels. So, you can readily replace a faulty panel.
It is very light and portable – the lightest of any of the backpacks we reviewed.
The size of 30 L is pretty impressive, considering the weight.
Decent water resistance, tear resistance, and overall durability.
Multiple color options.
Cons
Power output could be higher.
No battery bank included.
7. XTPower Hiking Large Solar Backpack With Flexible Solar Panel
About the Product
The XTPower Hiking offers decent power output. It is lightweight, efficient, comes with a flexible solar panel, and is pretty durable.
Our Review
USB Port
With solar panels that produce up to 6.5 watts of power, the XTPower Hiking offers the joint-lowest wattage of any of the reviewed solar backpacks alongside the ECEEN Foldable. Then unlike the other solar power backpack, the XTPower offers a 6v USB port instead of a 5v port.
Power Output
Of course, even with this low power output, this solar charger backpack still does its job effectively when there is enough solar energy. Plus, the efficiency is pretty high; the monocrystalline cells offer a power transfer of up to 22% – above average. Nonetheless, you may want to consider other options if your region does not get sufficient sunlight.
This large solar backpack weighs only 1.8 pounds – one of the lightest solar backpacks in our review. Only the ECEEN Anti-Theft and the ECEEN Foldable weigh less. Beyond the lightness, you get 46L. Only the ECEEN Hiking has more space.
With the space in this backpack, you can carry various devices and items simultaneously. Then you even get a laptop compartment that can hold laptops with sizes up to 17 inches.
The XTPower Hiking is padded in various spots for comfort. Then it features shoulder straps and a hip belt that improve comfort and help keep it stable while you move.
Made from Nylon, this bag offers some real resistance to rip and tears. But beyond that, the nylon fabric is decently water-resistant.
This solar hiking backpack comes with a removable solar panel. This makes for portability, and you can easily replace it when you have to.
Overall, the XTPower Hiking is a top product. But it would have been even better if it came with a battery bank.
Pros
The size is one of the highest we reviewed – only the ECEEN Hiking trumps its size.
You get to remove the PV panel readily.
Not very heavy
Cons
It does not come with a battery bank.
The power output could be higher.
8. Solgaard Lifepack Backpack
About the Product
The Solgaard Lifepack Backpack is chock-full of top features, so it is no surprise we didn't think twice before adding it to this list. The Solarbank is that one accessory that caught our eye the most.
Our Review
Compartments/SIze
If you want compartments, this 18L Backpack will give you compartments. When you get this backpack, you get two main compartments.
In the bigger compartment, there's a laptop pocket, four small pockets of varying sizes, and a large space as with regular backpacks. In the smaller compartment, there are multiple pockets, and they make for a high level of organization. Inside the smaller compartment, you'll also find the solar panel in its pocket.
Besides all the regular pockets, you get 4 secret pockets. So, if you ever need to keep sensitive items like cards in a safe place, you could try it out. Then there are two side pockets, big enough for bottles and other items of similar sizes.
USB Port
You get an integrated USB port in one of the two side pockets. So, you can readily connect your device on the go. Being inside the pocket, the USB port is unexposed and protected. Of course, that extra protection makes the port less prone to damage.
Wattage
With a 10W solar panel, this backpack is actually pretty okay. It should be more than enough for powering most mobile devices. Then since the solar cells of the panel are highly efficient, you should still get ample amount of power on low-sunlight days. Then there's the Solarbank – a power bank to store solar power for later usage.
If you want this backpack cheaper, you can get it without the Solarbank. But if you want the full experience, you should get the Solarbank. You may even add the Solar boom box if you love some music with the experience.
Durability
One of the best things about this backpack is its durability. But even while being durable, it maintains plush features, which make for comfort. The waterproof bottom is also pretty great.
We liked the antitheft lock that comes with the bag. But then, we think it would have been better if each compartment comes with its own separate lock.
Pros
Decent solar panel wattage
Comes with antitheft lock
Has multiple secret compartments
Features multiple pockets inside the two main compartments
Comes with integrated USB port
Cons
It uses one antitheft lock for multiple compartments.
Buyer's Guide
Solar Panel Power Output (Wattage)
When buying a solar power backpack, your top priority should be to get a product that offers enough power output for your devices. Check for the wattage of the choices before you and prioritize those with higher wattages. The higher the wattage of the solar panels of the solar backpacks, the faster they can charge.
In many cases, the solar panels of solar backpacks have wattages ranging from 5 to 10 watts. Never go for any product with less than 5 watts of power; they will not do the job you want.
Battery/Power Bank Capacity
Since the sun will not always be out, some manufacturers include a battery bank in their products. So, the solar panel charges the battery, and when there is no sun, it will charge your device.
The battery banks come with different capacities, and the higher the capacity, the more charge it holds. Generally, prioritize getting a battery bank with a capacity of at least 10,000 mAh. Anything less will not make much difference. It might also be worth looking at backpacks with replaceable batteries for solar charging.
In case you do not find a product that comes with a power bank, you may just get one separately, or you could try other means of charging with a solar panel without the sun. One such means involves powering the panel with LED light. But while this alternative will work, it will never be as effective as the sun.
Removable Solar Panel
Some products are designed in such a way that you can remove the panel readily. Then others come with non-detachable panels.
The upside to getting a backpack with a removable panel is that you can readily replace the panel if it ever goes bad. You can also adjust the panel for improved reception of solar rays, so it performs better.
Size of the Backpack
This goes without saying, but the size you opt for defines how much you can carry with it. In some cases, the backpack size is subjective. But generally, people opt for larger-sized bags since they can take more load at once. Then again, others want something portable – something small to carry around.
Besides the size, check the bags for their compartments. The more compartments in the bag, the easier it is to arrange your belongings in it.
Durability
The durability of the solar power bag you choose is not negotiable. You will be using the bag outdoors, where it will be exposed to the sun and many other conditions that may damage it. So, you must opt for a waterproof, tear-resistant, and durable product in the sun.
FAQ
What Solar Backpack Size Do You Need?
The size of the solar backpack you need depends on the purpose you need it for. If you just need a bag for your normal day-to-day activities, one in the 12L to 25L size range will do. You can carry a laptop, your books/documents, your mobile devices, and a few other items with such backpacks.
Athletes and cyclists can make do with smaller backpacks. Something within 8 to 10 L would do fine for them.
If you need a bag for hiking, larger sizes like 30L to 100L are more appropriate. With such backpacks, you should carry various camping supplies, including clothes, mobile devices, and flashlights, among others. If you are looking to get a solar backpack for your camping trip, you should consider getting a solar flashlight too. Getting one means you have one less device to charge with the bag and less competition for the 1-2 USB ports.
After thorough consideration, if you decide that the solar backpack will not suffice for your camping needs, you may opt for a solar panel for camping. With one, you should be able to charge multiple devices at the same time.
Conclusion
The feature that defines the primary function of a solar backpack is its wattage. Once you have selected products with the highest wattages, check the size of the bag. You should only get a product with enough space for all your belongings. Once that is settled, look out for the inclusion of a battery bank. The battery bank extends the functionality of your backpack beyond the periods the sun shines. Lastly, do not forget durability – your choice should stay strong and last many uses.
We are sorry that this post was not useful for you!
Let us improve this post!
Tell us how we can improve this post?