10 Best Solar Battery Maintainer for Cars and RVs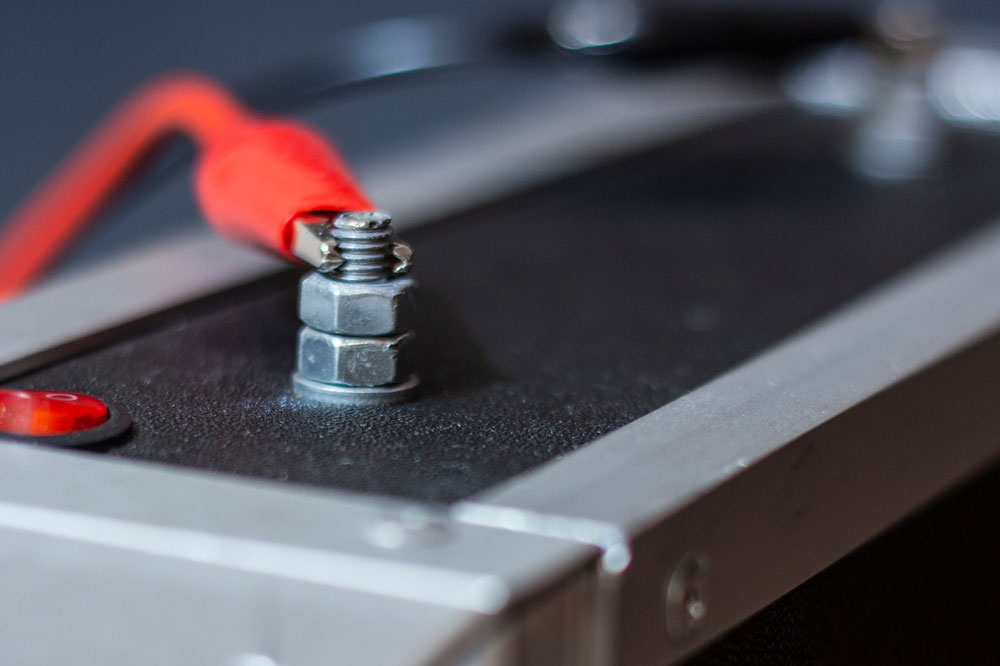 Unfortunately, emergencies strike when you least expect it for many, but having a quick and reliable method to restore battery power can be a lifesaver.
In many cases, when you can least handle it. Being out shopping when your car battery decides to die can be a massive headache. Out camping in the woods with your RV, refusing to turn it on can be an emergency.
No matter where you find yourself, having a portable, dependable way of pumping juice back into your battery can save the day.
Carrying the best solar battery maintainer money can buy is even more essential, so at least you have some luck.
10 Best Solar Battery Maintainers at a Glance
Our 10 Favorite Solar Car Battery Maintainers in 2022
1. ECO-Worthy 12 Volt Solar Battery Maintainer
If you have a 12v battery that needs an emergency charge, look no further than the ECO-Worthy Solar Maintainer.
This 5-watt solar panel is easy to use and can charge your battery in an emergency. It's eco-friendly and has reverse-polarity protection, which helps prevent battery damage when you connect the wrong wires.
Furthermore, the product contains blocking diodes to ensure that the power can only travel from the solar panel to your battery and not the other way around.
The issue with many solar charger devices is that the battery can quickly drain back to the solar charger after a full charge, especially when there is no sunlight. The ECO-Worthy does well to avoid this drainage.
Our favorite feature of this product was how great it is for any weather conditions. It's waterproof and durable, so you don't have to worry about the amorphous solar panel cracking or shorting out.
It's effortless to use as it can be plugged into the car's cigarette lighter plug for ample charging.
Our Verdict
Most solar battery charger devices will die out after too much use. With the ECO-Worthy, you won't have to worry about buying a new one for a long time.
We loved how great it is for outdoor use and how resistant to most weather conditions it is. You can use it to charge up your car, boat, truck, RV, etc., without worrying about rain or snow damage.
Pros
Easy to install and easy to use
Durable and water-resistant
Prevents power drainage
Cons
Suction cups come loose quickly when charging.
2. Renogy 10W Solar Battery Trickle Charger Maintainer
With multiple safety checks like overcharge protection, short-circuit protection, and reverse polarity protection, the Renogy 10W Solar Battery Trickle Charge Maintainer brings the chances of electrical damage to your battery to near zero.
From what we saw, this device looks like one to stand the test of time. The sealing is top-notch. We even tried simulating the rain effect on it for 10 minutes with a sprinkler, and it had no issues afterward.
That made us confident about its water resistance and general resistance to the elements.
The sealing aside, the build materials are very sturdy – their heat tolerance is particularly impressive, which is why the tempered glass protects the solar panel so well.
The suction attachment at the back of this device makes for easy installation. You can readily attach the battery charger to any surface – boat, RV – without making holes.
It would have been a lot more convenient if the cables were longer. Still, you get three different cables – alligator, ring terminal, and cigarette lighter.
For us, the multiple cable options coupled with the wide working temperature range were at the fore of the versatility of this device.
Our Verdict
All in all, the Renogy 10W Solar Battery Maintainer is outstanding. The ease of use and versatility are laudable. But then, the safety features and durability make it an even more reliable product.
So, if you need a reliable, high-quality solar battery maintainer, consider this strongly.
Pros
Built-in blocking diode prevents reverse polarity. The charger also has overcharging and short-circuit protection.
Comes with multiple cable options – ring terminals, alligator clips, and a cigarette lighter.
Durable, heat-tolerant, and waterproof.
Cons
The cables could be longer.
3. Battery Tender 12V Solar Battery Charger
Safety is the name of the game for the Battery Tender Solar Battery Charger.
It includes reverse polarity protection, a spark-proof and waterproof design, a 3-step microcontroller to prevent overcharging, and a temperature compensator to avoid overheating.
This amorphous solar battery trickle charger is one of the best solar-powered battery charges ever. It's lightweight yet perfect in almost any situation. You won't have to worry about any weather conditions with this 5W solar charger.
When we first encountered this product, we were surprised by the unique design of the solar panel. This eco-friendly charger maintainer looks more like a mat than a 12-volt trickle charger.
However, once you plug it into your cigarette lighter, it is ready to go and will thoroughly protect your car.
The Battery Tender solar charger senses when your car battery is fully charged and can cut itself off with the internal charge controller, something unique and useful this product has over the others.
Our Verdict
Most solar charger products offer charge protection, but very few battery chargers can sense when a car battery is at peak power and cut itself off.
What we love about this trickle charger is that it might be the smartest battery on our list. Not to mention the extreme protection you get from this smart device.
You name it waterproof, shockproof, internal overheating prevention, overcharge protection. The Battery Tender solar battery charger protects you and your vehicle.
Pros
Extreme protection from misuse
Easy to install and use
Senses when your battery is fully charged and cuts off
The built-in diode prevents reverse charging.
Cons
Reports of poor after-sales service.
4. Sunway Solar Car Battery Charger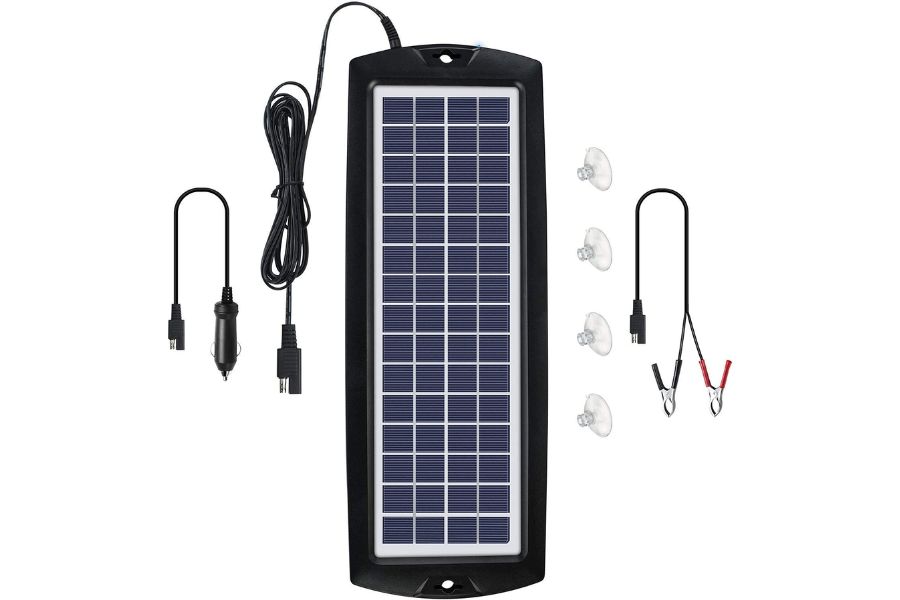 The Sunway Solar Battery Maintainer includes all necessities we've seen with the SUNER POWER, the ECO-Worthy, and the Battery Tender.
You have a built-in blocking diode to prevent drainage and reverse charging. There's a fully stocked package with suction cups, your cigarette lighter plug, and even some alligator clamps for a direct charge.
Combining the above devices' best features makes this battery trickle charger appealing.
Sunway does a fantastic job creating solar battery maintainers that include the industry's best features. An ABS plastic frame and ultra-clear PV glass encasement protect the solar panel.
Our Verdict
If you're looking for the best solar battery charger, chances are you just found it.
This solar battery maintainer has everything from essential features like the charge controller or the built-in drainage prevention to aesthetic additions such as the LED battery level indicator.
The only issue with this device having a 4-watt output only while the others on our list have a 5-watt output.
Pros
Durable construction and ABS plastic frame
Energy-efficient solar-powered product
Includes suction cups, alligator clamps, and a cigarette lighter plug
Prevents reverse charging
Cons
Only 4-watts output
Not as water-resistant as other devices
5. OYMSAE Solar Battery Charger 12V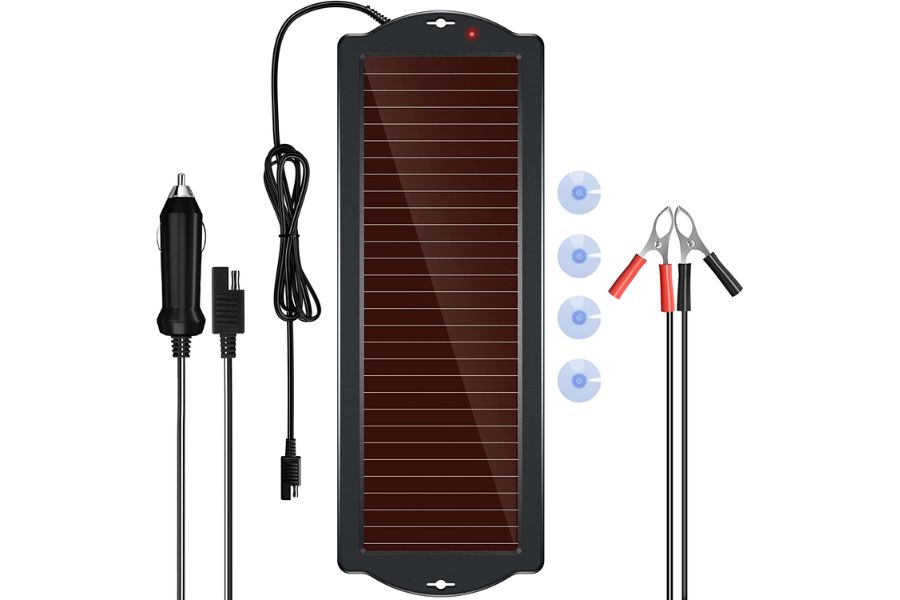 The POWISER Solar Battery Charger takes care of itself as it requires low maintenance and is easy to operate.
All you have to do is let it charge with solar power or plug it into the cigarette slot, and you can maintain or charge your car battery. Like the others, the product works on almost any 12-volt battery chemistry.
The solar panel is covered by tempered glass, which can withstand high-impact force if needed.
What stands out for us is the higher efficiency of solar panels. This means that if the situation arises that your battery charger is not charging in direct sunlight and you can't get your car started on a rainy day, you won't need to worry.
The POWISER solar battery maintainer will work for you in testing conditions, albeit at a lower output than sunlight.
Our Verdict
We'll start our verdict by addressing this device's elephant in the room: many customers can't decide whether this is a charger or a maintainer.
Our tests showed that it could charge your battery, but it won't ever get to a full charge and will eventually maintain the current levels.
This is mainly due to the low wattage output for the device, only cloaking in at 1.8w, which is far below the 4-5 watts seen on other products listed here. For us, this is a basic charger but mainly a maintainer.
Pros
Works on almost any 12 Volt battery
Solar panels are thoroughly protected
Works no matter the weather
Extremely easy to use
Cons
Suction cups can come loose.
Low wattage output of 1.8w
6. Schumacher SHM-SP-200 2.4W Solar Battery Charger & Maintainer
Small and ready at a moment's notice, the Schumacher Solar Battery Maintainer is the perfect glove compartment solar battery tender.
This is the ideal device if you're looking for a small, portable solar car battery maintainer. With some of the lowest wattage numbers on our list (a tick above the POWISER ), it's designed to be compact and ready to handle any 12V battery in an emergency.
This is the best solar battery maintainer for anyone tight on space but needs a quick charge.
It's completely reliant on solar power and works well in direct sunlight. If your battery ever needs charging in a garage or covered area, this could be an issue, but it is one of our list's most eco-friendly devices.
Clouds won't be an issue with this battery tender as it can still charge, even when the sun is partially obstructed. The solar panel might be small but can pack a punch and handle any 12v input or output.
It might take a bit longer to charge your car battery, but this product gives you a sense of portability.
For its small size, it's surprisingly durable and water-resistant.
Our Verdict
Small but mighty is the tagline we can think of that describes this solar battery maintainer best. It might not have the largest solar panel, but it can charge your car battery just as well as some larger competitors.
This charger maintainer is perfect for anyone tight on space but still with a battery on edge. Many solar battery chargers rely on size to provide the perfect kick, but this one's most interesting feature is its compactness.
Water-resistant and durable, this is one of the best solar car battery chargers for small spaces.
Pros
Compact and easy to transport
Eco-friendly solar panels
Cons
Completely reliant on solar power
Only 2.4 watts leads to a slow charge.
7. POWOXI 12V Solar Battery Car Charger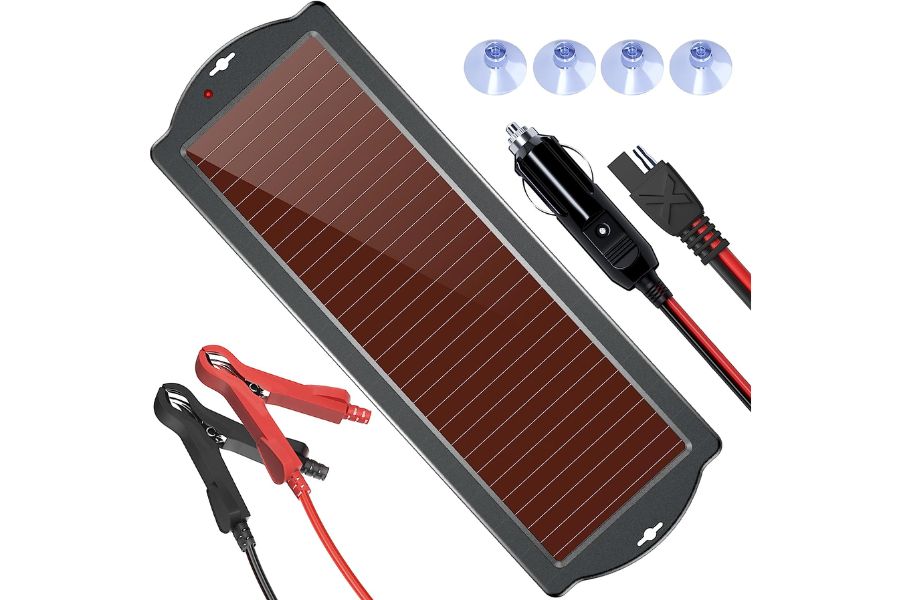 When we searched for the best solar battery car chargers, we wanted to find a device that enabled users to "set and forget."
The POWOXI Solar Car Battery Charger Maintainer achieves that goal perfectly with its long life, maintenance-free design, and durable casing. You'll never have to worry about taking care of this product or keeping it protected, as it handles all of that independently.
The ABS plastic casing protects the solar panel, and the long-life guarantee keeps you from taking constant care of the device.
When we opened the package, we found a fantastic all-in-one deal with the suction cups, cigarette lighter plug, and alligator clips.
Our Verdict
Hands-off makes us fall in love with this product and will guarantee your satisfaction. Many solar chargers require maintenance or constant charging to keep them prepared for an emergency.
The POWOXI, much like the Battery Tender or the ECO-Worthy, includes drainage prevention.
Pros
It works just as well on a cloudy day.
It doesn't require any maintenance.
Prevents power drainage
The perfect hands-off amorphous solar maintainer
Cons
Loose packaging lead to some devices has come compromised and need to be replaced.
8. SOLPERK Solar Powered Battery Charger
The SOLPERK Battery Tender arrive on our list as the amorphous solar cells option.
Most of the products on our list use monocrystalline and polycrystalline solar panels. However, SOLPERK has gone with the thin film later cells for this model.
The main advantage these amorphous cells have over the other kind is that the panels are more flexible and lightweight.
If you want to slap this panel on a non-flat surface, it will rest at the adjusted angle.
The downside, however, is that the efficiency of transmitting power from the sun isn't as good as what can be delivered with the other types of panels.
Our Verdict
A great alternative option to the standard monocrystalline and polycrystalline solar panels.
The product feels lighter than the others and will be shoved into a smaller space more efficiently.
Pros
Works in the sun, clouds, rain, etc.
Lightweight and flexible
Built-in blocking diode
1-year warranty
Cons
Can't be submerged in water
9. SUNER POWER Waterproof Solar Powered Battery Charger
This is a very different battery maintainer than the rest of our list, but we wanted to include it because of the incredible additional features it offers.
This is not a charger that can easily come with you in your car, as it's designed to be mounted on a wall and placed in an affixed location.
Most maintainers use suction cups; the SUNER POWER Waterproof Solar Trickle Charger has screws and an adjustable mounting base. It's perfect for charging any battery within its reach.
SUNER POWER's most significant advantage over the others is its muscle power. With far more solar real estate and an output of 30 watts, this product will charge your batteries far quicker than anything on this list.
With the 3-stage charging system, this device will fully charge any 12V battery during any season or condition. Simply mount it to a sunny wall and bring the dying battery close to it for an optimal charge.
The massive solar panel can collect plenty of power for a full, quick battery charge.
For example,
Our Verdict
While we might not recommend this for anyone looking to bring the battery charger along with them, we can say this is one of the best mountable solar panel charging stations.
If you need something you can mount to your home that will utilize the sun's power to charge any 12V battery, this should be the first thing you look for.
Because of its fixed design can be used for much more than car batteries should you need.
Pros
One of the best waterproof products on our list
The LED indicator tells you how the charging is going.
The durable design offers ample protection.
Cons
The fixed design prevents mobility.
10. Renogy Portable Solar Panel Battery
Much like the POWOXI, the fantastic hands-off Renogy Portable Solar Panel Battery is easy to install and requires little to no maintenance.
Many other battery-charging solar panels need inspections to ensure everything works correctly, but this device almost guarantees to last you for years. With this device's built-in safety features, you'll never risk overcharging.
Renogy is another solar device that does a fantastic job at charging in all conditions. You won't need to rely solely on the sun for power.
Solar battery products like the Renogy are rare, as most similar devices require direct sunlight for a minimal charge.
The compact size was another feature that caught our eye with this solar battery tender.
A solar product of this size wouldn't typically be as durable or offer the battery charge the Renogy can give you, but, much like the Schumacher, this compact solar panel is perfect for any emergency.
Our Verdict
Harness the solar power around you with this compact battery charger. This is one of our list's safest products due to its many internal safety features.
You'll never run the risk of drainage, shocks, or back-charging. You can leave the Renogy plugged into the car cigarette port for days without fear of overcharging.
This product combines Schumacher's compact size with the ability to charge no matter the cloud coverage.
Pros
Built-in safety features
Durable and compact
Can remain in cigarette port 24/7
Works in any weather
Cons
Mounting the device can be difficult.
Overall Winner
Sunway Solar Car Charger!
This battery charger has everything you could need and more.
There isn't a unique feature being offered that makes this device the most recognizable one on our list, but it does everything so well that we couldn't pass it up as our favorite.
The emphasis is ensuring you get the best solar battery maintainer available rather than offering flashy additions.
A Quick Buyer's Guide
What Features Make a Solar Battery Tender Great?
How Safe Is It?
This is often overlooked when selecting a battery maintainer. Many devices offer a fast charge for a moment's fix, which can leave you at risk of an overcharge or even shocks.
Protection must cover many bases in the case of car battery maintainers. You'll want a device that protects you, your car battery, and even itself. Do not purchase that product if the device doesn't guarantee this safety.
There are hundreds of solar maintainers available that promise protection.
Waterproofing
Batteries never die during an ideal situation. You're lucky if you're out getting food with a friend who has a car on a sunny day when your battery dies.
More often than not, luck is not on our side, and you'll need a device that can weather the elements.
Don't be afraid to charge your battery when it rains because your solar car charger isn't waterproof. This is one of the most essential features to look for in a solar maintainer.
LED Indicators
Many devices will include LED lights that indicate the charge level. This might not improve the product's overall charge, but it's nice to know when your maintainer wasn't charged for a situation.
If you have multiple gathering power methods – solar, AC, DC, etc. – then an extra feature like the LED indicator will allow you to alter how you will maintain your battery.
What Criteria We Had When Testing the Solar Battery Car Chargers
Durability
When you're working outside, many different factors come into play. Unfortunately, many of these factors can cause harm to your maintainer, so it's necessary to ensure that your charger is durable and ready for anything.
Many of the devices on our list come with an ABS plastic casing, which helps protect the solar panels and the device's internal structure.
Our tests ensured that each maintainer's structure wasn't easily compromised to guarantee longevity.
If a product couldn't withstand a few knocks and bruises, it wasn't included on our list. Durability is essential for a solar charger as you're not always charging comfortably.
Ease of Use
The stress of a dead battery is already on you, so why make it harder on yourself with a complicated maintainer? Many industry giants offer these fantastic chargers that will start your car in seconds flat, but only if you can figure the device out.
Each of the products on our list is simple to use and easy to install. If you have any questions about how it functions, most come with competent customer service centers to help you when you're stuck.
Temperature Ranges
Any device that gathers its charge from the sun should withstand the heat. Otherwise, you're looking at a pretty useless and short-lived product.
Finding the perfect device is about picking one that can hold its own in some hot situations. A quality charger will last out in the direct sun on a hot day in the equator without issue.
The same should be valid for a much colder climate. Not everyone is in the heat of the sun all the time, nor are they always in a moderate climate with seasonal changes.
A quality charger should work in extreme heat and cold without the slightest compromise apparent.
Why Get a Solar Battery Maintainer?
Cons
These things take a lot of time to charge fully. Similar products are ready to go in minutes, but they could take up to hours for a full charge because they use the sun.
If you weren't charging your maintainer, you could be stuck without a way to charge your battery should the situation arise.
These solar chargers can also be challenging to charge if you have a cloudy day. Many devices require direct sunlight for a proper charge, and even for products that work on cloudy days, bringing your battery back to life could take much longer.
Pros
These products can be used almost anywhere. They are a fantastic way of bringing safety to your battery no matter where you go.
Traditional solar chargers require a power source to bring the charge to your battery, but these solar products can source power at almost any moment.
They are highly eco-friendly and offer an alternative method of charging your car in an emergency.
While cloud cover could obstruct a quality charge, many devices have begun to ensure that solar panels are still effective, even on a rainy day.
They might not be as quick to charge as your traditional charger, but knowing that this product will be effective, no matter where you get stuck, is more than enough reassurance for consumers.
Frequently Asked Questions
Does a Solar Battery Maintainer Work?
Using the sun's power, these devices offer an external way to charge your car battery without needing access to an outlet or generator.
Most other battery maintainers require access to power from the car, which can leave your battery hovering above death until you can replace it.
With a solar maintainer, that power is endless, and your car won't need to create a circuit of energy, relying on itself for power.
How to Use a Solar Battery Charger?
This will vary from device to device, but the most basic way to use it is as follows.
When you're not using it to power your battery, you leave the solar panel affixed to a window – front, rear, or side – where it can gather sunlight.
Once your battery dies, you can attach it directly to the battery or plug it into a cigarette lighter. Either way, the stored energy will jump the battery and charge it or maintain the power level.
How Should I Clean My Solar Battery Maintainer?
Luckily, you won't need to do much with most solar maintainers, if any, maintenance. They are relatively independent tools that won't require much from you.
If you charge it when you're not using it, unplug it when it's at a full charge if it can't protect itself from overcharges, and ensure that the solar panel isn't obstructed, your maintainer should be ready to go.
Wipe it off if any water gets on it, but the maintainer requires little maintenance for the most part.
We are sorry that this post was not useful for you!
Let us improve this post!
Tell us how we can improve this post?