11 Best Solar Generators for Your 2023 Camping Trip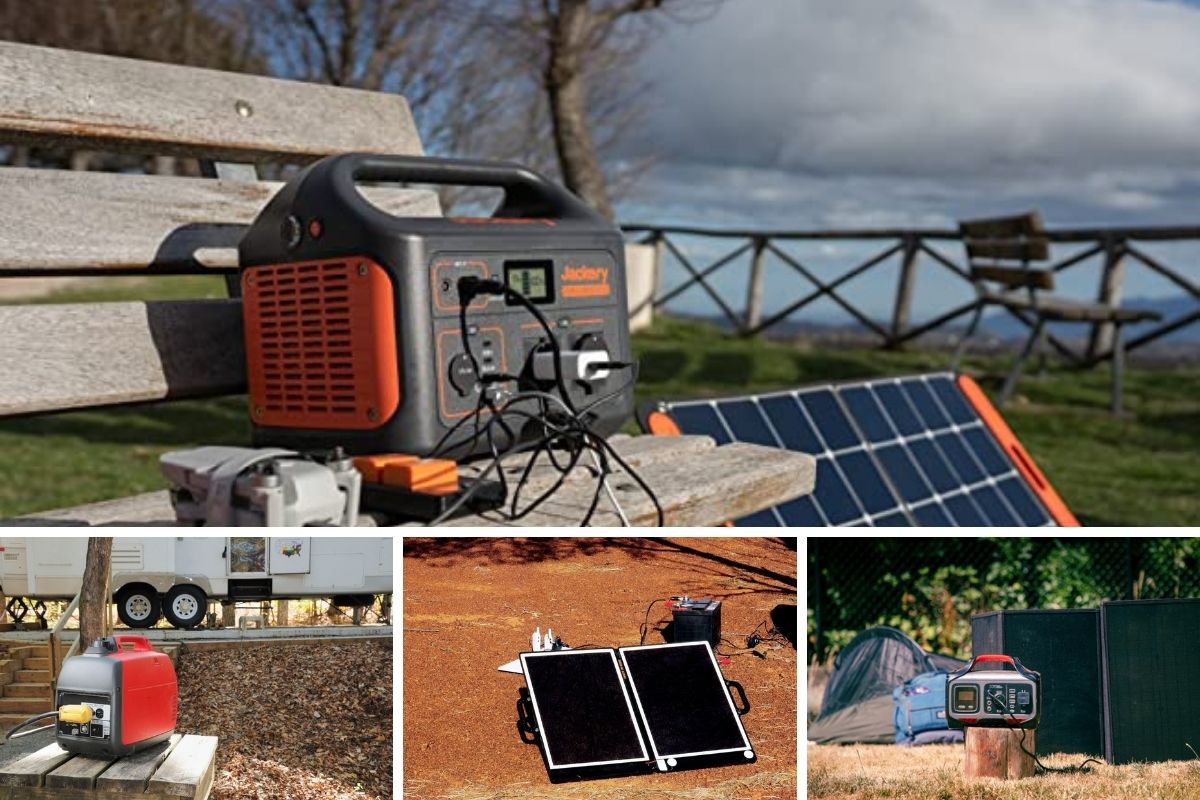 Before buying a solar generator for your next camping trip, you should estimate how much power you need to run your appliances. Consider features like output power rating, charge controller type, weight, portability, charging rate, and battery type.
But what truly makes a solar-powered generator stand out is its battery capacity.
What to Consider Before Buying a Solar Generator
Battery Capacity
The two most common types of batteries used in solar generators are lead-acid batteries and lithium batteries. Of both options, lithium-ion batteries have longer lifespans and higher charge densities. But you will most likely spend less on a solar power generator with a lead-acid battery.
The battery capacity of power stations is at the heart of their performance. The higher the battery capacity of a solar-powered generator, the longer it can power your appliances. Of course, there would be no point in using solar generators if they can only supply enough power to your appliances for short periods.
For instance, if you intend to connect a power station to run a device with an input power of 40W for 15 hours, you should opt for a power station with a total energy capacity of at least 600 Wh. This quick calculation allows you to size the power station to handle the load for the needed duration.
Output Power Rating
The output rating of portable power stations depends on their inverter size. The larger the size of the inverter, the higher the output power rating. Solar power-powered generators with higher solar power output ratings can be used with appliances with higher power consumption (such as an air conditioner).
If a solar generator has a maximum output wattage of 500W, you should not connect any device with a power rating over 500 watts. Doing so will damage the generator.
Going by the above, the output power of the solar generator you choose will depend on the device with the highest input power rating among your appliances.
Besides checking the continuous/running power, you should also note the peak/surge power. Appliances like refrigerators typically need a surge of power at the start.
The starting power of devices like a refrigerator should not surpass your generator's surge/peak power. If it does, the device may damage the generator.
Besides checking out the output wattage, look out for the type of inverter used in the generator. You will get a better experience with a pure sine wave inverter than with other types. This tip applies to making a DIY solar generator and installing a solar power inverter in your camper.
Charge Controller Type
The charge controller plays a part in determining charging efficiency. There are two main options in charge controllers: Pulse Width Modulation (PWM) or Maximum Power Point Tracking (MPPT). Of both options, the power stations with MPPT charge controllers offer more efficient solar charging.
MPPT controllers draw out as much solar power from the solar panels, so the charging rate is faster, and the current flows more effectively.
Portable solar generators can easily be moved. So, whether you decide to take them on off-grid camping trips, use them in your house, or use them in an RV, you will not have to break a sweat carrying them.
Weight & Portability
If you go camping with your solar generator, you want it to be portable enough for easy transportation. Even if you will not be taking the generator off-grid, everyone loves the ease of a lightweight product.
Charging Rate
Nothing beats having a portable solar generator that charges quickly and loses charge very slowly. When buying a power station, pay close attention to the charging rate.
Look out for portable solar generators that can charge fully within 5-8 hours under optimal sunlight. Anything higher is not desirable, except if you live in an area with a lot of sunlight.
Battery Type
In many cases, portable power stations come with lithium-ion batteries. But you may come across those with lead-acid batteries. If you ever have to choose between both types, opt for lithium.
Lithium-ion batteries have longer lifespans and higher charge density and are relatively safer.
Solar Panels
Solar generators typically do not come with solar panels. So, you may have to get one separately. When shopping for PV panels, ensure you get one with a solar input compatible with your power station.
Beyond compatibility, you should also consider the panel's cell type. You may have to choose between polycrystalline solar cells and monocrystalline cells. If ever faced with this choice, opt for monocrystalline solar panels.
Monocrystalline solar panels are generally more efficient than polycrystalline panels.
Best Solar Generators at a Glance
Best Solar Generators Reviews
1.
OUKITEL P501E Portable Power Station 505WH Solar Generator Power
The OUKITEL P501E Portable Power Station 505WH Solar Generator Power has a decent battery capacity. With the 505 Wh of energy in its storage, we could keep our small appliances, including two laptops and two mobile phones, charged for up to 5 hours. We did this without charging the solar generator while we were using it.
Beyond having an impressive capacity, this generator is primed for safety. The current flow is more consistent since it comes with a pure sine wave inverter. As such, sensitive devices like mobile gadgets are at lower risk of electrical damage.
We loved that the OUKITEL P501E Portable Power Station 505WH Solar Generator Power had many ports for various devices. There were 10 ports, including 2 AC ports, 5 USB ports, 1 USB type-C port, 1 car cigar lighter, and 1 DC port. So, there was barely any restriction when connecting our devices to the solar generator.
While we got it because of its solar charging, we were satisfied that it came with other charging options. We could charge this solar generator with an AC adapter or car battery. So, even if the day is too dark for solar charging, you won't be stranded.
This solar power station has a continuous power rating of 500W. Going by that, we can connect around 5-10 laptops to it simultaneously. Of course, the charge may last less than an hour if we do that.
The surge power rating is as high as 1000W. So, there's barely any small to mid-size appliance this power station cannot support.
The OUKITEL P501E solar generator is fairly lightweight, weighing around 12 pounds. It does not come with a solar panel but should be compatible with any panel you buy.
Overall, it is a great power station for camping and RVs – including an LED light makes this even more plausible.
Pro
High battery capacity
Uses a pure sine wave power inverter. So, DC to AC conversion is efficient, and the generator is suitable for sensitive electronics.
Uses an MPPT power management chip, so charging is efficient.
Offers up to 10 ports of 5 different kinds.
Continuous power rating of 500W with surge wattage of 1000W.
Cons
Doesn't come with a solar panel.
2. EF ECOFLOW RIVER Pro
The EF ECOFLOW outclasses the other solar power generators in this review in many ways. It offers the second-highest highest battery life, the second-highest power output, and the fastest charging rate. Unsurprisingly, it is our choice, and you should strongly consider it for your camping electricity needs.
This solar-powered generator has a battery with a capacity rating of 720 Wh – only the Goal 1500X offers better. If you were to power a 30-watt device, you would get up to 24 hours of power.
The product has an extra battery option – a 720Wh battery you can buy separately. With that battery, you can raise the overall capacity to 1440Wh – almost on par with the Goal 1500X.
If you have 1440Wh, choosing between energy from solar panels and gas generators is clearer.
You can expect a constant output wattage of 600 watts, rising to 1200 watts during surges. This makes it one of the best solar generators on the market.
This generator comes with 3 AC ports, each offering 600 watts. Each one of these outlets is connected to a pure sine wave power inverter. You can expect that your electronic devices will not generate significant electrical noise while they run. Also, there is a lower risk of electrical damage to your appliances, thanks to the inverter.
The EF ECOFLOW weighs around 16.8 pounds – not too heavy or light.
Under optimal solar energy from the sun, a 200-watt solar panel will fully charge the generator within 4 to 8 hours. One of the fastest charging rates of any product on our best solar generator review.
The EF ECOFLOW generator has a lithium-ion battery like the other solar generators. So, it gets extra points for battery longevity and charge density.
Pros
Battery storage capacity is excellent – only the Goal Yeti 1500x generator performs better.
The output wattage is way higher than the average solar generator.
The charging rate is impressive – no surprise, it comes with a built-in MPPT solar charge controller.
You can double the battery capacity by buying the extra battery kit.
Offers multiple AC ports.
Cons
3.
Growatt VITA 550 Portable Power Station
The Growatt VITA 550 Portable Power Station manufacturer offers the option to get solar panels alongside the power station or get the station alone. We think that is great as many customers would prefer getting the power station and solar panels from the same manufacturer.
Away from that, you'd get 538Wh of energy storage. To us, this is excellent; it's the kind of storage capacity you'll get from the best portable solar generators. At the least, it should charge one laptop and a smartphone for more than 9 hours.
With 11 ports made up of 7 different different kinds of ports, the Growatt VITA 550 can power various devices at the same time. You get 3 AC outlets that give off 500W continuous power and 600W surge power.
Besides the AC outlets, you get 1 USB-C port, 3 USB ports (including one 3A fast-charging port), 1 cigar lighter, 1 DC outlet, and 1 wireless charging port. Wireless charging is the feature that makes this unique amongst most other solar generators.
We could charge with solar panels, a vehicle, and AC power. Of course, of all 3 options, the AC charging was typically the fastest – less than 2 hours. If you're not buying the solar generator alongside a solar panel, ensure you do not exceed the maximum solar panel wattage indicated by the manufacturer – 240W.
Considering it weighs about 18 pounds, you should have no problem taking the along for your camping trips. Then there's the little feature of a LED light, which can come in handy at night.
Pros
Decent battery capacity
Wireless charging
Output wattage and surge wattage are impressive
It comes with multiple ports to accommodate up to 11 small appliances at a go.
Charges pretty fast
Cons
4. Anker 535 Solar Generator (PowerHouse 512Wh with 100W Solar Panel)
While many solar generators may not come with solar panels, the Anker 535 Solar Generator (PowerHouse 512Wh with 100W Solar Panel) includes a solar panel. With that inclusion, you have one less thing to worry about, and you can just use your portable power station.
With this device, you get an energy storage capacity of up to 512Wh. It was enough to charge a Macbook at least 7 times for us. From our estimation, it will charge one regular laptop and one smartphone together for about 8 hours.
Besides coming with a solar panel, we liked this solar generator because it offers as many as 4 AC outlets – not many products have that many AC outlets. Besides the AC outlets, you also get 3 USB-A outlets, 1 USB-C outlet, and 1 car cigar lighter. Interestingly, it doesn't have a DC port – this could be a big deal. For us, it wasn't since we didn't have a device that needed a DC port.
Apart from solar charging, you can charge the Anker 535 Solar Generator with AC power and a vehicle. Thankfully, the cables for these alternatives are included in the pack, so you can readily use them.
You get a continuous AC power of 500W and a surge of 750W – not the highest but still more than decent. Overall, the design and features of this solar generator are amongst the best we've seen. But some features like the DC port shouldn't be missing, considering the price.
Pros
Comes with a solar panel
Decent battery capacity
Offers multiple ports
It is designed with multiple battery protection features.
AC continuous and surge power outputs are decent
Cons
5. ALLWEI
The ALLWEI generator offers a decent output wattage, and while its battery may not offer the highest capacity, it is still one to try out.
With the ALLWEI generator, the battery has a capacity of 280 watt-hours. It may be far from the highest capacity of all the devices we reviewed, but it packs more than enough power for small devices.
This solar generator offers a rated continuous power of up to 300 watts. It can power cell phones, laptops, 32-inch TVs, mini-refrigerators, and other small household appliances with the said output. But if you need a solar generator that gives off more power, consider the EF CEOFLOW, Fossibot, or BLUETTI.
Like our other best solar generators, the AC ports of the ALLWEI are pure sine waves. It also offers multiple circuit protection, including overload protection, overcharge protection, over-voltage protection, and overheating protection.
The ALLWEI weighs 8.33 pounds, so moving it around should be no problem.
This power station has a decent charging rate but could be better. When connected to 80W solar panels under optimal conditions, you should get a full charge in 7-8 hours.
When you are not charging with solar panels, you may charge it with a wall charger, car charger, or generator. These other 3 options are rated to charge faster than 80W solar panels.
It comes with 2 AC outlets, 2 USB ports, 3 DC ports, 1 cigarette lighter, and 1 Type-C port – not the most diverse, but still good enough.
Pros
The energy storage capacity of the battery of this product is excellent.
The charging rate is decent – one of the highest on the list.
It comes with multiple ports, making using various types of devices easier.
Features multiple protection features and pure sine wave AC outlets for reinforced battery safety.
Cons
There are lighter options.
It would have been much more desirable with a higher base output power.
6. ROCKPALS
The performance of the ROCKPALS portable solar generator mirrors that of the ALLWEI generator. But one noticeable difference between both products is their weight.
The ROCKPALS battery offers a storage capacity of around 280 watt-hours. This generator has an output power of 300 watts with a peak power of 500 watts. The output suffices for mini-car refrigerators, mobile phones, laptops, CPAP machines, and other household appliances with low power requirements.
As with the others, the AC outlets of this power station are pure sine waves. It also has protection against overload, short circuits, overvoltage, overcurrent, and overheating. Then since the battery is the lithium type, the odds favor a long battery lifespan.
The ROCKPALS solar-powered generators weigh about 7.7 pounds – not the lightest on the list but still light enough for portability.
The ROCKPALS 300W comes with an inbuilt MPPT controller. So, we were not too surprised when we found out that this generator charges fully in 5 to 7 hours when connected to a 100-watt PV panel. We reckon the charging time could be lower with additional solar panels.
Note that this product does not come with a solar panel. You have to get that separately.
If you cannot charge with a panel, you may charge it with a car charger, a wall outlet, USB-C power delivery, or a wall outlet + USB-C power delivery. You get 2 USB outlets, 1 USB-C port, 1 USB 3.0 port, 1 AC outlet, 1 cigarette lighter port, and 2 DC outlets. You have 8 ports, which support various types of devices.
Pros
The battery's capacity is decent.
Charges pretty fast.
Features multiple output ports.
The battery management and the AC dock optimize the battery for stability and safety.
Cons
The output power could be higher to support appliances with higher power requirements.
7. Jackery
The Jackery Solar Generator stores more power than many solar generators. Its battery rating is almost twice the average portable power station, yet it is still lightweight.
The Jackery generator has a battery rating of 516Wh. It has a rated output wattage of 500 watts. So, it should power small to medium appliances like mobile devices, cooling fans, drones, lamps, and laptops.
The Jackery solar generator weighs 13.3 pounds – not too light or heavy. Its AC port is a pure sine wave, and it features multiple protective solar generator technology, including protection against overload, overcurrent, short circuit, overcharging, temperature extremes, overvoltage, and over-discharge.
With a 100-watt solar panel and optimal solar energy from the sun, the Jackery typically charges fully in 9.5 hours. For fasting charging times, you may charge it with a wall outlet or a car charger.
It has 2 USB outlets, 1 AC port, and 1 car outlet. We believe the ports of this product could be more diverse. For one, having a Type-C USB outlet would have been nice.
Pros
The charging rate is decent.
Its weight is optimal for camping.
The output power should cater to most of the devices you'd take for camping.
Features multiple protection systems, including a pure sine wave AC port.
Cons
The ports could be more diverse.
8. Flashfish
The Flashfish Solar Generator gets top marks for its portability. But not only is it very lightweight, but it also offers a decent power output, the battery rating is okay, and it comes with a multifunction battery management feature.
The Flashfish Solar Generator comes with 3 lithium-ion batteries, each with a rated capacity of 74 Wh. So, this generator has a capacity of around 222 Wh – not impressive, but not bad.
It weighs around 5.6 pounds – the lightest power station we reviewed.
The Flashfish has a base power output rating of around 300 watts and a surge power of 350 watts. This output wattage is not very impressive. But it should work fine for a 55 W mini freezer, mobile devices, drones, a mini fan, and light bulbs.
On a brighter note, it uses a pure sine wave power inverter. So, it is relatively noiseless and highly efficient. This generator uses a lithium battery, and this contributes to its lightness. Also, lithium-ion batteries are primed to last long and hold more charge per cell.
When plugged into solar panels with wattages between 50 and 60 watts, the battery is expected to charge fully within 6 to 7 hours. But, of course, this charging rate is only expected in optimal conditions. If you do not get enough sun or shine for too long, the panel may not get enough solar energy to charge the battery in 7 hours.
While we fancy the capacity and batteries, the absence of an MPPT charge controller in the setup is disappointing. This solar generator would have charged more efficiently if it had been built with an MPPT controller.
Pros
The capacity of the batteries may fall short of the average, but you can still go hours using this to power your devices.
This generator uses lithium-ion batteries. So, it is primed to last long and relatively more charge.
This generator is efficient, and its operation is noiseless.
It is the lightest in our solar generator reviews.
Cons
The output power could be higher.
Charging would have been better with an MPPT charge controller.
9. FOSSiBOT F2400 Portable Power Station | 2,400W 2,048Wh
The FOSSiBOT F2400 Portable Power Station | 2,400W 2,048Wh stands out because it has the highest number of ports – 16. With it, you get 1 cigar lighter, 4 USB-C ports (rare), 2 18W USB-A ports, 1 100W USB-A port (fast charging), 6 AC outlets, 2 DC ports, and 1 RV outlet.
Going by the number and diversity of the ports, there's barely any type of device you cannot power with the solar generator.
There were many features to love about this product. But for us, the battery capacity was the standout feature. For a portable power station, 2048Wh of storage is just superb. We could go days on end, powering small to medium-sized appliances without recharging the solar gen.
Besides the nonpareil capacity, the wattage of the AC outlets is amazing. Supplying 2400W of continuous power meant we could try larger appliances with the generator. While we did try some large appliances out – like a coffee maker – we'll rather avoid using them so that the charge lasts longer.
As with many other portable solar generators we assessed, this device can be charged with AC power and car batteries. So, there's no overreliance on solar charging.
We were impressed that we could simultaneously charge with AC power and solar energy. With AC power alone, the charging time was almost 2 hours. But with solar + AC, the charging time was even shorter. We loved having that extra option.
Another thing that excited us about this product is the ability to control how much input power it gets. By varying the input power, we can further control the charging rate.
The FOSSiBOT F2400 doesn't come with a solar panel. But you get the option to buy it with a solar panel. It weighs about 48.5 pounds – not the lightest. But then, considering all its features and functions, this weight is understandable.
Pros
Superb battery capacity
Multiple charging options
Input power control
Ability to charge with multiple power sources at the same time
High output wattage
Uses a pure sine wave inverter
Cons
10. TogoPower Advance550, 520wh/500W Portable Power Station Backup Lithium Battery
The TogoPower Advance550, 520wh/500W Portable Power Station Backup Lithium Battery is another great portable power station for camping. Its 520Wh battery can hold enough energy to power multiple mobile devices or small appliances for around 12 hours and up to 24 hours or more.
The power station had 9 ports, including a wireless charging port, 2 AC outlets, 3 USB-A ports, 2 DC ports, and 1 car cigarette lighter port. So, there's no shortage of support for various devices.
Since the AC outlets only give off a sustained wattage of 500W and 1000W surge, the TogoPower Advance550 would not be suitable for most mid to large-sized appliances. But there should be no problem powering small-sized appliances and mobile devices.
Thanks to its pure sine wave inverter, we had no fear of erratic power supply to our devices. The LCD screen helped make operating the generator much more intuitive. Then with the LED light, we had a feature that could be useful in an emergency.
Besides solar charging, you can charge this device with AC and your car. Charging with your car and a solar panel offers comparable charging rates. But charging with AC power is faster as the battery gets full within 5 hours.
Pros
Decent power output
Features multiple output ports
Lightweight
Uses a pure sine wave inverter, so it is safe for sensitive devices.
Cons
The charging rate could be faster.
11. BLUETTI
The BLUETTI Power Station packs more power than the average solar power station. But beyond that, its charging rate and power output are excellent.
The BLUETTI offers 716 Wh of battery storage – enough to power a 30W device for a whole day.
Weighing 21.4 pounds, the BLUETTI is second-heaviest behind the Goal 1500x. If you need a mobile solar system, you can carry it in a backpack, this may not cut it. But if you will be camping in your own vehicle, you should have no trouble moving this to your campsite.
The BLUETTI portable power station has a power rating of around 800-1400W – the second0 highest in our best solar-powered review. Its high rating gives off enough power to run energy-draining devices like air fryers and electric grills.
When connected to 200W solar panels under optimal sunlight, it should take this device about 5 to 6 hours to get a full charge. This makes it the second-fastest charging portable power station we reviewed.
Pros
Rapid charging.
High output power.
Impressive battery rating.
Features an MPPT controller, so charging is relatively efficient.
Has various types of ports.
Cons
Conclusion
Beyond being portable, the best solar generator for camping should store sufficient power to run your devices for most of the day.
It should also get a full charge within 8 hours or less and give off enough power to run small to medium appliances. Having many outlets is also a plus for any power station.
We are sorry that this post was not useful for you!
Let us improve this post!
Tell us how we can improve this post?