10 Best Solar Lanterns in 2023
The primary function of solar lanterns is to provide light for outdoor adventures, camping trips, or decorative lighting in any outdoor space. The best solar lantern will have ways to supply power if there is no sunlight and come with additional perks convenient for camping or emergencies.
Solar lanterns work by providing bright light using the sun's power. Its functionality, convenience, and durability determine which solar lantern to go with.
Brightness is also key, so a solar lantern with a high lumen count is important. This ensures it can light up a campground, backyard, or other outdoor location.
This light should also last a reasonably long time. A high battery life goes a long way regarding functionality and convenience.
Given that a solar lantern will often be used outside, it's important to have one that can handle the elements. A waterproof design and a decent warranty are essential for this hard-working product.
Then ultimately, the right solar power camping lantern will have several extra perks and features. Some examples include convenient ways to attach the lantern to a tent or backpack, multi-colored lights for ambiance, the ability to float in the water, charge devices, and so on.
Best Solar Lanterns at a Glance
Top 10 Solar Lanterns Reviews
1. Roxicosly
The Roxicosly is easily one of our list of best solar camping lanterns. It has the longest battery life, the highest lumen output, and the highest number of charging methods.
It also has the unique ability to turn into a flashlight when needed.
Brightness & Battery
The brightness of this product depends on whether it's being used as a lantern or flashlight. The lantern model has an output of 200 lumens, and the flashlight mode provides 350 lumens.
The battery life for the lantern mode is an incredible 35 hours, and even the flashlight mode can last 30 hours.
Charging Methods
This device has three methods of charging the lantern: the built-in solar panel, the USB charger, and the hand crank.
The next one on the list is the only other solar-powered camping lantern that offers as many charging methods.
Design
One of the few downsides to this product is that it is only water-resistant and not waterproof like a few others. This makes it a poor choice for water activities, though it could handle rain just fine.
It can be collapsed to reach a size of 3.1 x 4.9 inches. This makes it the largest lantern in its collapsed state.
It is also the heaviest product at 10.6 ounces.
Warranty & Price
This product offers an 18-month warranty for its customers, above the one-year standard for solar lanterns.
It is one of the best solar lanterns and the most affordable.
Other Details
The unique feature of the Roxicosly solar camping light is that it can serve as a lantern or flashlight, depending on the chosen model.
While other solar lanterns have less or even no light when collapsed, this one is at its brightest.
Pros
Longest lasting lantern with 35 hours in flashlight mode and 30 hours in lantern mode.
The light is pretty bright.
It can be charged via a hand crank.
The 18-month warranty is above the one-year standard.
One of the cheapest solar lanterns on the list.
Cons
It is the largest collapsible lantern at 3.1 x 4.9 inches.
It is water-resistant, not waterproof.
2. AGPTEK
The AGPTEK Solar Lantern is the second-best solar lantern in our review. It is quite bright, can be charged in up to 3 ways, and comes with the ability to use backup batteries. This makes it a solid option for just about any situation.
Brightness & Battery
The AGPTEK has a lumen output of 240 – over 50% short of the brightest product we reviewed. But even at that, it does the job pretty well.
The battery running time is pretty impressive at 12 hours; you will surely get a full night's lighting when fully charged.
Charging Methods
This solar lantern has the most charging methods available for all solar camping lights on this list.
It has standard charging options through the solar panel or the USB port. Also, it has a hand crank and a charger. So, there are more than enough options for charging it.
It has the unique ability to support backup AAA batteries. These can be used when the user doesn't have time to use the hand crank and all other options are off the table. This can also extend the battery life into the neighborhood of 24 hours.
Design
The AGPTEK is only water-resistant and not waterproof. Heavy rains should be fine, but submersion is not a good idea with this product.
It's also one of the few solar-powered camping lanterns that does not collapse. By default, this makes it the largest lantern on the list.
In addition to being the largest lantern, it's also the heaviest at 1.6 pounds. This makes it more than twice the weight of the previous product, which comes in at 10.6 ounces.
Warranty & Price
This product has a standard one-year warranty on replacement and repairs. If you want something with a longer warranty, try the previous product.
The price of this device is closer to the lower range of devices like these. So, when you think of all the features it offers, you'll know for sure you are spending well.
Other Details
The varied charging options make this an adaptable option in any situation. The battery backup is a welcome feature but is offset by the low battery life.
The AGPTEK also has the unique ability to charge other devices via the USB port. While this is useful, it drains the battery even faster, which is rough on a 12-hour battery life.
Users may find themselves drawn to the first product as it has a much longer battery life and negates the need to charge the device continually.
Pros
It is fairly bright.
Has the most charging options available on a solar-powered camping lantern.
It is one of the few products that can support backup batteries.
Cons
It is not collapsible.
It might be one of the heaviest options.
3. MPOWERD
The MPOWERD Solar Lantern is the best solar camping light for watersports. This is due to its small size, waterproof design, and ability to float on the water. It may not be the best overall, but it serves a niche well.
Brightness & Battery
With a 75-lumen output, the MPOWERD solar lantern is not the brightest. But it's okay. It boasts a 24-hour battery life, possibly the second-best we've seen.
Charging Methods
MPOWERD is a little different in terms of charging methods. It comes with a solar panel, as with the other solar camping lanterns, but it doesn't have a USB port. Instead, it has a car charger.
Design
The MPOWERD was designed with water use in mind. It is waterproof and can be submerged up to one meter in water. Also, it is inflatable and capable of floating on top of the water.
It is the smallest solar lantern on the list once collapsed. Shaped like a puck, it measures 1.5 inches in diameter.
It is also the lightest on the list, weighing 4.4 ounces. This makes it 0.6 ounces lighter than the LuminAID, also designed to float.
Warranty & Price
One downside of this product is that it comes with a standard one-year warranty. There are others with as long as 18 months.
Other Details
This device is unique in that it comes with four light settings; low, medium, high, and flashing.
Pros
It is the smallest collapsible lantern on the list.
It is one of the lightest solar lanterns in the review.
With a 24-hour battery life, it is the second longest-running solar light.
It can be charged via a car charger.
It can be submerged up to one meter underwater.
Can float on top of the water.
Between the weight and size, it is easily the most portable solar lantern on the list.
Cons
At 75 lumens, it is one of the dimmest options
Comes with the standard one-year warranty.
It is the only solar-powered lantern that doesn't have a USB port.
It could be cheaper, considering its limited array of features.
4. LuminAID
The LuminAID Solar Inflatable Lantern sacrificed some functionality to have the multicolored light feature. This emergency kit is waterproof and can float but has lower battery life.
It may not be the best overall, but it is the most aesthetic.
Brightness & Battery
These solar camping lights have a lumen output of 75 lumens, no matter the chosen color. This is far below the brightest option on our list.
The battery life can range between three hours and 24 hours. This entirely depends on which color is chosen, as shown by this list:
White: 3-5 hours
Yellow: 4-6 hours
Lime Green: 5-7 hours
Turquoise: 5-7 hours
Pink: 5-7 hours
Multicolor Fade: 5-7 hours
Green: 7-9 hours
Red: 9-11 hours
Blue: 10-12
Using the white-colored setting is the joint-shortest running time of any lantern on the list.
Charging Methods
The LuminAID is fairly standard for charging using a solar panel or a USB port. According to some customers, solar charging is lacking and requires around 10 hours of direct sunlight to charge the battery fully.
This could take a day or two, depending on which region it's used in or how much direct sunlight is available.
Considering its 12-hour battery life, this can be a nuisance for long-term use without using the USB port for a quick charge now and then.
Design
The LuminAID is an inflatable lantern that can float on the water. In the event it submerges, it's waterproof up to one meter.
The entire lantern can collapse down to 1 x 4.75 inches in size. This is slightly bigger than the MPOWERD but certainly smaller than the Roxicsoly.
At five ounces, it's just a hair heavier than the MPOWERD, which comes in at 4.4 ounces.
Warranty & Price
The LuminAID has a standard one-year warranty consistent with most solar-powered camping lanterns. If you want a longer warranty period, see our top choice.
For whatever reason, perhaps the multicolored feature, the LuminAID, is the second most expensive LED camping lantern on the list. But then, there are a few cheaper alternatives with better features.
Other Details
As mentioned earlier, the device comes with nine different colored modes. This makes it handy for ambiance, though an argument could help the user during certain emergencies.
For instance, some customers have stated that the red light was useful for getting someone else's attention. Alternatively, one user reported using the various lights as a code to let their children know when to eat, sleep, or do other activities.
Something that would be hard to do with the single-colored light of the other products.
Pros
The multicolored solar light makes it a unique choice compared to other solar lights in this review.
The LuminAID is one of the smallest lanterns on the list once collapsed.
It is lightweight.
It can submerge up to one meter in water.
It can inflate to float on the water.
Cons
The standard one-year warranty is low compared to some others.
It takes longer to charge via the solar panel.
5. Hakol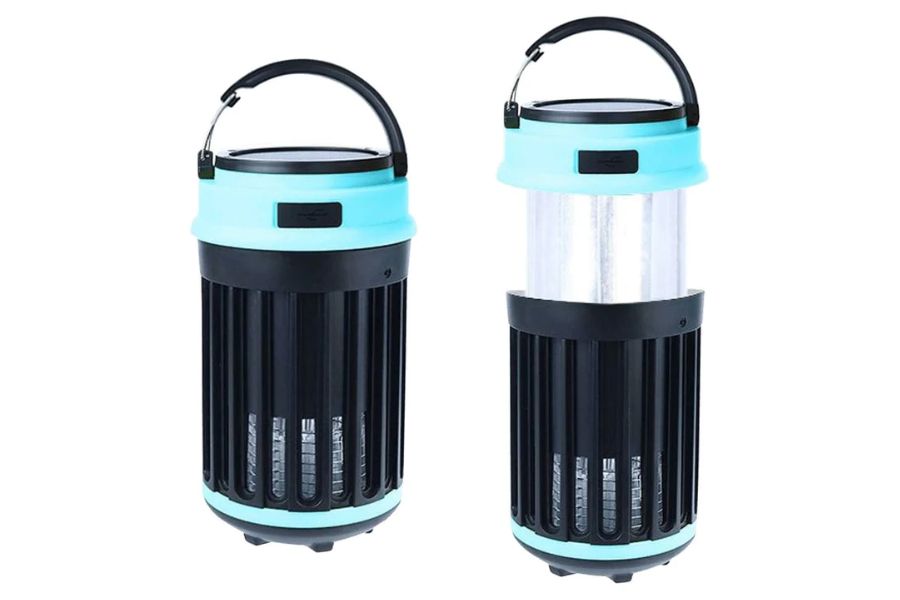 Besides offering outdoor illumination, the Hakol Outdoor Solar Powered LED Rechargeable Mosquito Zapper Lantern also nicks one above the other options by offering mosquito control. We couldn't help but add it to the list.
Brightness & Battery
This product is pretty bright. It should provide ample lighting on your camping trips and backyard. Of course, there are brighter ones, but this will not disappoint.
When tested out after a full charge, it stayed on as long as 8 hours. This should be enough to last through the night.
Charging Methods
Like many others, you get two standard charging options: solar panel and USB. This ensures you never get stranded if one of the two options is not available.
Design
This solar lantern's lantern, flashlight, and zapper combo is truly brilliant. Knowing how uncomfortable bugs can make outdoor experiences, including the zapper will change that. Who says no to a pest-free camping trip?
This device is built with ABS. So, expect a high level of resistance to impact and water ingress. The design is compact and portable, as you can slide the lantern in and out of the compartment.
Warranty & Price
The price of the Hakol Solar Lantern is a bit on the mid-range to high side. But then, it isn't the most expensive option out there. Then when you think of its range of functions, the price doesn't seem bad.
Not much is said about the warranty of this product. But then, there's a 30-day return policy.
Other Details
The bug zapper, adjustable handle, and slide-in compartment set this product apart.
Pros
Decent brightness
It is versatile; besides lighting, it offers some bug control.
Portable and compact.
The price is okay for the functions it offers.
Cons
Insufficient warranty information
6. Portable Lantern USB Solar Power Mobile Light
The price of the Portable Lantern USB Solar Power Mobile Light is the best thing about it for sure. But beyond that, it is a great illumination source for emergency situations and outdoor experiences.
Brightness & Battery
This lantern is the second brightest option with a brightness of around 650 lumens. The 360-degree lighting makes it even more effective. So, whether you're using it outdoors or indoors, it will illuminate the area effectively.
You can get as much as 12 hours of lighting with this device. It all depends on the lighting mode you're working with. When in low light, the fully-charged battery can power the light for around 10 to 12 hours. But in strong light mode, the battery may only do around 5 to 6 hours.
Charging Methods
You get two charging options when you buy this product. So, you can either charge with the solar panel or through the micro USB port.
There's also a port for charging mobile devices.
Design
The design is very portable. You can even fit 2 to 3 units in a backpack. This makes it very easy to carry around. You wouldn't have to worry about it taking up space while packing for a camping trip.
Then it weighs less than 0.4 pounds, which is super light. You'd barely carry up to 1 pound if you have 3 units of this in your camping luggage.
While it isn't waterproof, you can expect a fair amount of tolerance for low-pressure water. The body feels like it could crack under moderate to serious impact. But that shouldn't happen under regular conditions. So, that's not an issue.
Warranty & Price
As we hinted earlier, you'd get the lowest price when you opt for this. Thankfully, it's not just inexpensive, but it is also high-quality. So, you'd be getting value for your bucks.
Pros
It's the least expensive option on the list.
It is very bright.
Lightweight and portable
The battery offers long lighting times.
Cons
It isn't very resistant to water.
7. Outdoors Camping Lantern
Here, we have an efficient camping lantern that can serve multiple purposes. It is also pretty durable, and we particularly love the design
Brightness & Battery
Surely, the Outdoors Camping Lantern is not the brightest out there. But with lights that travel as far as 50 meters from the source, there's no question about how useful this can be in the dark.
With lighting times as long as 7 hours, you wouldn't have to worry about being thrown into darkness suddenly. But then, if the lighting time were longer, this would have been an even better choice.
Charging Methods
You can charge this product in two ways: a USB charger and a solar panel. Of course, the USB charger would come in handy for faster charging on days when the sun isn't intense.
Design
The design of this solar lantern is pretty sleek. It is designed to allow you to use the light in at least 3 ways. Depending on how you hold it, you may use it as a lantern, flashlight, or camping lamp.
Away from the functionality, the design of this solar lamp is pretty nice. It is somewhat minimalistic but not too minimalist that it feels bland.
You get a fair amount of water and impact resistance. Plus, it weighs less than 1 pound. So, on the durability and portability front, this product excels.
Warranty & Price
Like the previous option, the price of the Outdoors Camping Lantern is great. It is the second cheapest product in the review. But even at that, you'll surely get value.
Other Details
The battery in this solar lamp is readily removable. So, doing so should be easy if you ever need to install a replacement.
Pros
Functional and aesthetic design
Its battery is removable.
The price is great.
Decent brightness
Cons
The lighting time could be longer.
8. Columbia Rechargeable 750 Lumen Lantern
Regarding brightness, none of the others come close to the Columbia Rechargeable 750 Lumen Lantern. But that's not all there is to this solar lantern; its design and lighting time are impressive too.
Brightness & Battery
The name revealed the big secret about the brightness of this solar lantern. With 750 lumens of light output, none of the others come close to this lamp. Whether outdoors in your backyard or at a camp, this should give you enough illumination.
From our test, the battery lasted up to 9 hours following a full charge. Of course, this is good enough to last from dusk till dawn. After that, daylight should provide sufficient illumination.
Charging Methods
This device comes with USB and solar panel charging, like almost every other product we reviewed.
Although the manufacturer stated that it can also be charged with a portable battery, there doesn't seem to be any special port. So, all in all, there are two main charging methods.
Design
The design of the Columbia Rechargeable 750 Lumen Lantern is minimalist and modern. It is also very functional. But it doesn't have the same character the previous product has.
Of course, this solar lamp is solid. It should do well under regular use, and while it is water-tolerant, it isn't very resistant to water. But then, you wouldn't dip your solar lamp in water, so it's all good.
Warranty & Price
This solar lantern is the most expensive option in the review. By how many features it offers, it might be less expensive. But then, the cost is a bit okay when you think of the overall quality.
Pros
It is very bright.
Offers multiple charging options
Functional design
The lighting time is good.
Cons
9. Rothco Solar LED Lantern & Torch
The standout features of the Rothco Solar LED Lantern & Torch are its versatility and brightness. Whether you are looking for an emergency lamp, a camping lamp, or something to create a beautiful scene when you hang out outdoors at night, this product would do great.
Brightness & Battery
The LED lights of this lantern give off a bright, soft, and even glow. It is the kind that reaches everywhere within its radius, leaving no darkness hiding – you'd surely love it.
The battery life isn't great, though – when fully charged, the lamp might only stay on for 3 to 4 hours. This might be the lowest we experienced when testing the lanterns.
Charging Methods
As with the others, you can use USB and solar energy to charge this solar lantern.
Design
The design of this product is very functional. You can use it differently, depending on how you hold it.
It works as a flashlight when you slide the main lamp into the compartment and carry it with the side handle while the bottom light is on. Then when you want to use it as a lamp again, pull it out of the compartment and switch it on.
We aren't too sure about the solidity of the material in making this lamp. But then, we know it is water-tolerant to a fair degree.
Warranty & Price
The price is one of the strongest points of the Rothco Solar LED Lantern & Torch. Being one of the three cheapest options, you'd be making less risk if you opt for it.
Pros
It has a functional design, hence its versatility.
It is inexpensive.
The brightness is alright.
Cons
The battery life is not impressive.
10. Solar Lights Outdoor Retro Palace Lantern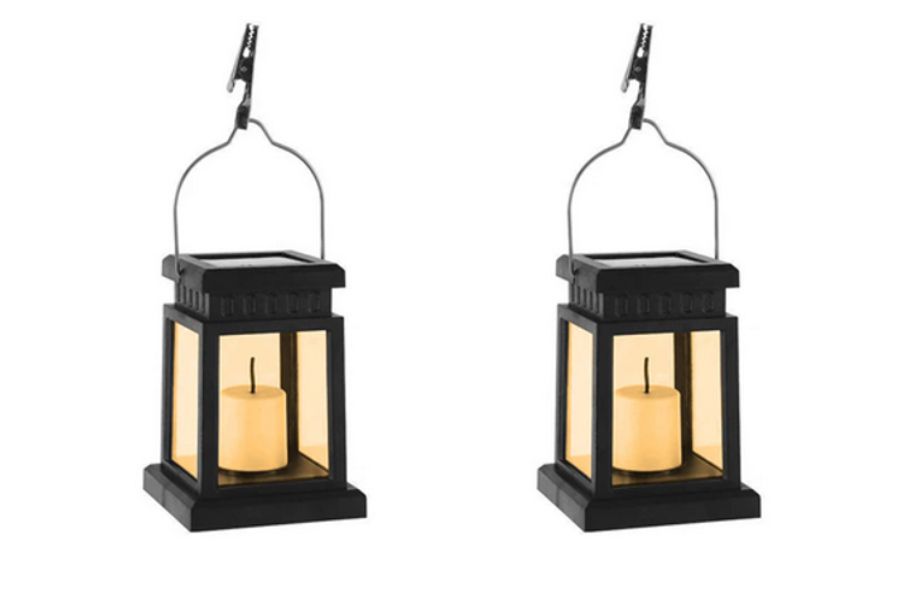 The classic charm of the Solar Lights Outdoor Retro Palace Lantern is just delightful.
This product gives you more than just another device to illuminate your environment. You're getting something to set the mood for a warm outdoor experience.
Brightness & Battery
Surely, this product is not the brightest. Its warm white light cannot match the illumination from LEDs that emit cool white light. But then, when you have this solar lantern on, you'd surely not stumble in the dark.
The battery life is pretty impressive. The manufacturer estimates 8 to 10 hours of lighting following a full charge, and it takes around 7 hours to get a full charge.
We tested the charging and lighting times to verify the manufacturer's estimates, which were within the same range.
Charging Methods
Unlike the others, this product only charges with solar energy. While this means it may be more eco-friendly than the others, it also means that in the absence of intense sunlight, you may not be able to do much with it.
Design
We love the design; it matches the vintage feel expected of the lamp. The solar lantern has a handle with which you can hang it or carry it around. The handle also comes with a clip, a more secure option for fastening or hanging the lantern.
The body is solid, and while water-tolerant, this is not the most waterproof solar lantern out there. But if you do not expect to get huge amounts of water in or on the lantern, all should be fine.
Warranty & Price
The price is on the high side. But then, it is okay, considering the value this solar lantern offers. There aren't many products offering the same ambiance it offers.
Pros
It is great for creating a warm atmosphere.
The lighting time is long.
It charges pretty fast under the sun.
The design matches the overall vibe of the product.
Cons
It is not a great option if you want something very bright.
Buyer's Guide
Brightness & Battery Life
Solar camping lanterns have a decent lumen output to ensure visibility no matter where it used. Some solar lanterns provide light while performing activities like swimming, whereas others are designed to light up an entire campground or the inside of a camping tent like a solar flashlight would.
Having a long battery life is also essential. At the very least solar lanterns must last the entire night before receiving a new charge through solar power. Ideally, these lights should last longer than this, ensuring a charge is carried over each day.
Charging Methods
Almost universally, each solar lantern will have a solar panel and typically a USB port, though there are exceptions with the latter. The built-in solar panels provide convenience as they will not need to be plugged into the other solar panels for camping that are better spent charging other things.
Some solar lanterns will have a car charger to make charging the lantern on the go easy. Another convenient charging method is a hand crank ensuring that if the sun is down, there is no car, and there isn't a USB cord handy, the user can use their own body to charge the lantern.
Then a convenient feature found in some lanterns is the ability to plug backup batteries into the lantern. It does require carrying spare batteries, but it beats twisting a hand crank for several minutes to get a charge.
Solar lanterns should have a mix of these charging methods to provide the most convenience for the user.
Design
The intended use for the solar lantern will also dictate which design features to look for. For instance, if the user uses solar lanterns to light up their DIY solar shower, something with simple water resistance should be sufficient.
But if the buyer does a lot of swimming, kayaking, or boating, solar lanterns with waterproof designs will better fit. Some will even submerge or float on top of the water, great if the boat tips or floats in a pond.
The size and weight will also determine which solar camping lanterns should be picked. Someone wanting to clip theirs to a solar backpack will want something small and portable, for instance. Getting a collapsible one can also be handy for backpacking or when similarly limited on space.
Warranty & Price
Because solar camping lanterns will see a lot of use, it pays to have one with a good warranty. The standard warranty is one year to cover repairs and replacements for everything from the solar panel to the LED lights. Those looking to use theirs more often or in more intensive situations should consider longer warranty periods.
Price also plays an important role in purchasing solar camping lanterns. By and large solar lanterns aren't expensive, and the cost typically reflects the quality of the product. Still, it pays to make comparisons to ensure the best deal for the best price.
Extra Features
While not necessarily required, it can sometimes pay to have a solar lantern with a few extra features beyond the standard capabilities. Multiple light settings can ensure the light is only as bright as it needs to be and conserves the power bank.
Some lanterns feature multiple color settings to provide ambiance for different situations.
While not mandatory for camping and backpacking, having a different color light for swimming or a tent can provide a unique experience. Several solar lantern users have also stated that red light can be great for getting attention in an emergency.
Final Thoughts
Ultimately a solar lantern is a convenient and efficient light source when camping, backpacking, or performing any activity outdoors. Good solar lanterns will provide the right amount of light for the situation and be reliable enough to last long enough not to need a charge immediately.
When it does come time to charge, having a lantern with various options for charging will be convenient. Ideally, it will simply need to draw on the solar panels, but when push comes to shove, having a hand crank or a car charger will be very nice if solar power isn't always an option.
The design of the product is also important. A water-resistant lantern may be sufficient for camping, but water-based activities could require something more waterproof or even something that can float or submerge as needed.
Finally, balancing the lantern features against the price and the warranty will ensure a good buy. Solar lanterns aren't expensive, but there's no point in overpaying for features you don't need.
We are sorry that this post was not useful for you!
Let us improve this post!
Tell us how we can improve this post?