10 Best Solar Panels for RV in 2023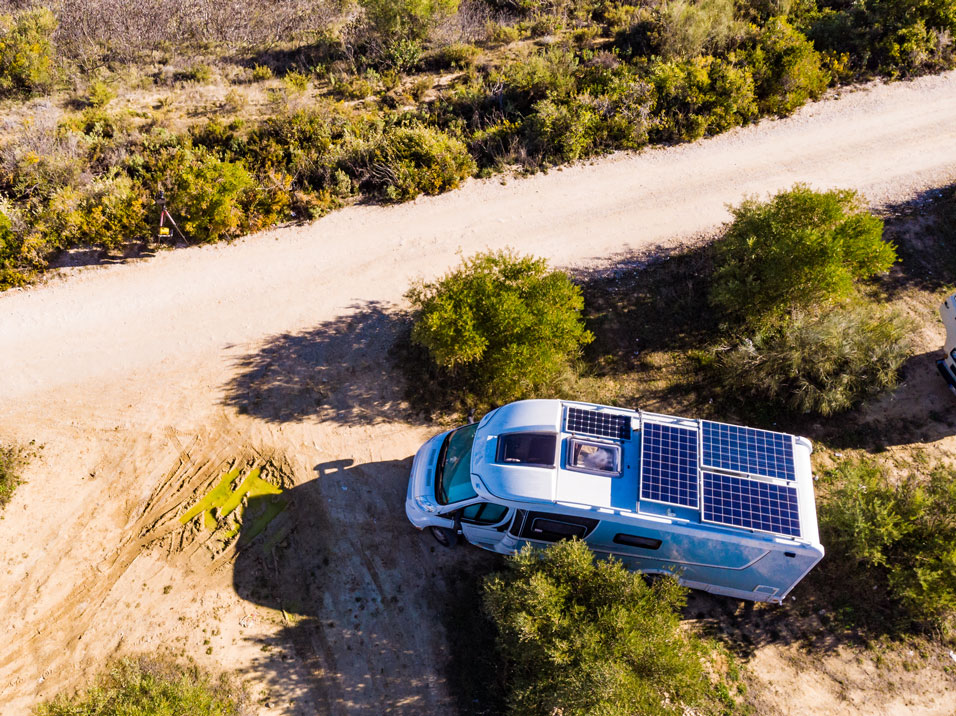 You've decided to build an RV, and your feelings of excitement are through the roof. Though in the back of your mind, you still feel a bit of anxiety, thinking about the things that go into building an RV. One of these things is probably your RV electric system.
Best RV Solar Panels and Panel Kits Reviewed
If you are a beginner in solar power or just want to avoid pulling the whole setup together, the good idea is to get a solar panel kit. It's a combination of solar panels and a battery bank connected via a cable to generate solar power.
Here's a list of the best solar kits for RV that will cover all of your electrical needs.
Renogy is the industry's most recognized solar brand that offers highly reliable solar panels and kits for boats, cabins, trailers, and recreational vehicles. The Renogy400D is a formidable kit equipped with a corrosion-resistant aluminum frame that can withstand heavy wind, snow, and extended outdoor use.
The kit also comes with MC4 connectors and an Adventurer 30A PWM charge controller, built explicitly for RV and camper applications. With the company's excellent customer support and warranty options, the dedicated PWM charge controller earns the RV400D the highest number of positive reviews among all the RV solar panel kits we reviewed.
The kit comes with nearly everything you need, except a battery bank, to generate solar power.
Pros
A fairly comprehensive solar panel kit
Sturdy aluminum frame that can withstand extreme weather
The charge controller is specifically designed for RV applications
25-years panel replacement warranty
Most reviewed solar panel kit
Cons
The kit does not include a battery
The 4 panels take much of the roof space
WindyNation is another popular solar brand known for its reliable products. The SOK-400W solar panel kit is a complete unit that comes with everything you need to start harnessing solar energy. The kit includes four solar panels, a solar charge controller with a battery temperature sensor, a user-adjustable LCD, and all the necessary cables and mounting hardware. One thing that makes the SOK-400WP different from RV400D is the cell type. The SOK-400WP are polycrystalline panels, which aren't as efficient as their monocrystalline counterparts.
Unlike the Renogy RV400D kit, the SOK-400WP includes four battery banks and a 1500-watt solar inverter to convert DC to AC power. It is a cost-effective option for beginners with little to no solar knowledge and users who want to avoid the hassle of researching and purchasing separate accessories for their RV solar system.
Pros
A complete kit for RVs, cabins, and boats
It comes with four 100Ah batteries
Cost-efficient
5-years panel warranty and a 1-year warranty on all the other equipment
Cons
The kit is fully bundled and offers no choice in the equipment
Some reviewers find the solar cable too short for general use
If you're a perpetual nomad, The ACOPOWER solar panel kit will cover most of your basic energy needs. It is a compact kit with laminated panels and a simple folding design that can withstand extreme weather. The kit is particularly useful for campers who regularly transport their panels to power their electronic appliances. The 105W solar monocrystalline panel kit can charge phones, laptops, and other essential devices on the go.
The portable solar kit comes with a 10A PWM charge controller and includes a USB outlet, SAE adapter, and battery clamps, making the connection process a breeze. The suitcase panel design can accommodate all the extra equipment that comes with the unit.
Pros
Compact and lightweight
Simple installation
Portable solar panel
It comes with a protective suitcase
Cons
Complains of a design flaw with the wiring
Vague instructions for setup and installation
5. GS-540 Solar Kit
The Grape Solar's 540W kit is an off-grid solar system for RVs, boats, cabins, and small houses. The kit generates enough power to recharge batteries and run all the necessary devices, including lights, fans, pumps, phones, and laptops. It comes with three 180W solar panels built with anodized aluminum frames and a sealed junction box.
The kit also includes a 40A PWM charge controller that works well to keep the batteries from overcharging. Unlike the WindyNation 400W kit, the Grape Solar unit also comes without a battery bank. All the other hardware, such as inverter, charge controller, cables & connectors, and a remote monitoring app and LCD display, come with the system.
Pros
Easy to assemble with a quick-connect guide
USB ports and outlets
5-years panel warranty
Cons
Pricey
You've to build your own panel rack for mounting
The 100W 12V solar panel by Renogy tops our list for the best RV solar panel for several reasons. The panel is compact compared to the standard 100W panels, making it a winner for space efficiency. The compact design also makes it an ideal choice for RVs, campers, and boats.
The 2,881 ratings on Amazon are testament to the panel's superior performance and customers' trust in the company. The monocrystalline panel is equipped with a junction box, waterproof male & female connectors and can be easily expanded to more panels. It also comes with pre-drilled holes to allow for quick mounting on various surfaces.
The highly transparent and anti-reflective glass ensures the maximum efficiency of the panel. Add to it the corrosion-resistant aluminum frame, and you get a perfect panel for extended outdoor use.
Pros
Withstands strong winds and snow loads
Highly versatile with pre-drilled holes on the back
Easily expandable
Compatible with different mounting systems
25-year transferable power output warranty
Cons
As one of the top solar energy brands, WEIZE provides superior solar panels at a competitive price. The performance trend continues with the WEIZE 200W panel that offers up to 21% efficiency in clear weather conditions. The anodized aluminum frame makes the panel corrosion-resistant and durable in harsh environmental conditions.
The solar panel is equipped with tempered glass and a sealed junction box, making it weatherproof for optimal outdoor performance. The panel features a 2.6ft cable with connectors and produces 5.3-amp power for boats, cabins, and RV applications.
Like the Renogy 100W panel, WEIZE 200W also comes with pre-drilled holes compatible with Z-brackets, tilt, and side pole mounts. The mounting equipment, however, is not included in the panels.
Pros
High-efficiency solar cell
Can withstand extreme weather
Ready for installation
Cons
You've to buy a 2 to 1 MC4 connector to hook up the two panels
It comes without mounting equipment
Of all the flexible solar panels we reviewed for RVs, the Renogy 160W offers the best performance. It's lightweight, easy to install, and offers higher quality than most flexible panels in the market. The monocrystalline panel offers a maximum flex range of 248 degrees which is the best flex range for a flexible solar panel. It also makes the Renogy 160W an ideal option for curved roofs and uneven surfaces.
The panel is approximately 95% thinner than rigid solar panels, making transportation and installation a breeze. Despite the compact design, the panel can withstand air drag, strong winds, and heavy snow loads. It comes with six metal reinforced mounting holes and can be mounted on rooftops, RVs, camper vans, trailers, boats, and curvy surfaces.
Pros
Up to 248 degrees arc of flexibility
Easy to transport and install
Completely waterproof
Cons
The positive panel lead is too short (5.9 in)
If you prefer a polycrystalline panel over the more standard monocrystalline units, we've got the HQST 100P for you on the list. It's a high-quality panel that features highly transparent and anti-reflective tempered glass for efficient power conversion. It also comes with MC4 Connectors and leads for plug & play use.
The panel is water-resistant and can even withstand a low-pressure water splash. Since the panel is impact-resistant, it can easily handle heavy snow loads and strong winds. Similar to all the other solar panels on the list, this model comes with corrosion-resistant aluminum frames. The overall structure of the panel is designed for extended outdoor use.
An impressive feature of the unit is its high conversion efficiency, even in low-light conditions. So, if you frequently camp or travel to low-light locations with heavy cloud coverage, the HQST 100P can be your best bet.
Pros
A highly efficient system even in low-light settings
Compatible with various mounting systems
Features a drainage hole and mounting holes
Cons
The cord is too short for everyday use
The 2-piece 100W solar panel by Newpowa also earns a spot on our list for the best off-grid solar panels. It comes with a heavy-duty anodized aluminum frame with the capacity to generate 200 watts of power. The panel's rugged design protects it from harsh weather conditions like rain, hail, and snow.
The Newpowa RV solar panel is built to effectively handle heavy applications. The installation process is simple without involving any complicated steps. It supports various mounting options, including walls, flat surfaces, and pole installation.
Pros
Heavy-duty and reliable
Simple setup
25-year transferable power output warranty
Cons
Low-quality junction box
It doesn't include some installation items
Most of these solar panels can be expanded into a custom solar system. However, the panels alone are useless unless connected with other solar system components, as discussed in the next section.
The Basic RV Solar Setup
You'll need solar panels, batteries, and a power inverter to set up a stable RV solar system. The following chart best depicts the basic RV setup.
The RV solar panels collect solar energy from the sun and use it to recharge batteries. While solar panels and deep cycle batteries are enough to fulfill the basic RV power needs, some RVers want their rig to provide the same amenities as their homes.
The system needs to be complemented by additional solar power components to enjoy those amenities. These include:
Solar Charge Controller
The solar charge controller is a crucial component of the solar power system. It monitors the battery's charging capacity and limits the flow of current when the battery reaches its full charging capacity. When the battery bank is full, the charge controller limits the current flow from the panels to the batteries.
There're two main types of solar charge controllers. The standard Pulse Width Modulation (PWM) controllers limit the flow of current to a charged battery at an economical price. The Maximum Power Point Tracking (MPPT) controllers tend to be more expensive but offer a wide range of benefits.
PWM controllers. They are 30% more efficient and provide greater control over the charging of the batteries.
Solar Power Inverter and Converter
In some cases, it becomes necessary for RVers to convert different RV power types. For instance, if you need to operate an AC-powered appliance using solar energy, you'll need an inverter to convert the 12-volt DC from the battery bank into 120V AC power.
Below, you can read more about the two RV power types and how they work.
RV Power Types
The electrical system of an RV can seem intricate until you get a basic understanding of how it works. RVs use two types of electric power to run electrical appliances. The power types include:
120-volts AC power
The 120-volts (or 220-volts in some countries) AC power system is typically used in our homes. It's used for high-power consumption devices like microwaves, televisions, air conditioners, toasters, and other high-voltage appliances.
Most of the campgrounds and resorts provide you with an electrical pedestal or another appropriate receptacle for a 'shore line' connection. You can plug into the source using a heavy-duty power cord that comes with your RV. Depending on your RV, the cord can either be a 30-amp and 50-amp system. Smaller RVs, travel trailers, and pop-up campers usually use 30 amps, while larger RVs utilize the 50 amps hook-up.
12-volts DC power
A battery powers the 12-volt DC system, running all the basic RV components and devices. A fully charged battery will power the 12-volt equipment, including the furnace, water heater, most lighting, fans, and USB plugs in your RV. As long as your battery (or battery bank) is charged, you can use everything except the high-voltage appliances rated for AC power.
The DC power system is ideal for RVers who enjoy boondocking or prefer camping off the grid with no electric hookups. In that case, you can use solar panels to recharge your batteries and power your rig.
To assemble a solar system, you must connect the panels, batteries, controller, and inverter using a solar cable. While no wire is specifically designed for solar-powered systems, different cables are rated for specific uses.
There are two ways to wire a solar system.
Series wiring
Parallel wiring
Wiring Solar Panels in Series
When you connect the positive terminal of a panel to another panel's negative terminal, you create a series connection. In series connections, the voltages of the panels add up while the amperage remains the same. For instance, if you make a series connection of four panels with a rated amperage of 5 amps and voltage of 12V, you'll get an output of 48V and 5 amps.
Wiring Solar Panels in Parallel
With parallel wiring, the panel's positive terminal is connected to the positive terminal of another panel. In a parallel connection, the system's amperage increases while the voltage remains unchanged. The system will produce 20 amps at 12 volts for the above example.
The system fails if there's an issue with a panel in a series connection. However, a defective panel does not impact the rest of the panels' output in a parallel connection.
Types of Solar Panels
The amount of energy a panel harnesses depends on the panel's cell type, maximum wattage, and structure. Below, we discuss the different types of solar panels based on:
Cell Type
Panel Structure
Portability
Types of Solar Panels Based on Cell Type
Several years of research and development have led to various types of solar panels. Solar cells can be divided into three categories based on the type of solar cell. Below, we take a closer look at each.
Monocrystalline solar panel
Monocrystalline panels are the most popular type of solar panels in the market today. The solar cells in these panels contain a single crystal of silicon, also called an ingot. A single monocrystalline panel contains either 60 or 72 solar cells with efficiencies ranging from 17% to over 21%.
Since the monocrystalline solar cell comprises a single silicon crystal, the electrons can flow easily through the cell. The free flow of electrons, in turn, makes the panel's efficiency higher than other types of solar panels.
The higher efficiency and power rating are also responsible for the high price of monocrystalline solar panels.
Polycrystalline Solar Panel
Polycrystalline or multi-crystalline panels are popular among users who want to build a solar system on a budget. Their blue-speckled color distinguishes these panels with squares and uncut angles.
Polycrystalline panels are built by melting raw silicon, which is a cheaper and faster process than the one used for monocrystalline panels. This translates into a lower efficiency (15% to 17%), shorter lifespan, and lower cost.
Amorphous Silicon (A-Si) Solar Panel
The A-Si solar panels are thin film solar panels that use triple-layered technology. They are highly flexible and can handle higher temperatures. The main issue with amorphous solar panels is that they take up a lot of space, making them unsuitable for RV installations.
Thin film solar panels are cheaper than the mono- and polycrystalline counterparts, but they have a shorter lifespan and an efficiency rating of 10% to 13%.
Rigid vs. Fixed Solar Panel
Solar panels are either rigid or flexible, depending on the structure of the panel. Here is how the two differ from each other.
Rigid Solar Panel
Rigid solar panels are made with an aluminum frame protecting tempered glass and are the most commonly used panels. They are known for durability and can typically withstand extreme weather conditions, including rains, winds, and hail storms.
These panels are installed in sturdy brackets and can be angled for maximum solar exposure. Rigid RV solar panel is relatively heavy, and installing too many of them may create air drag and reduce fuel efficiency in the long run.
Flexible Solar Panel
Flexible solar panels are adaptable panels and weigh much less than rigid panels. They are ideal for curved surfaces, non-traditional RV shapes, campers, and light vehicles. Their incredibly low profile makes them the best option for a stealth solar system.
Flexible solar panels need secure installation; otherwise, the air drag may take them off the RVs' roof. They are prone to scratching and, therefore, less durable than their rigid cousins.
Fixed/Mounted vs. Portable Solar Panels
As the name suggests, Fixed solar panels are permanently mounted to the RV's roof. They must be mounted and connected only once, requiring little to no maintenance. Fixed panels are highly durable and can withstand some environmental beating.
Portable solar panels are a great first step for beginners in solar energy. These panels can be moved around and placed anywhere the sun is shining. A major advantage of portable solar panels is that they can be placed anywhere in the sun while you camp in the shade. As the portable panel harnesses solar energy, you can use a heavy-duty power cable to recharge your batteries.
What Type of Solar Panel is Best for RV?
Now that you're familiar with the different types of solar panels, you may be wondering which type of panels can serve your RV best. You need to consider a few factors before selecting a solar system to answer this query.
How often do you go off-grid?
If you're boondocking and regularly camping in areas with no electric hookups, we suggest you get mounted panels with a monocrystalline solar cell. You only have to install them once and never worry about their maintenance. Mounted solar systems are rigid and can handle various weather conditions and low-pressure water jets.
Do you want the convenience of home?
If you're a full-time RVer, you may want to install fixed RV solar panels with a power inverter to convert the 12V DC power to 110V AC power. This will enable you to recharge all your AC-powered electronics while on the road.
How often do you've overcast days?
If you're camping in locations with heavy cloud coverage, the good idea is to get solar panels that work well in low-light conditions. A portable solar panel is ideal for those who frequently park their RVs in the shade. You can easily transport and install it where the sun is shining.
Consider your RV's roof.
A plain RV roof can accommodate almost all types of solar panels. However, you'll be limited to flexible panels in case your vehicle has an uneven surface. They are lightweight but less efficient than rigid panels. A major issue with flexible panels is that they can be taken off by air drag unless you firmly install them.
Consider the expandability of the system.
If you plan to expand your RV solar system in the future, make sure to place and install your solar panels carefully. You may also need to avoid a solar kit because they usually limit the expansion option.
The best solar panel for an RV is the one that suits your specific needs. With these factors in mind, you can choose a suitable RV solar panel.
How Many Solar Panels Do I Need to Run an RV?
Before even considering installing solar panels on your RV or camper, you should figure out your everyday energy needs. Calculating your average power consumption combined with the wattage of individual panels and solar exposure are the major factors to consider when evaluating the required number of panels.
You can calculate your average power consumption by analyzing the energy required for each device. Here is a list that will give you an idea of the wattage drawn by different appliances.
Most RV solar panels generate around 100 to 400 watts of power. This means that if you have a 400-watt solar system in direct sunlight for 6 hours a day, it will generate (400-watt x 6 hours) 2,400 Wh of solar power each day.
If you want to operate the basic RV appliances (light bulbs, fans, water pump) and a few electronics like TV, modem, and laptop, then a 300-watt solar panel with 6 peak sun hours to charge a single 12V battery with 150Ah of battery capacity would suffice.
If you include energy-hungry appliances like a fridge and a microwave, you might want to add 1 or 2 100 Ah batteries and increase the total solar wattage to 400-600 watts.
These are the minimum requirements to keep the basic appliances up and running. When it comes to solar power, more is always better.
How Much Do RV Solar Panels Cost?
When installing solar panels on an RV or a camper, you often have two options. You can either purchase a solar panel kit that comes with the necessary equipment for the solar system. The kit's cost starts from under $100 for basic RV solar applications and can reach up to several hundred or even thousands of dollars for heavy-duty setup.
You can also buy all the gear separately and connect them to power your electronics. The cost of such a system depends on the price of individual equipment. Below is a list of the hardware and a rough estimate of the cost for each gear.
Solar panel: $70 to $500+
Batteries: $100 to $1,200+
Charge controller: $15-$400
Solar adapter: $15-$50
Inverter or converter: $150-$350+
Mounting hardware: Less than $50
Smaller solar panels are incredibly affordable and can be found for less than $100. These panels can meet the basic RV energy needs (LED light bulbs, fans, etc.) but aren't suitable for high-powered appliances. To run power-hungry devices, you can add a few hundred bucks and get one or two 100-Watt panels along with the mounting hardware.
If you're living entirely off the grid or love boondocking for an extended period, then you'll need to spend upwards of $1,000 on the panels and another $1,000 on the associated hardware. Most brands offer panel warranties of up to 25 years and additional warranties for the solar setup's associated hardware.
With the enormous upfront cost, many RVers ask if solar panels for RVs are worth the investment. Let's find out the answer!
Are Solar Panels for an RV worth it?
One of the biggest concerns when camping or boondocking is access to electric power. While some campgrounds have electric hookups, some of the most breathtaking locations either don't provide access to power sources or limit their use. With solar power, you no longer need to worry about power as long as the sun shines.
Solar power is a popular option among RVers for many reasons. Below, we share some of them.
Clean energy
A major benefit of solar panels is that they produce clean energy. Since the RV solar panel system has no moving parts, it does not create any mechanical noise when producing energy.
No maintenance required
RV solar panels require little to no maintenance to generate electricity. You only need to install them in the sun's direction and connect them to the batteries. They are lightweight and portable, which makes them ideal for camping or boondocking.
The cost of solar panels is constantly dropping.
A decade ago, a standard 6kW solar system's cost was more than the average cost of an RV. But the cost of per watt solar energy has significantly plummeted in the last ten years. Thanks to the advancements in technology, solar panels and the associated hardware like controllers and inverters are witnessing a constant decline in prices.
While the upfront cost may still seem a lot initially, the investment will likely pay off in a few years. Based on these reasons, RV solar setup is definitely worth the investment.
Final Thoughts
Solar panels have gone from rarity to a nearly ubiquitous commodity within a decade. As the technological landscape is constantly improving, we can't be sure what tomorrow may have in store for us. However, if you were to buy a solar kit or panel today, we highly recommend those listed above.
These solar panels and kits will make sure that you've enough power to feel comfortable while you're on the road. They will give you peace of mind and make you experience the amenities of your home even when you're away from it.
With a bit of solar knowledge and the necessary equipment at hand, you'll be able to easily set up the system. However, if you've no prior experience with electricity, we advise you to consult an expert before messing around with any of the equipment.
We are sorry that this post was not useful for you!
Let us improve this post!
Tell us how we can improve this post?