5 Best Solar Powered Bug Zappers in 2023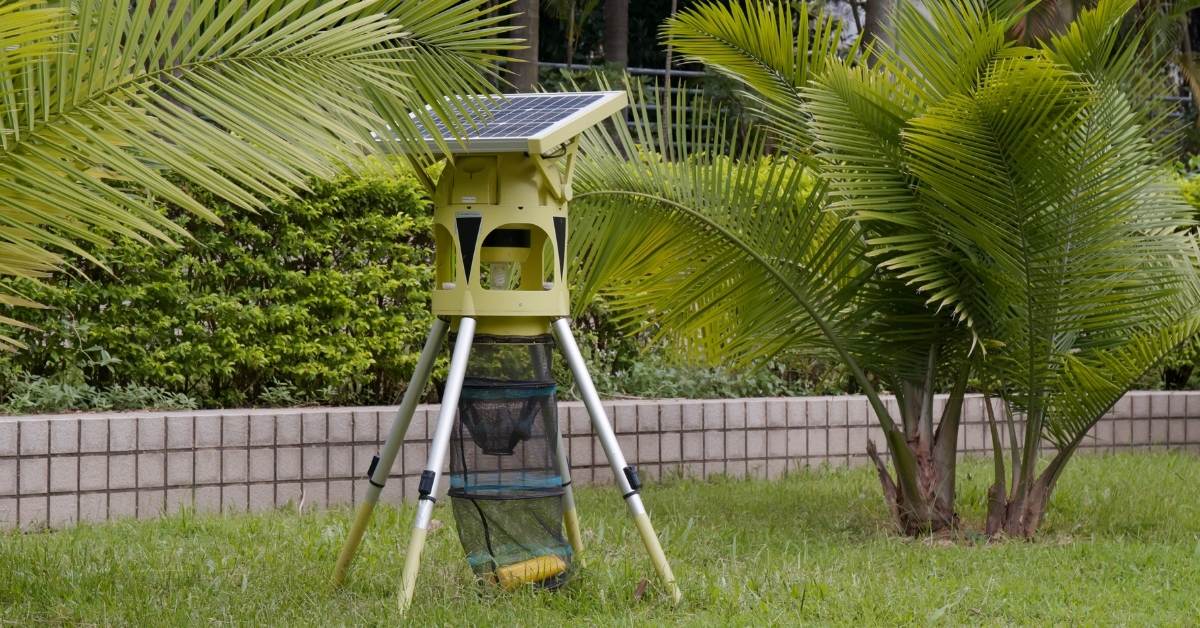 As with most solar products, high battery capacity and run time, rapid charging, and durability are indicators of quality in a solar bug zapper. However, what truly defines the best solar-powered bug zappers are their effective range and zapping voltage.
Our Solar Bug Zappers Review
1. Elechrome Electric Solar Mosquito Killer for Indoor & Outdoor
This bug zapper is the best for people who want wide coverage, long run time, and high zapping voltage. Unsurprisingly, it comes in as the overall best amongst the solar-powered bug zappers in this review.
It has an effective range of up to 2100 square feet – the highest of all in our review. Owing to its high coverage, the Elechrome Electric Mosquito Killer is very suitable for indoor and outdoor use.
This mosquito zapper comes with a 1800mAh battery. While this falls short of the 2200mAh in the Kittmip bug zapper, it is far above average. In other words, this device can store more power than most bug zappers.
This product has a zapping voltage of 3000v – higher than every other product in this review. With such a high amount of electricity, killing bugs – whether flying insects or biting insects – should be no problem for this device.
The solar mosquito killer emits UV light with a wavelength of 365 nm. Considering the fact that bugs are typically drawn to ultraviolet light of 300 to 600 nm, this product will surely attract bugs.
Beyond being a solar bug zapper, this product can also act as a solar light. Besides its bug zapper light, it features a white light and a flashlight. So, when it is not zapping bugs, it offers bright led light for illumination.
This product does not charge as fast as we would love. Its 5v 140mAh solar panel can take around 6 to 10 hours to get the device fully charged. On the bright side, it comes with the option for USB charging. So, when solar power disappoints, you can connect the device to a USB power source.
This product has an IP66 design, meaning it is very waterproof and weatherproof. Besides being water-resistant, the silicone and ABS construction will not crack readily under regular impact.
Pros
It covers a very wide range
It offers a decent run time
Highly waterproof
Offers enough voltage for an effective kill
Cons
The charging rate could be better
2.
Kittmip
Solar Powered LED Mosquito Killer Lamp
This solar bug zapper is the best for those who prioritize battery life over other features. But beyond having a long run time, it offers rapid charging and durability.
The Kittmip LED Mosquito Killer Lamp has an effective range of 80 square feet. While this is pretty decent, it falls short of what the Elechrome zapper offers.
Going by the effective range of this mosquito zapper, it may not impress when used outdoors. But if you use it indoors, you should see its effectiveness.
The lamp boasts a 2200mAh battery – none of the other products in our best solar bug zappers review come close. Thanks to its high capacity, it can run for around 6 to 8 hours when fully charged. In other words, you can use it all night when fully charged.
The charging rate of this bug zapper is some of the finest out there. Under direct sunlight, you can get a full charge within 6 hours. Besides its rapid charging, the LED Mosquito Killer Lamp comes with the option for USB charging. So, when there is no solar power, you can still get it to zap bugs.
This product is suitable for indoor and outdoor use, and in either case, installation is easy. For outdoor use, just attach the ground spike to the device and stick it into the ground. For use inside your house, attach the expansion bolts and screw them into the wall.
With an IP65 rating, this product will survive outdoors. Its construction offers a strong seal against dust, water, and other sources of ingress.
Pros
Long working hours when fully charged
Rapid charging
Offers alternate power source
Cons
A wider coverage would have been better for when it is used outdoors
3. PIC Solar Insect Killer Torch
This solar-powered bug zapper is the best for people who want wider coverage when they use their bug zapper outdoors. Beyond having a broad effective range, the PIC Solar Insect Killer Torch is stylish; it is shaped like a champagne glass.
This insect-killer torch has an effective range of 500 square feet – the second-highest in this review. Thanks to this broad coverage, you can effectively use it indoors and outdoors. If you want more coverage in wider spaces, you can opt for multiple pieces.
This product comes with a lithium battery that runs for up to 6 hours when fully charged. This run time is not the highest we've seen as the Elechrome and Kittmip bug zappers have longer working hours. But then, compared to the average zapper, it is still pretty okay.
The solar insect killer torch has a zapping voltage of 600 volts. This is not as high as the Elechrome zapper, but it is enough to do significant damage to all kinds of bugs.
Besides its champagne-glass-like design, the lighting of this product is stylish and can easily be mixed with solar tiki torch lights. The product features a led light that flickers, mimicking the ambiance of open flames. It also features a blue led light, which attracts bugs. The blue led light has a wavelength between 400 and 450 nm – pretty close to UV light. So, it is surely effective as a bug and mosquito attractant.
The installation of this product is very flexible. You can install it in up to 5 different ways. So, whether you intend to use it indoors or outdoors, there's barely any limitation.
Pros
It is very stylish
Offers a broad coverage
Effective at attracting mosquitoes and other bugs
Produces up to 600v of zapping voltage
Cons
A longer run time would have been perfect
4. Stingmon Solar Wasp Traps
This product is the best to get rid of bees and wasps without necessarily killing them. Unlike the others, the Stingmon Wasp Trap does not zap bugs; it traps them. Sometimes, the bugs die after they've been trapped for so long.
This bug trap comes with a compartment where you can add honey or any other substance to attract bees and wasps. The company offers a video guide on how to choose the right bait for specific flies and insects.
This wasp & bee trap also features a solar panel and UV light for attracting bees and wasps. So, the baiting is two-way.
In the absence of solar power, this wasp trap has a 40 mA battery to keep the lights running. Ordinarily, 40 mA would seem small. But then the UV light of this product is equally small, so it does not consume so much power.
You can get a full charge within 6 hours. This makes its charging rate just as fast as the Kittmip zapper. With such charging speed, getting fully charged batteries in low sunlight areas will not be too hard.
The UV light attached to each pack is relatively small compared to the other bug zappers in this review. So, unsurprisingly, it has a lower effective range than the rest.
But then, instead of relying only on UV light to attract the bees and wasps, this product also uses food bait. The two modes of attraction it uses, boost its overall effectiveness.
With an IPX4 rating, it is decently water-resistant. It could be better, but it is good enough.
Pros
It is portable
Offers baiting methods for insects and flies
Charges rapidly
Cons
5. Hywean Solar Bug Zapper Outdoor
This product is the best portable solar-powered bug zapper. Besides being portable, it is easy to install and offers a long run time.
The Hywean Bug Zapper has a limited effective range. Its light spans around 50 to 100 square feet. While this is good enough in many cases, we have seen better in some of the other bug zappers we reviewed.
This product comes with 600mAh batteries, which can power the lights for around 6 to 10 hours when fully charged. While we have seen higher capacities, the run time of this zapper is very impressive.
You can fully charge the bug zapper if you expose the solar panels to solar power for around 6 to 8 hours. This makes it one of the fastest charging products in this review.
The Hywean has an IP65 rating, meaning it resists water ingress to a high degree. It also resists high temperatures. So, if you were bothered about leaving your bug zapper outdoors, this product offers no worries as it is weather-resistant.
While this zapper produces less zapping voltage than the PIC Insect Killer Torch, it is still pretty effective.
It runs on two modes: purple light mode and white light mode. The purple light mode gives off light that serves as a mosquito attractant. The white light mode, on the other hand, produces a bright light for illumination.
Pros
It charges rapidly
Offers long run time
Highly waterproof, so you never have to worry about it on rainy days
Can also serve as a solar light
Cons
The coverage could be higher
Solar Bug Zapper Buying Guide
For solar-powered products, high battery capacity typically equals long battery life. In turn, long battery life means a long run time when there is no sunlight.
Besides run time, the charging rate is also vital to the performance of a solar-powered device. The faster a solar bug zapper charges, the earlier you can get a full charge. It goes without saying, but if you get a full charge before the sun sets, you can use your solar bug zapper for longer periods through the night.
The effective range of a solar-powered bug zapper is an indicator of how far its UV light can travel. The farther a zapper's UV light travels, the wider its coverage. Of course, with wider coverage, a solar-powered bug zapper will offer more protection against bugs.
The zapping voltage of solar zappers is basically how much electricity their electrical grids use to kill pesky bugs. An insect zapper with a high zapping voltage would be more lethal to bugs.
Effective Range
If you are looking to use your zapper outdoors, aim for an effective range of at least 500 square feet. But if you will only use the zapper indoors, coverage of 100 square feet would work. But then, if you can go higher, do not hesitate. The broader the coverage, the better the performance.
Run Time
At night, when there is no sun, your zapper can only stay running if its battery affords it a long run time. So, if you want your zapper to keep running through the night, opt for a product with a long run time. Generally, a zapper that offers at least 6 to 8 hours on the battery is ideal.
Charging Rate
If you have to wait 12 to 18 hours for your solar insect zapper to get fully charged, you have not made the best choice. The best solar bug zappers typically charge fully in 6 to 8 hours. So, when buying, opt for something within this range or very close.
Zapping Voltage
Zappers that produce a zapping voltage of less than 1000v are effective. However, for the best performance, set your sights on those that produce at least 2000v. For obvious reasons, they have higher zapping rates.
FAQs
How Do Solar Bug Zappers Work?
Solar bug zappers work like regular bug zappers. However, unlike regular bug zappers, their UV lights are powered by the sun's energy.
Solar bug zappers feature an electrical grid and UV lights within 300 to 600 nm. The UV lights attract insects, mosquitoes, and other flies toward the zapper. Then when these pests get close enough to the zapper, the electrical grid stuns them with a high-voltage charge.
Do Solar-Powered Bug Zappers Work During the Day?
Typically, solar zappers do not work during the day. Instead, their solar panels charge them during the day, so at night they come to rid you of insects.
Not all zappers follow this pattern; you may just find a solar bug zapper that works during the day.
What Are the Benefits of Using Solar Bug Zappers?
Some of the benefits of solar bug zappers are:
They are eco-friendly.
They keep you from using harmful chemicals.
You can use them on various occasions: when you go camping, out in your backyard, in your front yard, or inside your house.
When in search of the best solar-powered bug zappers, pay attention to run time, charging rate, and durability. As with most solar products, they are markers of quality. Then pay special attention to effective range and zapping voltage, as these two features separate the best zappers from the rest.
We are sorry that this post was not useful for you!
Let us improve this post!
Tell us how we can improve this post?