5 Best Solar Radio Reviews in 2023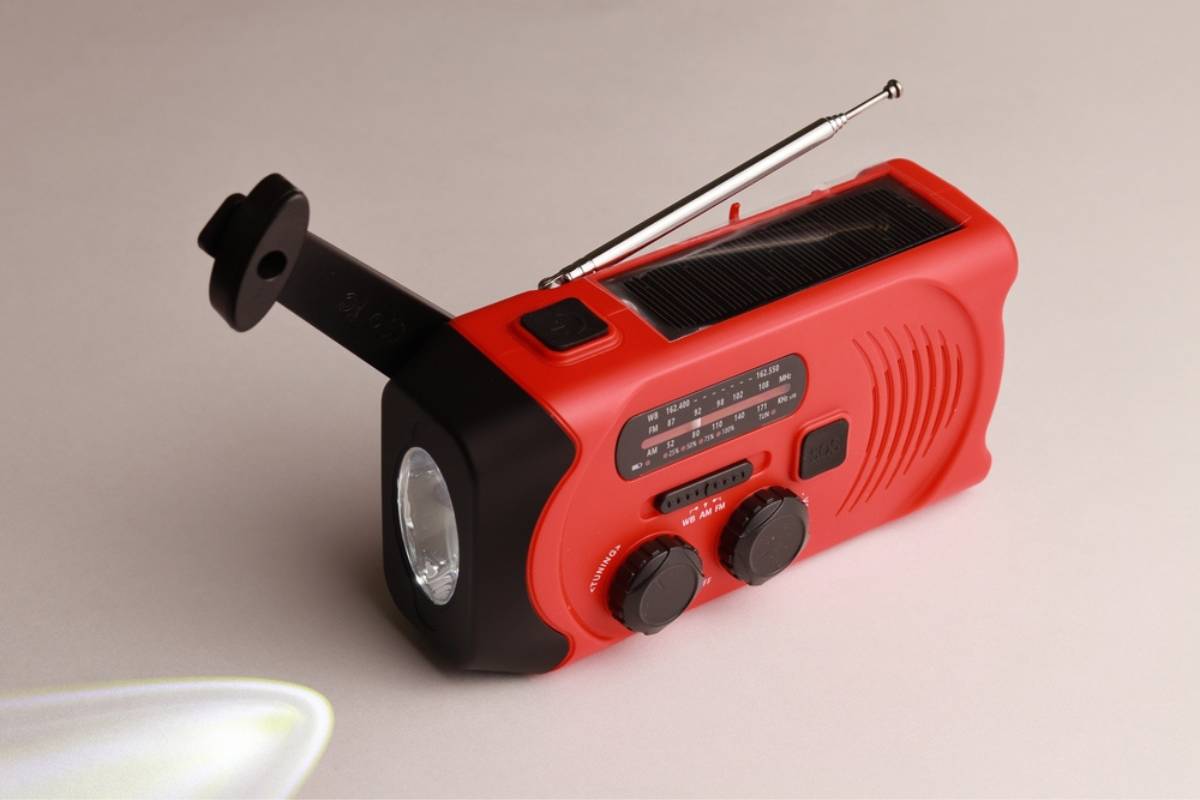 There are many reasons you might need a solar radio. Maybe you live in an area with severe weather or natural disasters, and you want to create an emergency preparedness kit.
Perhaps you enjoy camping, hiking, or backpacking and want to add a solar power radio to your gear. It is great to have one in emergencies.
Whatever reason you need a radio, we know you will find a great product that fits your needs.
Buying solar over strictly battery-powered is more cost-effective for you and your family.
Solar-powered radios have come a long way and provide a variety of features. Alongside an array of features is the combination of power sources. You don't have to rely solely on solar power.
We have compiled a list of the best solar-powered radios for your consideration. We will look at the features and the details you need to choose the best solar radio.
Best Solar Radios at a Glance
Best Solar Radio Reviews
1. Kaito Solar Weather Radio
One of the best solar-powered emergency radios is the Kaito Solar Weather Radio. It can be charged in five different ways.
The emergency radio charges with a micro USB cable or a USB DC output port. Three AA batteries will power it in case of an emergency, and a durable solar panel that rotates 180 degrees to reach ultimate sun exposure.
It has the best solar panel because of its moveability. If all else fails, the Voyager is also hand-cranked.
This radio has thorough FM, AM, shortwave, and pre-programmed with 7 NOAA weather channels.
Equipped with a 14.5-inch antenna, this solar radio has an apparent reception. The alert mode will notify you in the case of an emergency and weather alerts.
The Voyager can also be a power bank for your other electronic devices. It has a flashlight, a reading lamp, an LED light, and a flashing red light.
Kaito solar-powered radios are outstanding, and the KA500 is the best AM, FM, and weather radio on our list. It is the best radio for emergencies.
We love it because it is versatile, durable, and portable. The durability makes it water-resistant and impact-resistant. The versatility makes it perfect for outdoor situations, weather emergencies, or power outages.
Made from a high-quality ABS material, the many powering options allow you to power through any case. The hand crank will allow you to generate your electricity to stay informed.
It comes at a very affordable price and is highly rated. The charge lasts a long time, and if you have to use one of the other ways of power, those will stay a long time.
We love that you can charge electrical devices that plug into a USB port with this device. As a result, it will help keep phones charged. The flashlight is bright enough to help you see when storms knock out the power.
This product is closer to our top pick because of the multiple charging options. Besides that, you can get notified of weather updates simultaneously.
One downfall of this product deals with the company. It seems they don't have an excellent quality control department, and radios can be sent out defective or damaged.
Despite this downfall, this product is still highly rated and does everything it claims to do.
Pros
Versatile
Durable
Five ways to charge
180-degree rotation on solar panel
Cons
Some lastingness issues
Some quality control issues
2. RunningSnail Emergency Hand Crank Radio
This solar-powered emergency radio lets you stay up-to-date with essential information during natural disasters and emergencies. The RunningSnail Emergency Hand Crank Radio is compact and is certainly a great survival tool.
Like the Kaito, this solar hand crank radio has NOAA weather channels and AM/FM stations. You can easily adjust the tune of the FM stations and AM stations.
This upgraded emergency weather radio includes a new design, a brighter flashlight, and three charging options.
It can also be powered by USB charging, using the hand crank or the solar panel.  The battery has a capacity of 2000 mAh. When fully charged, this will give you almost 6 hours of light from the LED flashlight or two to three hours of radio time.
A micro USB port will allow you to charge your device or use it as a power source for your smartphone.
One of the most basic designs on our list, this solar radio comes with a worry-free 12-month warranty. RunningSnail also provides friendly customer service.
We love this radio because of its compact design, which is more than just a radio. The 1 W LED, a bright flashlight, is especially useful during emergencies, camping, hiking, and other outdoor activities.
The solar power option means it can charge while you are outside doing other things. Although this product is basic, you will be satisfied with the purchase of this emergency radio.
One of the aspects of this device that we are not crazy about is its durability. There is no information on whether it is weatherproof or resistant.
However, the RunningSnail is excellent for people on the go, enjoying nature; keep it protected. Stay up-to-date on the weather while hiking the Grand Canyon or backpacking through the Grand Tetons.
This device is a mini-portable radio, LED flashlight, and charger rolled up in a compact design that significantly saves space and weight.
Pros
12-month warranty
Three power sources
Usable as a Power Bank for devices
Compact, space saver
Cons
Poor switch quality
Lacks durability
3. Midland Emergency Crank Weather Radio
The best solar radio available in the Midland Emergency Crank Weather Radio provides numerous features to help in a natural disaster.
Whether it is a tornado, earthquake, flood, or hurricane, you can get weather updates from this emergency radio.
Powered by multiple power sources, this hand-crank emergency radio has 7 NOAA weather channels pre-programmed, which will alert you in a natural disaster. If your area has a NOAA weather alert, it will also sound an alarm.
It has a unique NOAA weather scan plus an alert that will automatically scan and search for the NOAA station with the clearest reception. This is very important during a natural disaster caused by weather.
Also available on this weather radio is AM/FM stations. You can tune in to these stations with large buttons on the front of the radio. This emergency weather radio has many other features, making it much more than an emergency weather radio.
A 2600 mAh lithium-ion battery with three charging methods is installed in the radio. First, you can recharge your radio using the solar panel. You can also use the hand crank.
Before an emergency, you can charge the battery using a USB port. Six AA batteries can also power the radio as a backup. If your radio receives a full charge, you will be able to listen to the radio for 32 hours.
This is one of the best solar radios because of its led flashlight. The emergency flashlight is bright, coming in at 130 Lumens with two brightness settings. It will also flash in the SOS morse code in an emergency.
We love the LCD screen to tell you what station you are listening to and notify you of the battery level.
A unique feature of this radio is the ultrasonic dog whistle. When activated, it will assist search and rescue teams in your location. This is an excellent feature if you want an emergency radio in your survival kit.
This radio made the best solar-powered emergency radio because of its enormous battery capacity. If you are looking for a radio with massive battery life, this is the emergency radio.
The large battery capacity allows you to use it as a power bank. Plug your mobile devices in with a USB cable, and your gadgets will fully charge.
This high-quality product makes it the best solar emergency radio with the largest lithium-ion battery capacity. Our top pick, the Midland, is a great, reliable product ready for emergencies.
Pros
Massive Battery Capacity
Ultrasonic dog whistle
SOS alarm
32 hours fully charged
Cons
Can have a spotty signal
Insufficient solar charge on cloudy days
4. Sangean Solar Radio
Rugged, durable, and versatile, the Sangean Solar Radio is a Public Alert Certified Radio that will alert you of severe weather updates.
Similar to the Midland, the Sangean has three charging options. Quickly charge the 850 mAH lithium-ion battery with the hand crank, USB cable, or the solar panel on top of the radio.
Unlike the Kaito, no solar panel can rotate, so charging works best when the sun is high.
Other features of this solar-powered radio include a built-in LED flashlight useful as a reading lamp and an emergency buzzer that you can turn on in case of an emergency that will allow people around you to find you.
The bright LCD screen will help you tune in to the digital AM/FM stations and 7 NOAA stations. Available with 19 pre-set radio channels, it is USB A and Micro B compatible.
The LED flashlight has multiple modes. These modes include hi, low, blinking, SOS Morse Code, and emergency buzzer.
There is a built-in clock that has an optional sleep mode after 90 minutes of radio time. Don't want everyone to hear your jams? There is also a headphone jack.
If you are looking for a solar-powered emergency radio that will give you a sense of safety, this is it.
Although it can not act as a power bank because the battery is so small, it will notify you of weather updates. It receives public-certified radio alerts broadcasted during a natural disaster.
It doesn't have as many charging options as the Kaito. However, it is still one of the best solar-powered emergency weather radios on the market for a great price. This product would be a great addition to your camping gear or emergency preparedness kit.
Pros
Rugged
0-30 volume setting
Retractable antenna
10 hours of power in AM mode
Cons
Small battery capacity
Not ideal for use as a power bank
5. FosPower Emergency Weather Radio
With many of the same features as other solar-powered radios on this list, the FosPower Emergency Weather Radio has three ways to power it anytime, anywhere.
The three sources are AAA batteries, a solar panel, and a hand crank. Once the AAA batteries die, the panel and hand crank will recharge them to give you power whenever needed.
The integrated 2000 mAH/3.7V (7.4 Wh) power bank will keep other devices powered in an emergency.
Other features include a 1W LED flashlight with zoom capabilities, an SOS alarm, 2 LED lights, and radio broadcast access. It gives the user dependable access to NOAA weather broadcasts. The 2 LED lights include a reading light and a flashlight for lighting in any emergency.
The aspect we love the most about this solar radio is the rain-resistant rugged shell. It is waterproof and withstands being in the rain.
It is drop resistant, so if you drop it or it falls out of your bag while hiking, there is no need to worry. This feature makes it ideal for outdoor gear.
We also love that it comes with a limited lifetime warranty, and you get up to the second emergency weather forecasts and news broadcasts from NOAA and other stations. It is very user-friendly and easy to operate.
FosPower is often a brand picked by many people looking for a solar-powered radio. Reliability and high quality make this product highly rated.
This device does not rely on electricity to be powered. You can not plug it into the wall and use it. You don't even use electricity to charge it. It will only run off three AAA batteries, solar power, or a hand crank.
This inability to use electricity makes it great for the outdoorsman or your recreational vehicle. Having a solar-powered radio in your RV is especially ideal for emergencies.
Like the KA500, the FosPower has some longevity issues. Some customers were not impressed with their device's lifespan.
However, if you want a solar-powered radio to be your lifeline during a natural disaster, the FosPower won't let you down. It is excellent for hurricanes, tornadoes, earthquakes, and blizzards.
If you are looking for a solar-powered radio to take to the beach or the swimming pool, this one fits the bill because it is waterproof, you don't have to worry about dripping on it or getting splashed.
You can also charge your phone while you are enjoying the water.
Pros
Huge battery life
Crisp sound
Rotating solar panel
Cons
6. Jensen JEP-650
The Jensen JEP-650 finds its way into our list for multiple reasons. The top amongst them is that you can power it in four different ways. While this isn't the highest number of power sources in solar radios, it is remarkable.
The dynamo crank provides manual power – this should come in handy when everything else is unavailable. Then you could also power it with three AA batteries. The dynamo and AA battery options are relatively assured power sources in case of an emergency
But apart from those two, you can power the radio with solar power and AC electricity (through the USB charging port).
Besides having multiple power sources, this solar radio can be a smartphone power source. So, if you're ever out in the wilderness with no juice on your smartphone, boost the phone with the Jensen JEP-650.
As you'd expect of solar radios of high quality, this device receives transmission from all 7 bands frequencies of the NOAA, making it an ideal accessory when there's an impending atmospheric crisis. Then there's that siren that could be useful if you need people to find you.
We'll describe the design of the Jensen JEP-650 as complete and compact because, besides all we've mentioned already, every other feature promotes ease.
The backlit LCD made tuning easy, as we could see the frequency. It also featured a clock. Then there's a flashlight for when it gets dark.
This works if you just want a radio for AM and FM frequencies.
Thankfully, carrying it around is uncomplicated as it weighs only about a pound, and you can carry it with the strap or carabineer. Then there's a headphone jack if you want to listen in privately.
Pros
Uses multiple power sources
Can charge your smartphone
Receives transmission from all NOAA weather frequencies
very portable
Easy to tune
Cons
Limited color choices
Not super sturdy
Benefits of Solar Radios
Whether you want your radio to be an emergency radio or added to your outdoor gear, you can purchase a solar radio. Let's look at the benefits of using your radio as an emergency radio.
Using a radio in emergencies can be the difference between life and death. All of the solar-powered radios on this list are good emergency radios.
Most have the 7 NOAA channels preprogrammed for weather updates and alerts. The weather channels would tell you to take cover in a natural disaster. The features on the emergency radios are beneficial as well.
They will allow you to use them as a power bank to charge devices, so 911 can be called if needed. They may also have an SOS alarm to help locate you and a flashlight in case of a power outage. The LED flashlights will shine brightly.
The best benefit of these solar radios is multiple power sources to keep the radio working whenever needed.
There are many benefits if you are looking at using your solar radio to add to your outdoor gear. Besides the advantage of using it as an emergency radio, the solar radio will work as a radio so you can listen to your favorite songs while enjoying the outdoors.
You can have almost 12 hours of radio on most of these radios. You can use most of them as a power bank to charge other gear, like mobile devices or cameras.
The led flashlight will guide you in the dark, and the weather channels will notify you of emergency weather.
Owning a solar radio has many benefits, and it comes down to the purpose. The benefits come from the plethora of features each radio provides.
How to Choose the Best Solar Radio
The most important thing to do before choosing the best solar radio is to determine why you need one.
What purpose will the solar radio have? Will it be an emergency radio for an emergency weather preparedness kit? Will it be added to your outdoor gear for hikes, camping, or backpacking trips?
Do you want them to last long, or are they only used for special occasions?
Once you have seriously considered the purpose of your radio, all other choices will be easy. Choosing additional features will undoubtedly help you get the best radio.
Some key features you will want to consider are:
Power Sources
All of these radios have multiple power sources that can power the radio. When choosing the best radio, consider where you will use the radio.
You will want a radio with a lithium-ion battery and a USB cable charger if you have electricity.
An excellent backup power source is batteries you can purchase at the store. Some radios will take AA batteries, and others will take AAA batteries. Add some extra batteries if you plan to put your radio in an emergency preparedness kit.
Another common power source for a solar-powered radio is a hand crank. You can power the crank radio by hand cranking the hand crank on the radio.
Hand cranking can get tiresome, and durability can be an issue with the hand crank. However, hand-cranking your radio is better than not having a radio.
The solar panel on the radio is another to power your emergency radio. It is a very efficient way to charge the radio. Solar panels are certainly essential if you are adding them to your outdoor gear.
You can charge the radio or use it as a power bank while listening to it. Some solar panels will rotate for optimal sun exposure, so look for this feature when buying a solar-powered radio.
Whether you want all power sources or just a solar panel radio, ensuring your device has a full charge is vital. AA or AAA batteries will help keep it fully charged and plug it into how to charge the built-in battery.
It will be hard to get a full charge from using the hand crank, and you will probably not get 12 hours of radio time, but some weather updates using the hand crank will be beneficial in an emergency.
Flashlight
A flashlight is essential in an emergency preparedness kit and outdoor gear for hiking, camping, and backpacking. The radios on this list have built-in flashlights to help lighten your load.
The hand crank, AAA batteries, solar panel, and lithium-ion battery will power the radio's flashlight. An LED flashlight will be brighter and use less energy than other flashlights.
We recommend getting an LED flashlight for emergencies because you can see them further away, making it easier to find when lost on a backpacking or hiking trip.
Several radios also have reading lights that will allow you to read when it gets dark, which will not be as bright, so you don't disturb those around you. These reading lamps usually are not LED bulbs.
Alerts
Many of these solar-powered radios will also act as emergency or weather radios. These radios powered by solar power will help you get the proper alerts.
NOAA commonly releases a weather alert to notify people in the area of severe weather. These notifications can save lives, especially regarding tornados, hurricanes, blizzards, and severe thunderstorms. A product that has weather alerts may be essential for your emergency kit.
Another type of alert you may look for is an SOS alarm. The SOS alarm will help notify rescuers of your location. It can take many forms, including a flashing red light from the flashlight, or the LED flashlight might have a Morse code set.
This alert is to be used by you in case of an emergency. An SOS alarm is a feature you should consider, no matter the purpose behind your purchase.
Radio Stations
There are three common radio sources on a solar power radio. These modes are AM, FM, and WB (weather broadcasting).
The seven NOAA stations come preprogrammed on many of these radios, a great, necessary feature for your emergency kit.
You may want to listen to local stations when waiting out bad weather or just sitting and enjoy the beautiful nature around you. Some of the radios on this list could give you up to 12 hours of radio time.
Working Time
Another aspect to consider when purchasing a solar radio is working time. Each one has various working times.
As mentioned, some radios will give you a listening time of 12 hours while others only 6-8 hours—adding more features used at one time will change the working time.
For example, you will not get as much working time if you use it as a power bank and listen to music.
You will not get as much working time if you use an LED flashlight and listen to music or weather channels.
Using the hand crank to power your gadget will significantly diminish your working time. Most solar power radios will charge with solar panels while using them in the sun.
What is a Hand Crank Radio?
The hand-cranked radio is a product that a hand crank can power. Two sources generally power a solar hand-crank radio.
The first is solar energy conversion. Placing your device in proper sunlight will charge the batteries inside like other solar devices. The solar cells receive the sunlight and convert it to energy that will power the batteries.
When the batteries charge, they will power your solar radio. Placing the solar panels in more direct, more intense sunlight will power your batteries quicker for quicker charge time.
The second way a solar hand crank radio works is using a dynamo. As an electrical machine, the dynamo will convert energy by using your force. You use your hand to spin the hand crank, turning the rotor and producing DC electricity.
This electricity will power your battery. It is beneficial if you do not have a power source or sunlight, but it can be inefficient and will not get a long working time. The LED flashlight maybe dimmer when running on hand crank power.
What are the Most Trusted Solar Radio Brands?
With hundreds of solar radio brands on the market, it can be hard to determine the greatest brands. Not all of them are durable, reliable, or trustworthy. We suggest the brands that made it on our best list.
We love RunningSnail and Midland as well. FosPower is a trusted brand, and Kaito makes good radios that are durable and rugged. These brands pre-program their products with NOAA stations and are efficient emergency radios.
How to Choose a Reliable Emergency Radio
You must choose a reliable product to purchase a solar radio for an emergency kit.
With hundreds of products on the market for an emergency, narrowing down a reliable emergency device can be hard. They come in so many different sizes, shapes, and prices, as well as many features.
Here are a few things to consider when buying an emergency radio.
The Basics
If you are looking at purchasing a radio strictly for an emergency, stick to the basics.
You want a product that will deliver NOAA alerts. Look for AM and FM modes, as AM frequencies send NOAA alerts, but you can get more local information using FM stations.
AM has a more extended range in case power is knocked out around you and you need to get information from a distant source.
Alert Logo
Look for a radio with either a "Public Alert" or an "NOAA" logo. Developed with the help of NOAA and the National Weather Service, these entities are often competitors.
If the device has a "Public Alert" sticker, it meets specific technical components. These components will allow specific alerts and a tone before the warning.
Multiple Power Sources
As we mentioned, when purchasing a reliable emergency radio, ensure it has multiple power sources. A hand crank or solar power radio is ideal. One that charges only from an electrical outlet is obviously unreliable.
Any gadget on this list would undoubtedly make an excellent emergency radio. Whichever product you choose, make sure to test it monthly to make sure it is working.
If it takes batteries, have an extra set in your kit. You will not want to store batteries in the device because of corrosion.
If it holds a charge, make sure you fully charge it. Having an emergency radio will help you know when you can come out of cover during a natural disaster, so having one in your kit.
Conclusion
When looking to purchase a solar-powered radio, it is essential to decide its purpose for the radio. Will you add it to an emergency kit or use it on your outdoor adventures?
After determining the purpose, consider the features you want on your radio. You must determine which power sources are best for you, what kind of flashlight is ideal, and whether you want weather alerts.
Choosing a radio from a trusted brand is essential. For that reason, you can't go wrong with our listed brands.
Solar radios have many advantages, including eco-friendly, economical, reliable, portable, and significantly great for emergencies. They are great if you want to live off the grid because they don't need a power outlet.
We hope you have a clear insight into looking for a solar radio and finding one you love. We only back the best products and the ones that are the most reliable.
We are sorry that this post was not useful for you!
Let us improve this post!
Tell us how we can improve this post?