These Solar Refrigerators Beat the Desert Heat
Being off-grid is one thing, but enjoying a cold beverage from a refrigerator cooled by solar energy's power is next-level camping.
With solar refrigerators, you no longer have to worry about where to keep your food while on a camping trip. Solar fridge and freezer combos make camping easy, all while harnessing the power of the sun or the energy from your car.
Before we dive into the meat of the list, it's important to note that while some refrigerators include solar panels that gather solar energy from the sun, others are your typical AC or DC fridge.
Generally speaking, marketers will advertise their products as "solar-powered" if the device can run off a 12v/24v power supply, whether that power supply is via your battery pack or directly from the solar panels that's up to you.
However, our list also includes solar fridge freezer devices. Whether you're looking for a solar-powered refrigerator or a portable fridge safe for our solar system, we have the perfect products.
Best Solar Refrigerators at a Glance
8 Top Solar Refrigerators Reviews
1. Dometic Portable Solar Refrigerator
After thoroughly testing the Dometic Portable Solar Refrigerator on several trips, I can confidently say it's a reliable companion for those who love the great outdoors and value sustainability.
Starting with its battery performance, I was genuinely impressed. Once the internal AC and DC batteries began to deplete, the fridge intuitively switched to the solar power it had accumulated throughout the day. This seamless transition ensured my perishables remained fresh, even during prolonged sunless stretches.
But I didn't stop there. I wanted to see how durable this fridge really was. On a rugged camping trip, it faced its fair share of bumps and scrapes. While the aluminum alloy frame held its ground, there was a minor scratch on one side. A small cosmetic issue, but worth noting for those who might be concerned about aesthetics.
Its lightweight nature, thanks to the ExoFrame technology, was a blessing. Shifting it around the campsite was hassle-free, making it a favorite among my camping buddies.
Temperature-wise, it was consistent. From dairy products to beverages, everything remained at the desired temperature. Even when the main batteries were exhausted, the solar panel ensured that the cooling didn't skip a beat.
In conclusion, while it's not without its minor flaws, the Dometic Portable Solar Refrigerator has proven to be a dependable and eco-friendly choice for my outdoor adventures.
Pros
Utilizes solar power once batteries die
Heavy-duty frame
Well-insulated and energy efficient
Lightweight and solar-friendly
Cons
The app is difficult to navigate sometimes
2. BougeRV 12 Volt Refrigerator
The BougeRV 12 Volt Refrigerator impresses with its user-friendly controls and robust cooling capabilities, but there are a few areas where it could improve.
Its control panel, with just four buttons, made navigation straightforward. The ability to switch between refrigerator and freezer modes was a boon, especially during varied trips where I needed both fresh veggies and chilled drinks.
The power adaptability is commendable. Whether plugged into a home outlet, car, or portable solar station, it performed consistently. However, I did notice that when frequently switching between AC and DC power, there was a slight delay in reaching the desired temperature.
The eco and max modes are thoughtful additions, especially for those conscious about energy consumption. Yet, while the 3-level voltage battery protection is a great feature, clearer instructions on its optimal use would have been beneficial. A couple of times, I found myself second-guessing the settings to ensure I wasn't draining my power source.
Its rapid cooling is a standout feature, but the seal, while generally tight, did let in a bit of moisture on particularly humid days. This wasn't a deal-breaker but something to be mindful of. On the plus side, its compact design ensured it fit comfortably in my trunk.
To sum it up, the BougeRV 12V Refrigerator (23 Quart) offers a lot of positives for those in need of a portable solar refrigerator. While it has a few areas that could be refined, its overall performance makes it a worthy consideration.
Pros
Battery protection
Dual-purpose: refrigerator and freezer
Runs on AC and DC
Most of the body is durable, but the heat dissipation area could be better.
Cons
The grip could be better.
3. Alpicool Portable Refrigerator
The Alpicool C15 Portable Refrigerator proved to be a reliable and compact choice during my recent camping trip, striking a balance between portability and performance, though it may not cater to those seeking larger storage capacities.
During my week-long camping adventure, I was particularly impressed with its lightweight plastic casing. It reminded me of the Dometic's durability but without the added weight, a clear advantage over the bulkier Whynter solar refrigerator. While its storage capacity is on the smaller side compared to other solar refrigerators I've used, this very feature made the Alpicool C15 a breeze to transport and set up at different camp spots.
The insulation was a standout during my test. Even on particularly sunny days, the high-efficiency foam ensured my food and beverages remained chilled, keeping unwanted heat at bay. While there are options to opt for a larger size, the compact nature of the model I tested was its highlight, especially when compared to other fridge-freezer combos that can be a hassle to move.
However, on a day when I had a larger group join in, the storage did feel a bit limited, making me wish I had opted for a bigger size.
Power-wise, connecting the Alpicool C15 to my solar panel was straightforward, thanks to its 12/24v DC input, similar to the Whynter.
To wrap it up, for those who value portability and efficient cooling in a more compact design, the Alpicool C15 Portable Refrigerator is a commendable choice. But if you often find yourself needing more storage on your trips, you might want to consider other options.
Pros
Lightweight yet durable
Designed for portability
Keeps running long after the 12v DC is disconnected
Cons
Doesn't have solar power built-in
Difficult to use at first
4. Dometic Portable Refrigerator Freezer
The Dometic CFX28 solar refrigerator is a standout choice for those prioritizing solar efficiency in their outdoor adventures.
During a week-long camping expedition, the CFX28 consistently kept my provisions chilled. Even when the sun played hide and seek, the refrigerator's performance didn't waver, ensuring my drinks and food remained fresh.
Dometic's expertise is evident in this model. If solar efficiency is your top criterion, the CFX28 won't disappoint.
This fridge is tailored for the eco-conscious traveler, leveraging 12/24v power effectively. Remarkably, it can cool its contents to a sharp -7 degrees Fahrenheit.
Its 26-liter capacity strikes a balance between storage and portability, ideal for most outdoor trips. However, while testing, I noticed that while the CFX28 is quite dependable, it faced some challenges when exposed to rough handling, especially compared to some bulkier models. This isn't a deal-breaker but something to consider if your adventures involve more rugged terrains.
For those who trust established brands in solar-powered refrigeration, Dometic is a top pick. With the CFX28, you're investing in a reliable companion for your journeys, ensuring your food and drinks stay cool, no matter the challenges.
Pros
Highly energy efficient
One of the best uses of DC power
Cons
Some customers claim it died after a few months
5. ACOPOWERED RA Portable Solar Powered Refrigerator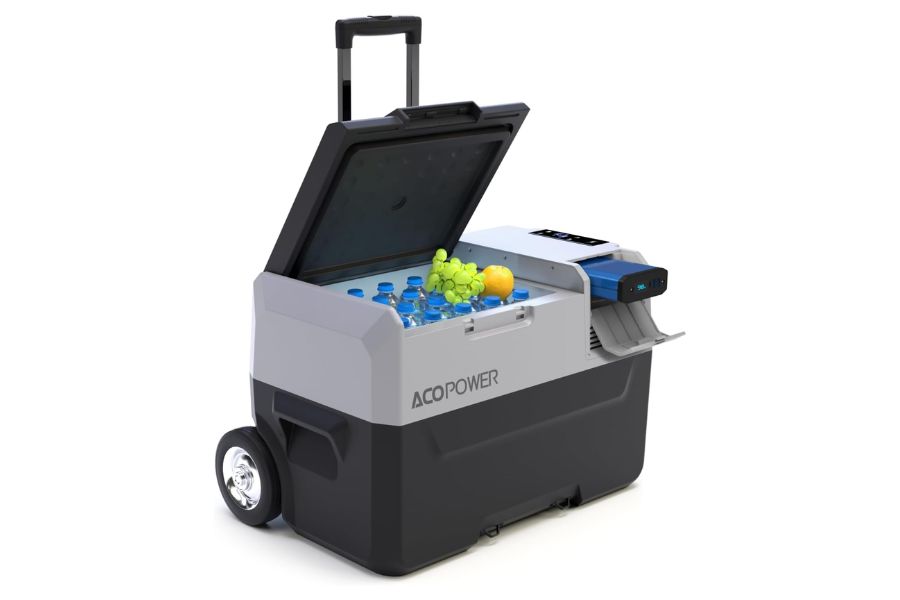 The ACOPOWERED Refrigerator is a reliable choice for those who value solar efficiency and versatility in their outdoor cooling solutions.
During a four-day camping trip in the mountains, I found the ACOPOWERED Refrigerator to be a game-changer. Even when the sun was intermittent, the fridge maintained a consistent temperature, keeping my food and drinks fresh.
While it doesn't come with an attached solar panel, its universal adapter simplifies solar charging. This feature was particularly handy when setting up camp in shaded areas.
Its diverse charging options are a highlight. I charged it using solar panels during the day and occasionally used my car power cord. The built-in battery was impressive, lasting up to 14 hours at a steady 32 degrees Fahrenheit.
However, on one particularly hot day, I noticed it took a bit longer to reach its optimal cooling temperature. But once it did, it could quickly drop to a chilly -4 degrees Fahrenheit.
The trolley design was a lifesaver. Instead of lifting, I wheeled it effortlessly across various terrains during my trip.
In conclusion, the ACOPOWERED Refrigerator is a solid choice for those seeking a solar-powered cooling solution. Its versatility in charging and mobility makes it stand out, though it might require a bit of patience on extremely hot days.
Pros
Portable trolly wheels
Solar panel access provides energy anywhere you wish to camp
Large cubic feet for a solar refrigerator
Able to chill food to 10 degrees in less than 40 minutes
Cons
Some issues with the charger adapters
6. Alpicool CF55 Portable Freezer
The Alpicool CF55 Portable Freezer offers a blend of convenience and efficiency that's hard to find in portable refrigerators. During a weekend camping trip, its spaciousness, built-in light, and removable basket felt almost like I had brought my home refrigerator along.
Compared to the BougeRV, the Alpicool CF55's user interface was equally intuitive, with just four buttons and an LCD screen. However, its cooling efficiency set it apart. In under an hour, it reached a cool 10℉. And for those scorching summer days? It can dive to a frosty -4℉ in just another hour.
The Bluetooth app was a delightful addition, allowing for remote temperature adjustments. Its robust handles made transport a breeze. Yet, during a particularly hot day, I observed a slight delay in reaching the desired cooling, especially when packed to the brim. The battery protection feature was reassuring when paired with a portable power station, ensuring no rapid battery drains.
For those in search of a sizable yet easy-to-use solar refrigerator, the Alpicool CF55 is a top contender, but be prepared for a bit of patience on hotter days.
Pros
Ergonomic handles.
Spacious – 55 quart
Runs on AC and DC
Works a refrigerator and freezer
Bluetooth app control
Cons
It can do better when it comes to durability.
7. EUHOMY 12 Volt Refrigerator
The EUHOMY 12 Volt Refrigerator is a game-changer for road trips and camping adventures. Right off the bat, its 38 Quart (35L) capacity stood out, offering ample space for both chilled drinks and frozen treats. While using it, I appreciated the dual-zone design, allowing simultaneous use of the freezer and chiller.
Compared to the Alpicool CF55, the EUHOMY seemed to have a more intuitive control panel. The digital display made temperature adjustments a breeze. One feature that genuinely impressed me was its energy efficiency. On a recent camping trip, I connected it to a solar panel, and it ran seamlessly without draining the battery too quickly.
However, during testing, I noticed it took a bit longer to reach the desired temperature when fully loaded. But once it got there, the insulation was top-notch, maintaining the cold even in warmer environments. The handles felt sturdy, making transportation easier, especially when relocating it in and out of the car.
In conclusion, if you're in the market for a reliable portable refrigerator that offers both functionality and efficiency, the EUHOMY 12 Volt Refrigerator is a solid choice. It might take a tad longer to cool, but its performance and design make up for it.
Pros
Dualized storage space
Easy-to-use handle
User-friendly controls (remote and local)
Runs on both AC and DC power
Cons
Buyers Guide
Eco-Friendly
The goal of any freezer that uses the sun's energy should be to reduce any carbon footprint that you might leave behind. All the best freezer options do their best to conserve energy and reduce their overall output.
This makes the devices on our list "solar fridges," as many don't include solar panels for energy collection. With a solar fridge, the eco-friendly aspect is one of the most important features.
Portability
Sometimes, camping isn't about pulling up to a spot and getting out of your car with the campfire right there. You'll often need to bring your device along a rocky trail before you're at the right location.
Having a product that can maneuver across this rough terrain or is easy to carry along with you as you hike to your spot.
With that being said, some fridges on our list are fine examples of devices that put focus into other categories yet still show plenty of reasons why people should buy them.
Remote Access
Many solar refrigerators are designed for remote use, not just for camping. If you live in an area where access to energy might be scarce, having a solar refrigerator or one that can access DC power will prove essential.
Whenever you're without power, your fridge shouldn't be the thing you have to worry about, when your power cuts, your food will be fine when using a solar device.
If you can access the sun or a DC power source, your fridge should withstand the power outage.
This is one of the most important things to consider when shopping for a similar product and something that each device on our list was tested for. Keep your food safe, even once your access to power is cut.
What Features Make a Solar Refrigerator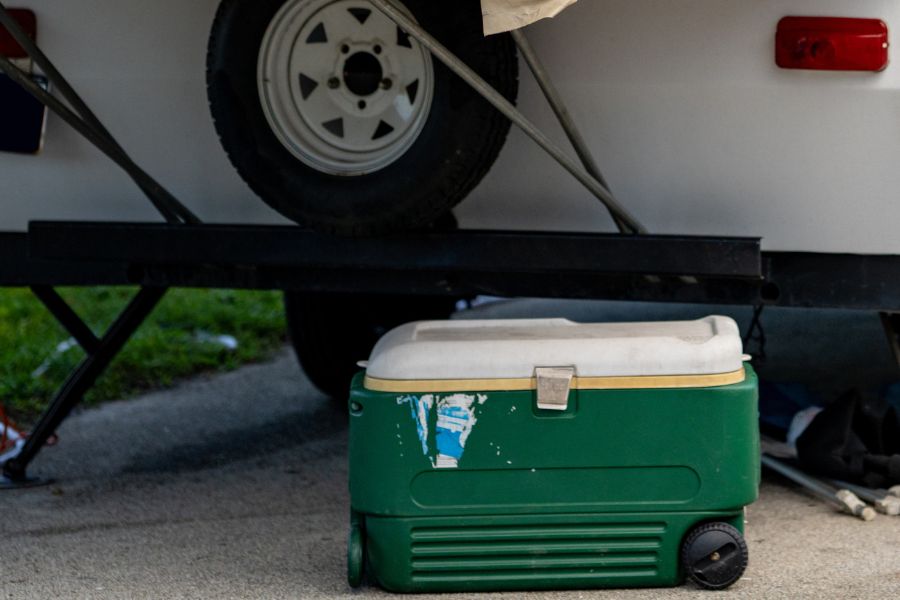 Power Supply
First and foremost, if you're looking for a device that will work off the grid and is perfect for bringing along for your next camping trip, then the power supply will be the most important feature to consider.
Solar power is the best method of charging your fridge for anyone without access to a direct AC or DC power source. Collecting the energy from the sun will enable you to take your fridge truly off the grid.
Let's assume you have a portable camping refrigerator with a power consumption rating of 60W, and you want it to run for about 8 hours daily. To charge your refrigerator with 480Wh of energy consumption within the average 5 peak sunlight hours in your camping location
However, if your fridge's uses don't necessarily entail living far from energy sources, then having a hybrid fridge or one that is energy efficient through its AC and DC energy will work fine.
Again, the type of fridge you purchase will determine what fits your situation best. For some, a solar-powered fridge isn't what they need, while others cannot have one connecting to a power source.
Organization
The higher your number of cu ft, the better your organization options, right? Not necessarily. Some of the best fridges in the organization come in small packages with little space.
It's all about what the interior looks like and where they place their focus. Some of the largest devices with the most space are the ones with the worst organization available.
This is because they simply provide an open cavity for food and drinks without separation or division available.
The organization is important as it will enable you to store much more in your limited space. The goal of many solar fridges is to keep as much food as possible cold for a long amount of time.
Suppose you have a refrigerator with plenty of organization options. In that case, you'll be able to make the most out of the space available and might even be able to store more than the larger competitors.
Heavy-duty
Keeping your food safe can easily be accomplished by keeping your fridge safe. With a durable, heavy-duty refrigerator, your food can be protected as the fridge's body is unlikely to be compromised.
This is especially important for campers looking to take their devices on a long, rocky road to the campsite. With a strong product, you won't have to worry about dents or breaches.
Products like the Dometic CFX3 accomplish this feature well as they encase all corners and edges with a strong, aluminum-alloy material that helps protect the overall structure and preserve the food inside.
While ensuring that a device has quality insulation is important, none of that matters if the body is quickly compromised. With a strong exterior, your food will be safer than ever before. Protect your food by protecting your refrigerator.
Finding the perfect solar refrigerator for your needs doesn't have to be difficult.
You can choose the perfect fridge in no time by knowing what makes a quality fridge, what to avoid in a product, and what features will be most important for your needs.
We are sorry that this post was not useful for you!
Let us improve this post!
Tell us how we can improve this post?