30 DIY Solar Light Ideas to Enhance Your Outdoor Décor
Whether it is a garden party, holiday barbeque, or just your family enjoying your outdoor living spaces, solar lights installed in the area can brighten the night and add a flair of festive good cheer to any outdoor space. We managed to find some of the best DIY solar light ideas for you to try. Using new and recycled materials, you can add your own personal touch to these creative solar light ideas. The best reminder we have for you is that you must place the solar panel or solar collector where it will receive an adequate amount of sunlight daily.
1. Fast & Easy DIY Sun Jar
Combining the simple combination of mason jars, you can create small decorative upcycled solar lights that can turn your outdoor space into a comfortable, homey area with subtle lighting.
2. Colored Bottles to Brighten Your Landscaping
Harnessing the power of the sun can include using colored glass bottles to create festive reflections in the light of day. Bottle tree art is a quick and easy way to upcycle bottles that are just too pretty to recycle.
3. Solar Light Chandelier
Have you ever run over one of your solar lights with your lawnmower and ruined the pole, but the light part is still fine? You aren't the first person to do that. We found an awesome DIY solar light project that will allow you to repurpose your light. And the best part? It hangs so you won't ever run it over with the lawnmower again!
4. Halloween Fun with Solar Lights
As fall creeps on us fast, we have a great way to light up your porch with a whimsical Jack-O-Lantern idea from the creative folks at bitz n giggles. You don't have to wait until October to display cute little DIY Halloween solar lights. You can always use craft pumpkins for a year-round delight.
5. Dollar Store Solar Light Ideas
If you are looking for inexpensive solar light options, look no further than your local dollar store for this cute mason jar lighting idea. You can find all the bits and pieces you need for these amazing solar lights at your local dollar store.
6. Pillar-Style Porch Lighting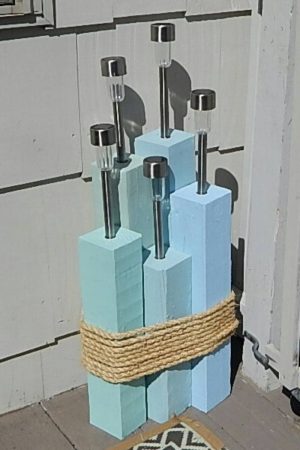 This handy solution offers multi-tiered lights in a pillar-style design that can be color-coordinated to match any exterior. It can sit near your door to provide ambient light for guests visiting. You can also place it on a deck or patio table to light up an outdoor entertaining area. The entire project uses new or upcycled materials (your choice) and will supply solar lights to even the darkest corner of your property.
7. Solar Accent Light
These adorable tabletop solar lights turn an ordinary outdoor table into a classy "adult-only" space. By using upcycled and dollar store materials, you are only limited by your imagination. The full instructions can be found at Dollar Store Crafts.
8. Solar Chandelier
Bring some swank to your yard with this solar-powered chandelier. The complete instructions and supply list can be found on HomeJelly. We like this idea because it looks equally impressive in the daylight as it does fully illuminated. Whether you are setting up a date night meal for two or just dressing up your outdoor space, we think this project will make a great addition.
9. Beach Glass Solar Lights
Garden Therapy offers these beautiful solar lights to bring the beach to your patio or any outdoor space. You can create unique seascapes for your tabletop using a Mason jar, colored sand, and a few shells or other decorations.
10. Easy Mason Jar Luminaries Craft
Another project used a Mason jar as the starting point. We like this project because you can use any style jar. Grab all those old spaghetti sauce jars that are collecting dust because you just knew they'd come in handy someday. Momspark makes this project look easy, and it will provide nice soft solar lighting. For a variation on this project, Consumer Queen added its own touch to the idea.
11. Scary Milk Jug Solar Lights
It's never too early to begin your Halloween projects. These milk jug lights provide an incredible amount of illumination. This project from Condo Blues may be a bit more complex, but it is still a great way to upcycle those empty gallon jugs. You can be as creative as you like when designing the faces! You also don't have to limit your design choices to Halloween lights. Make bunnies for spring, elves for winter, and sun faces for summer.
12. DIY Solar Planter Lantern
Combine solar lights with your favorite outdoor plants by making this DIY Solar Planter Lantern. Step-by-step instructions are outlined nicely by Pam at Simply Southern Mom including a supply list. Because the original post is sponsored by a cat litter company, they also included a handy list of feline-safe plants that you can grow in this planter to keep your kitties safe.
13. Soda Bottle Solar Light Bulbs
Need more lighting in a garden shed, kid's playhouse, or even just under your car port during the day? These solar lights work to filter sunlight through the water to create lighting in dark areas. They don't require traditional solar panels or collectors because they only use the sun, water, and bleach!
Available on Instructables, the instructions for this project are detailed and easy to follow. The project does require some specific tools, but the additional lighting won't add anything to your power bill. For some areas, such as the Philippines, this solar light has brought people out of the dark.
14. DIY Solar Address Sign
This project is both beautiful and practical. If you live in an area with food, grocery, and every other delivery service, your address needs to be visible. This classy planter combines solar lighting and plants for an appealing look while shedding extra light on your street numbers for those delivery drivers.
15. Elegant Wired Basket Solar Chandelier
Dress any outdoor space with this elegant and sophisticated lighting option for your outside decor. You can hang your creations from a shepherd's hook or the branch of a tree. You can even create a romantic garden oasis under your pergola.
16. Soft Glow Mason Jar Solar Lights
Colored Mason jars are usually available inexpensively. Using this simple trick, you can alter the refracted color in your garden décor to create focal points with a subtle hue. Instructions and additional ideas can be found at Chipping with Charm. Using different colors will create various visual effects using your existing solar power outdoor lights.
17. Cedar Log Solar Lights
Although you can probably use any type of wood log for this project, the cedar lends an aromatic air and some great coloration to the woodgrain. This requires some larger tools to complete, but the result is a gorgeous corner piece to enhance your outdoor lighting. The simple, rustic design would look awesome on a ranch, suburban home, or as a solar path light. You can find detailed directions for this outdoor lighting idea at Texas Homesteader.
18. DIY Lighthouse from Clay Pots
We've seen this clever DIY project in a few places, but Two Purple Couches has taken the time to share easy-to-follow directions to create decorative upcycled solar light. If you're a lighthouse fan, these make an inexpensive way to add solar lighting with one of your favorite design elements.
You will need to practice your artistic skills in painting this project, but the design is quite simple. This is one of those creative solar light ideas that you just want to try right away. This is one of those DIY solar light  ideas that may take all day but will reward you with years of enjoyment.
19. Solar Cedar Path Light
If you want to decorate a garden path or walkway, this cedar path light project might be the perfect outdoor lighting solution. You will be adding a great-looking solar path light along your walk to keep family and guests safe. Complete instructions for this DIY solar light are available on Build-Basic. There are plenty of images to guide you to the successful completion of this outdoor decorating project.
20. DIY Waterdrop Solar Light
Brought to us by the folks at The Navage Patch, this project uses those self-watering bulbs and string lights in a unique way to create the effect of a droplet of water dripping from a faucet. People have had varying results using the self-watering bulbs for their intended purpose. If they never worked for watering your plants, you can use them as a solar lanterns to decorate your garden.
21. DIY Cedar Cube Solar Light Ideas
Another DIY solar light from The Navage Patch, this chunky project ditches the lighting stakes in favor of 4×4 cedar blocks. By using a repurposed solar accent light, this project can be completed without great expense.
22. Pouring Teapot DIY Solar Light Project
The creative folks at The Navage Patch seem to have pulled out all the stops for this solar light project. It really looks like a teapot pouring tea onto the ground. The use of fairy string lights adds just the right touch to highlight this project.
23. Solar-Powered Fairy House
This project, courtesy of Creative Living, is a delightful way to attract all the fairies to your yard. This solar light project uses recycled or upcycled materials. It is an inexpensive way to add lighting and a whimsical element to your garden décor.
24. Build a Solar Light Bulb
Using parts from local stores, you can assemble a solar light kit from scratch. Instructables supplies the instructions, including the video, a supply list, and a step-by-step guide to complete this solar light kit. You can use a repurposed jar for your finished solar light.
25. Wood Lantern Solar Light
Join kippi at home as they share this excellent project. You can add these solar lanterns to your fence, around your balcony, or as a focus point along your garden path. You will need a bit of woodworking ability, but even a novice will be able to create a wonderful-looking finished project.
26. Wine Bottle Solar Lights
Most people either recycle their empty wine bottles or donate them to a mead-making acquaintance. We found a different way to repurpose the bottles and corks and create subtle lighting anywhere. We found the instructions at Footprint Hero.
27. DIY Solar Fairy Chandelier
When it comes to DIY solar light ideas, this one uses fairy lights and is sure to please. Bring the magic of the fairies to a child's bedroom and outdoor patio, or keep them stored with your camping gear to provide light during dark nights in the woods.
28. Hula Hoop Fairy Light Chandelier
Bring a little magic from the forest inside with this Hula Hoop Fairy Light Chandelier. You will need to make sure that the solar panel is placed where it can collect the power of the sun, but these lights will add a twinkle to any room. You can also mount this on a patio, inside a screen room, or over an outdoor picnic table to add a romantic element.
29. Grapevine Twinkle Lights
These garden lights will illuminate your space in a festive and creative way. The instructions on Lynn Knowlton's site use electric lights, but you can easily substitute solar lights in this project. Be sure to place the solar collector in an area that will receive ample sunlight to charge your masterpiece.
30. DIY Solar Path Light
Another path lighting idea from the folks at Build-Basic, this sturdy bollard-style post makes a great border for any walkway or garden path. It does require a few basic woodworking skills but can be a great project to work on with the kids. The post-like lights add a sophisticated look to your property that will enhance eye appeal.
DIY Solar Light Projects Are an Inexpensive Way to Decorate
Most of the DIY solar light ideas on this list can be completed for about a hundred bucks or less. When you make use of upcycled or recycled material, you can cut costs a lot. Many of the projects we found use products you can find at your local dollar store.
No matter what DIY projects you decide to try, you will enjoy the art of creation and the resulting beauty. Whether you add a few tiny little gardening items or go full-scale with your garden décor, solar lights can enhance your outdoor living spaces.
We are sorry that this post was not useful for you!
Let us improve this post!
Tell us how we can improve this post?