How to Light a Flagpole?
To adequately light any flagpole carrying the US flag is best achieved by using existing ambient lighting or strategically placed spot, flood, or integral pole-mounted lights such as pole-top or clamp-on fittings.
Lighting your American flag is more than an aesthetic consideration. It's a legal requirement. The Federal flag code requires you to ensure your national flag is well illuminated after dark. So, it's way more important than a simple landscape lighting issue.
On the upside, the wide range of landscape lighting fixtures on the market make this fairly easy—these range from focused directional spotlights to floodlighting and below-grade type disc lights. In addition, there are many integrated flagpole lights available that properly illuminate the flag from above.
If your existing landscape lighting setup is suitable, you may not need to install any supplemental flagpole lighting at all. In fact, good ambient lighting can be one of the best ways to light up the Stars and Stripes.
Let's check out why flagpole lighting is important and how to get it done in more detail.
Why Keep Your Flagpole Properly Illuminated in the First Place?
The short answer to that is because you are legally bound to do so. The US government wrote its flag code guideline into Federal law on December 22nd, 1942. This guideline relates to the handling and display of the US flag generally. In particular, Title 36, Chapter 10, Paragraph 174 states. and we quote, "It is the universal custom to display the flag only from sunrise to sunset on buildings and stationary flagstaffs in the open. However, when a patriotic effect is desired, the flag may be displayed twenty-four hours a day if properly illuminated during the hours of darkness (our bold text)".
The interpretation of "proper illumination," according to The American Legion, is "having a light specifically placed to illuminate the flag (preferred) or having a light source sufficient to illuminate the flag, so it is recognizable as such by the casual observer."
How to Illuminate Old Glory Properly?
Lighting your flagpole properly is not that difficult or expensive. There are so many modern low currents, high-efficiency light fittings equipped with LED bulbs readily available.
Here are the most common solutions used to light your flagpole.
Ambient lighting
Low-level beam spread spotlights
Below-grade disk or floodlights
Integrated flag pole light fittings
Before we look into the specifics of each application, let's consider how lighting an elevated object works.
The Nuts and Bolts of Flagpole Lighting
The average size of a US flag flying in residential and business settings is between 3 x 6 feet and 6 x 10 feet. Flag pole heights vary quite a bit, but again, the average is 12 to 35 feet.
Let's say, for example, that you are flying a 4′ x 6′ flag on a 25′ flagpole. When there is little wind, the flag will hang limply against the pole and won't present much of a challenge to light up.
However, if there's a strong wind blowing, that flag will extend out 6 feet from the flag pole. If the wind direction shifts, the flag's orientation will shift. It makes the area that must be illuminated a 12-foot circle around the pole axis.
So, whichever lighting method you chose, you need to be able to cover a 360° arc of full flag deflection to illuminate the flag properly under all conditions.
Right, now how to get this done.
Ambient Lighting
Ambient lighting refers to the existing landscape, street, or residential lighting that could illuminate your flagpole. In many cases, this can be one of the cheapest and most effective solutions. If your front yard is well lit, you may not have to pay any further attention to dedicated flagpole lighting.
In fact, you could add to your existing landscape lighting scheme by adding extra floodlights or even environmentally friendly solar lamp posts. That way, you'd enhance your landscape aesthetic appeal and light up the Stars and Stripes at the same time.
Above-Ground, Focused Lighting Fixtures
Permanently or spike-mounted focused spotlights are certainly one of the most effective ways to light your flagpole. In general, this type of fitting emits a focused beam spread of between 10 and 30 degrees. The most common and efficient are 10 to 15-degree fittings as they throw a strong but acceptably wide beam of light.
If you chose to use these fittings, you would almost certainly have to use more than one to get the job done properly. The following images illustrate how focused beam spotlights can effectively light up your flagpole.
This illustration demonstrates how ground-mounted. 15-degree spotlights could illuminate a 6-foot wide flag through its full 360 ° deflection on a 25-foot pole.
If you use a flagpole of up to 25 feet, you'd probably only need two light fittings placed 180 degrees apart. If your flagpole is longer than 25 feet, three fittings spaced at 120-degree intervals would be a better bet. This is illustrated below.
Below-Grade Disk or Floodlights
These light fixtures are usually mounted flush with or just below ground level and project their light straight up. Disk lights are almost always flood-types with far less focused beam paths. While their output lacks the spotlight's focused power, they do an excellent job of illuminating flag poles.
The number of fittings you'll need, and the basic layout are identical to spotlights, with one exception. With disc floodlights, you'll need to bring the lights in closer to the pole. The exact distance will depend on your specifics but as a rule. They'll end up around 4 to 5 feet from the pole.
Integrated Pole Top Light Fixtures
One of the best ways of illuminating the American flag is the integrated or pole top light. This type of fitting attaches at the top of the pole. It is typically secured by the decorative ornament that screws into the top of the pole.
This is a typical pole top light fitting arrangement.
Because of their proximity to the flag, these fittings do a great job of flooding it with bright light. In addition, they create a stage spotlight effect where the entire flagpole becomes the centerpiece in a pool of light.
Other Flagpole Mounted Solar Lighting Options
There are other types of flagpole-mounted solar lighting options that clamp onto the pole below the flag. While they work well, they don't quite create the same impact as a pole top light.
General Tips and Tricks
Here are some general tips and points of consideration when you get to set up the light of your flagpole, whether it be spot, flood, or even ambient sources like bollard or step lighting.
Fixture Layouts
Apart from pole top lights that generally do the job well out of the box, setting up ground level up-lighting is a process of trial and error. The guidelines we've given here are general. You'll almost certainly have to experiment to find an exact fixture layout that works well for you.
Flag Deflection Woes
Your lighting setup needs to properly illuminate the flag. Whether there's not a breath of wind or it's blowing a gale. Here's a tip to work out whether your lighting will cover full flag deflection under all conditions.
Cut a strip of stiff cardboard or plastic around 3 inches wide and as long as the fully extended width of your flag. Now lower the flag and use zip ties to attach one end of the strip to the flag halyard at the top of the flag. You're looking for a setup that sees the strip stand out perpendicular to the lanyard and flagpole when the flag is raised. Now raise the flag.
Even if there is no wind and the flag is hanging limply against the pole, your indicator strip should be stuck out at close to 90 degrees to the pole axis. This will give you a good reference to where the flag would be if Katrina came a-calling. To make things easier, paint the strip with some funky neon spray paint!
You should be able to swing the indicator strip around 360 degrees by using the halyard to swing the revolving truck at the top of the pole. That would give you a good indication of the lighting for full deflection and rotation of your flag.
Choosing a Layout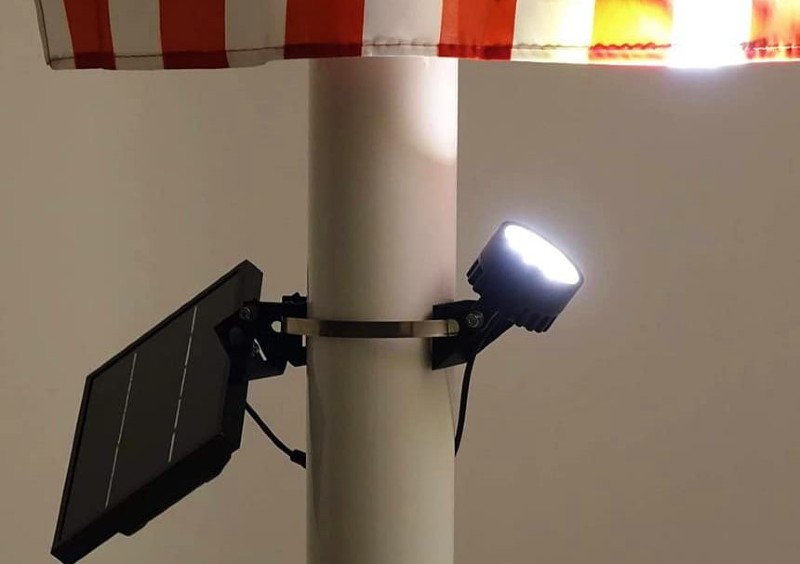 Most ground fixtures can be placed around the pole temporarily to get an idea of the ideal layout. Now, the layout guidelines we've given are sound for the approximate distances from the pole and the angular deflection between fittings for any given pole length. So power up your lights, raise your flag or funky neon strip and start experimenting.
This may take a while and involve a fair bit of placing fittings, stepping back to check the effect, and re-adjusting the layout. Once you have a layout that would adequately illuminate the flag through its full range of deflection and motion, mark the fitting locations, and you're done.
Common Courtesy and Safety Considerations
Although the bright light required to illuminate your flag may not influence you much, it can have a significant effect on passing motorists, neighbors, or even aircraft. Whenever you plan to install any landscape or external residential lighting, take a step back and pay attention to where it's directed.
If you install fixtures that direct extremely light horizontally, you may be posing a safety hazard to motorists or annoying the heck out of neighbors or passers-by.
And if your lighting is directed upwards, the same applies to civil or commercial aviation. If you live close to an airport, bright up-lighting can cause problems for pilots on approach to runways or flying patterns around the airport. When in doubt, go to the airport authorities and ask for their advice.
In Summary
From all of this, two things are apparent. Firstly, if you want to fly the Stars and Stripes after dark and don't want to fall foul of the law, you will have to light your flagpole properly. And secondly, that is really not hard or that expensive to do. As a matter of fact, lighting up Old Glory could well add a huge amount of "Wow" factor to your landscape decore while paying her the respect she deserves!
Please feel free to drop us a line regarding suggestions or questions in the comments section below.
We are sorry that this post was not useful for you!
Let us improve this post!
Tell us how we can improve this post?