Micro Inverter vs String Inverter: Which Is Better for Your Solar System?
In the ever-evolving landscape of solar energy, choosing between micro inverter vs string inverter has become a pivotal decision for residential and commercial solar installations.
Microinverters and string inverters are different technologies for converting the DC power generated by solar panels into usable AC power for your home. But which one is better for your solar system?
In short, microinverters are more efficient, especially when solar panels experience shading or are facing multiple directions. But string inverters tend to be less expensive. The right inverter for you depends on your specific needs.
This comprehensive guide will explain the key differences between microinverters and string inverters. We'll cover each technology's pros and cons, costs, lifespan, maintenance, and more.
With this information, you can decide whether microinverters or string inverters are better for your solar power system.
How Do Solar Inverters Work?
Solar panels contain photovoltaic (PV) cells made of semiconducting materials like silicon. When sunlight photons hit these PV cells, electrons are knocked loose from the atoms in the semiconductor, creating an electric current.
The PV cells are wired together into circuits to collect this electricity. However, the current created is direct current (DC). Household appliances run on alternating current (AC) electricity.
So, the job of an inverter is to take this DC current and use it to generate an AC current that can power your home. Both microinverters and string inverters perform this conversion from DC to AC.
Let's examine how microinverters and string inverters handle this important DC-to-AC conversion.
What Is a String Inverter?
String inverters, sometimes called central inverters, are the traditional type of inverter used in solar systems.
With a string inverter, your solar panels are connected in a series called a "string". Multiple strings of solar panels can be connected to a single-string inverter.
The string inverter is usually installed on the side of your home near the electrical panel. It converts DC power from the entire string or multiple strings into AC power.
How Do String Inverters Work?
With a string inverter, your solar panels are wired together into multiple strings of panels connected in series. A "string" can contain anywhere from 3-12 panels wired together, depending on the inverter power rating.
The DC output wires from each panel string are then connected to input connectors on the central string inverter. Within the inverter, circuitry converts the accumulated DC electricity from the entire array into usable 120/240V AC power.
This AC electricity flows into your home to power appliances and devices like the grid electricity you previously used. Any excess solar power is fed back to the utility grid.
With a string inverter, your solar panels essentially function as one large unit. The performance of each panel is not individually monitored or optimized.
Advantages of String Inverters
There are a few key benefits that make string inverter systems a popular choice:
Lower Cost
String inverters are generally the most affordable inverter option, especially for larger solar installations. You only need one central inverter versus multiple microinverters.
Simple Design
The straightforward wiring and single inverter design results in an overall less complex system that many installers are experienced working with.
Easy Troubleshooting
If there is an issue with power output, you know the central inverter is likely the culprit. It's easy to isolate problems when you only have one inverter to check.
Fewer Connection Points
The system has fewer wiring connection points, with each solar panel connected directly to the string inverter. This reduces the chances of loose connections or cable failures.
Standard Technology
String inverters have been used in solar installations for decades. Their reliability and performance have been proven over many years.
Disadvantages of String Inverters
While string inverters have their benefits, they also come with some downsides:
Shading Causes Significant Losses
If any solar panel in the string inverter system becomes shaded or dirty, it will reduce the performance of the entire system. Total power output falls to the level of the lowest-producing panel.
Fixed Orientation
For optimal production, all solar panels connected to a string inverter must have the same orientation and tilt. Facing multiple directions causes imbalances.
Harder to Expand
Adding more panels later means adding another full string and string inverter. With microinverters, you can add capacity panel by panel.
No Panel-Level Monitoring
You can only view the total power output, not insights into the productivity of individual solar panels.
Shorter Lifespan
String inverters typically last 10-15 years. Solar panels can still produce energy for 25+ years. Expect to replace the inverter at least once.
Let's look at how microinverters handle DC to AC conversion differently than string inverters.
What Is a Microinverter?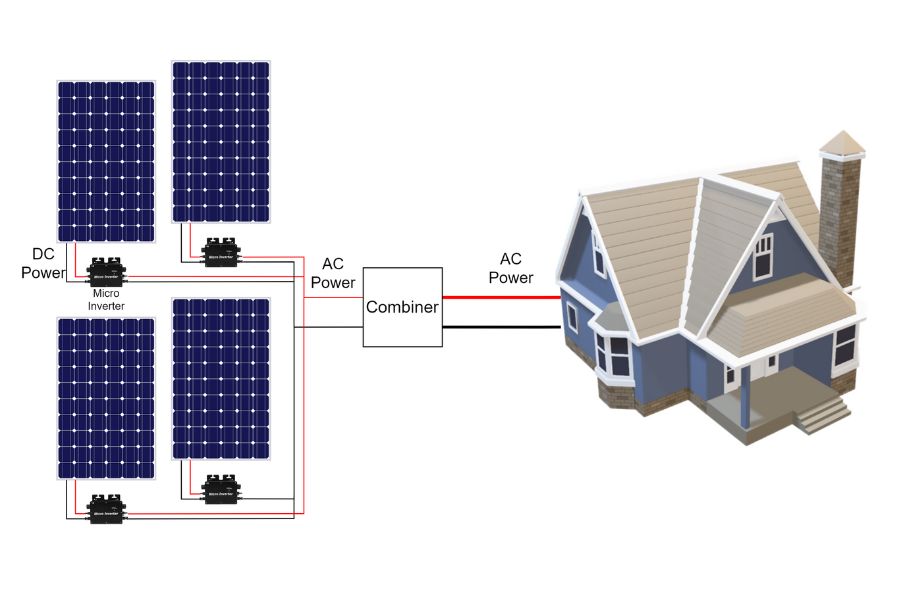 Microinverters are small inverters mounted on the back of each individual solar panel instead of a large central inverter. A separate microinverter converts DC to AC electricity conversion for each panel.
The number of microinverters matches the number of solar panels in your system. For example, a 10-panel solar system would have 10 microinverters.
How Do Micro Inverters Work?
Microinverters allow each solar panel to operate independently from the entire array. The DC output of each panel is converted to AC right at the panel itself by its dedicated microinverter.
This avoids any reductions in energy production that can occur when panels are wired together in strings. If one panel is underperforming or shaded, the other panels are completely unaffected.
The AC electricity from each microinverter flows into a common busbar that aggregates the output of the system as a whole. This combined energy powers your home's electrical panel to run appliances, devices, and anything connected like normal grid electricity.
Because each solar panel has its own dedicated microinverter, each panel plus microinverter system operates independently. The output of each panel is optimized, monitored, and converted individually.
Advantages of Microinverters
Some key features make microinverters a popular choice:
Maximum Energy Harvest
Microinverters ensure maximum power harvest from each panel. Small amounts of shading or soiling on one panel won't impact the others.
Flexible Arrangement
Panels can face multiple directions or be mounted at different angles without causing imbalances. The microinverters maximize each position.
Easy to Expand
Adding solar capacity is as easy as installing another panel with its own microinverter. No need to add a whole new string and inverter.
Panel-Level Monitoring
Microinverters transmit individual performance data for each solar panel. You can quickly identify any underperforming panels.
Long Lifespan
Microinverter warranties typically match the 25+ year lifespan of your solar panels. No need for mid-system inverter replacement.
Disadvantages of Microinverters
While microinverters have unique advantages, they also come with some downsides:
Higher Upfront Cost
A microinverter for each panel costs more upfront than a single-string inverter. The price difference can be around $1000 for an average residential system.
More Points of Failure
With more electronic components spread across each panel, there are statistically more opportunities for potential equipment failures.
Complex Troubleshooting
Pinpointing and accessing a bad microinverter unit on your roof is more difficult than swapping a string inverter on the ground.
Lightning Risk
Microinverters located on the roof can potentially be damaged by lightning strikes. String inverters are generally better protected.
Now that you understand the basics of how microinverters and string inverters work, along with their pros and cons, let's compare the two technologies across some key factors.
Key Differences Between Microinverters and String Inverters
To summarize the microinverter vs string inverter comparison, here is a summary of the unique features of each:
Location – String inverters are centralized, while microinverters are installed at each panel.
Monitoring – Microinverters show individual panel production. String inverters only provide system output.
Shading Tolerance – Microinverters minimize shading losses panel-by-panel. String inverters see more significant drops in total production.
Expansion – Adding more panels is easier with microinverters since inverters scale inherently. String inverters require additional units.
Cost – String inverters are more affordable. However, microinverter warranty periods are usually longer.
When Are Microinverters the Better Choice?
Microinverters tend to make the most sense if any of these conditions apply to your solar energy system:
Shading – If trees, chimneys, or other objects shade any portion of your solar array, microinverters will help minimize power losses.
Multiple Orientations – An array with solar panels facing different directions is more suitable for microinverters to maximize output.
Rooftop Obstacles – Complicated rooflines with multiple peaks and valleys benefit from microinverters for optimization.
Future Expansion – Planning to add more solar capacity over time? Microinverters make panel-by-panel expansion quick and easy.
Detailed Monitoring – Microinverters enable panel-level insights if you want to analyze performance across every solar panel closely.
Premium Efficiency – Microinverters are the way for maximum energy harvest from each panel.
A string inverter may be the better choice if none of those conditions apply.
When Are String Inverters the Better Choice?
For solar installations with these characteristics, string inverters might be the better option:
Full Sun Roof – No shading and maximum sun exposure make string inverters efficient and cost-effective.
Single Orientation – String inverters can operate fully when all panels face one direction.
Basic Monitoring – If you only need to monitor the total system output, string inverters do the job.
Budget Constraints – The lower upfront cost of string inverters matches limited solar budgets.
Minimal Weather Risk – Central string inverters are better protected from weather damage in mild climates.
Simple Rooftop – A flat or single-pitch roof doesn't require microinverter optimization and flexibility.
No Expansion Plans – String inverters suffice if you don't intend to add more solar panels down the road.
For most standard residential solar installations, string inverters on their own tend to provide the best value. But microinverters serve important niches where conditions make their capabilities worth the extra investment.
Hybrid Approach: String Inverters Paired With Optimizers
There is also a hybrid approach that combines the simplicity of string inverters with some advanced capabilities through an additional device called a power optimizer.
Power optimizers are installed on each solar panel along with the central string inverter. They act similarly to microinverters by optimizing the output of each panel individually. However, they don't convert the DC electricity to AC.
Instead, power optimizers condition the DC power and send it to the string inverter for the final AC conversion and delivery into your electrical system.
With power optimizers, string inverter systems can handle shading and multi-direction panels better. You also get panel-level monitoring like microinverters.
The overall cost is still less than microinverters, but more than a basic string inverter alone. Power optimizers provide a good middle-ground option in many cases.
We are sorry that this post was not useful for you!
Let us improve this post!
Tell us how we can improve this post?